In this week's Wednesday Cute: a rainbow pony made of paper, adorable kids reading in an adorable underground library, and the gift of literacy from a sweet dad to his high school grad. Happy Wednesday!
If you like books (duh!), you'll love the Underground New York Public Library, a charming blog by a photographer who snaps pictures of people reading on the NYC subway. Below, two young bibliophiles devour Diary of a Wimpy Kid: The Last Straw by Jeff Kinney and Warriors by Erin Hunter while their parents look on. (Here's another of my favorites. And look, someone reading Water for Elephants!)
Speaking of parents and books, awesome dad Bryan Martin gave his daughter Brenna the sweetest high school graduation gift of all time: a copy of the fairly typical Oh, the Places You'll Go!—inscribed with messages from every one of her teachers, principals, and sports coaches since kindergarten. Awww.
We love all things paper-crafty (exhibit A: Paper Made!), and these animals are no exception. Artist Diana Herrera has made a veritable menagerie of adorable paper craft creatures; you can see them on her Flickr site divided into birds and other animals. Here, a rainbow horse! (via The Mary Sue)
These papertoy monster robots are kind of intimidating…and also CUTE.
Ever wonder what life looks like from a dog's point of view? Check out this video of pups at play, captured by a camera attached to a dog's collar. They are clearly having so. Much. FUN.
You're more of a cat person, you say? Here's a live stream of seven kittens in a box. You're welcome.
In honor of the "My Dog Needs Glasses!" Pinterest contest, enjoy this collection of bespectacled dogs (and cats).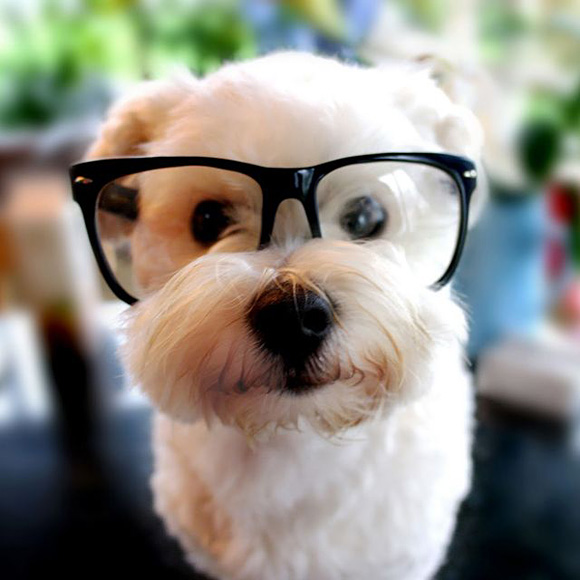 —Avery, who wants to open a papercraft zoo