Now that it's officially spring, it's the perfect time to plan a road trip to one of the gorgeous gardens featured in Patricia Schultz's 1,000 Places to See in the United States and Canada Before You Die. 
Frederik Meijer Gardens
Grand Rapids, Michigan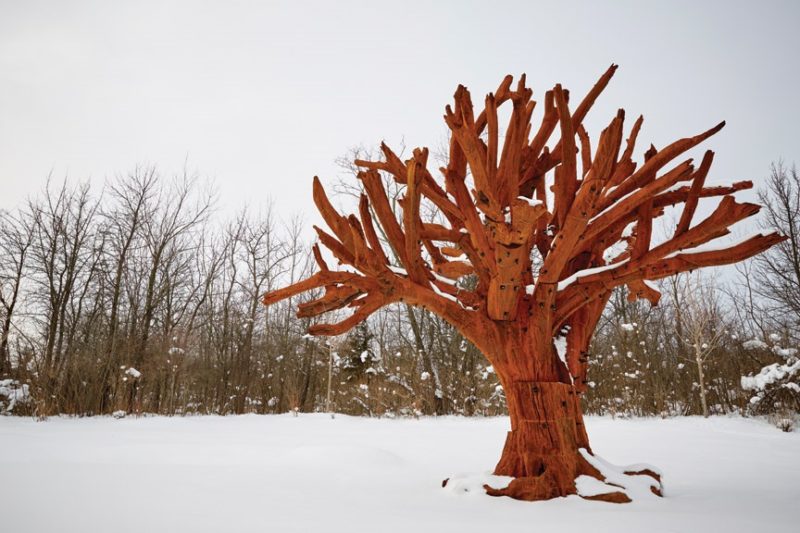 Undulating hills, green meadows, wooded alcoves, mirrorlike ponds, and meandering pathways provide an exceptional natural stage for art at this 30-acre sculpture park, the anchor of a superb and superbly comprehensive 158-acre botanical center. The largest collection of outdoor sculpture in the Midwest, it includes more than 120 pieces, including works by such noted artists as Auguste Rodin, Louise Bourgeois, and Henry Moore. The settings greatly enhance the beauty: The land becomes a backdrop—even an integral part—of each piece. The American Horse, the 24-foot-high Nina Akuma bronze inspired by a series of Leonardo da Vinci sketches, exudes even greater grandeur against the starkness of a grassy knoll.
The wow factor is high throughout this Edenesque complex. The Lena Meijer Conservatory, five stories of striking glass architecture, houses orchids, bromeliads, cacti, and other succulents. Its much-awaited annual "Butterflies are Blooming" exhibit lets loose 6,000 tropical butterflies to flutter amid the 15,000-square-foot indoor tropical forest. The Children's Garden is one of the nation's largest, where kids can play in a treehouse village and learn about Michigan rocks and minerals in the Quarry. The Michigan Farm Garden re-creates a 1930 farmstead replete with vintage barn and farmhouse, and heirloom vegetable crops. A 1,900-person outdoor amphitheater hosts an ambitious summer concert series, with national acts that have included artists such as Harry Connick Jr., Bonnie Raitt, and Tony Bennett.
The complex is named in honor of businessman Frederik Meijer (cofounder with his father of a grocery/retail chain) and his wife, who collected sculpture and liked the idea of sharing it with the public. They donated 125 acres, their entire sculpture collection, and considerable financial resources to developing this regional treasure. It opened in 1995 and has been expanding since.
Frederik Meijer Gardens. Where: 149 miles west of Detroit; 1000 E. Beltline Ave. Tel 888-957-1580 or 616-957-1580. Best times: Mar–Apr for the butterfly exhibit; 1st full weekend in June for Grand Rapids Festival of the Arts (festivalgr.org) and blooming gardens; mid-June–mid-Sept for Meijer's summer concert series.
Longwood Gardens
Kennett Square, PA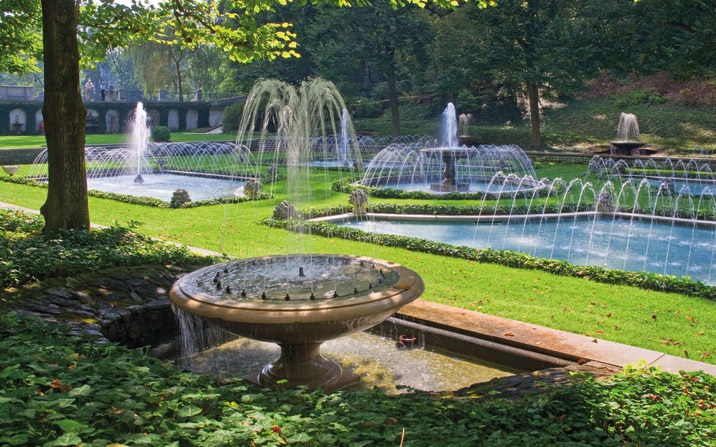 Longwood is one of the world's finest horticultural displays, with 20 outdoor gardens, 20 greenhouse gardens, four lakes, many acres of forest, and 9,000 different types of plants spread out over 1,050 acres. It all started in 1700, when Quaker farmer George Pierce bought 402 acres from William Penn's land commission. Nearly a century later, two of George's great-grandsons began collecting trees and exotic plants, creating an arboretum that grew into a pleasure garden open to the public. When a subsequent owner announced plans to cut down the trees for lumber, avid landscaper Pierre du Pont, of the DuPont chemicals empire, stepped in. Over the next 30 years he increased its landholdings, and added gardens and improvements as inspiration touched him.
Longwood's huge Conservatory includes an orchid room displaying the best of the garden's 3,200 different types of orchids and a courtyard filled with aquatic plants from all over the world, including South American waterplatters whose leaves grow to more than 6 feet in diameter.
Nearby, the Open Air Theatre is animated by 750 illuminated water jets, which create a water curtain in front of the stage on which hundreds of special events a year are held—from Broadway musicals and jazz concerts to flower shows and fireworks displays. In the West Gardens, the Chimes Tower houses a 62-bell carillon that plays a musical selection each hour on weekdays and every half-hour on weekends, plus special 45-minute concerts from spring through fall. At Christmastime, the gardens are transformed with 420,000 Christmas lights, thousands of poinsettias in the Conservatory, dancing fountain displays, and topiary reindeer.
Longwood is surrounded by the beautiful and historic Brandywine Valley, which stretches across the Delaware border to encompass the Winterthur Museum and garden, founded by Pierre's cousin Henry Francis du Pont (see here). Just 4 miles east of Longwood is the Brandywine River Museum, known for its paintings by illustrator N. C. Wyeth and his celebrated descendants—Andrew, Henriette, Carolyn, and James. N. C. Wyeth's house and studio on nearby Rocky Hill has been restored to the way it looked in 1945, when he died. Tours are available from the museum, as are visits to nearby Kuerner Farm, inspiration for approximately 1,000 of Andrew Wyeth's paintings. Farther east, Brandywine Battlefield Park was the site of the largest battle of the Revolutionary War; soon after Washington's army lost there, he led them through the hard winter at Valley Forge.
Longwood Gardens: 36 miles west of Philadelphia. Tel 800-737-5500 or 610-388-1000. Brandywine River Museum: Chadds Ford. Tel 610-388-2700. When: museum daily; Wyeth House and Kuerner Farm tours daily, Apr–Nov. Brandywine Battlefield Park: Chadds Ford. Tel 610-459-3342. When: varies by month. Best times: Apr–May for profusions of tulips and flowering trees; several evenings weekly from late May–early Sept for half-hour illuminated fountain shows (as well as the spectacular Rose and Topiary Gardens); Sept–Oct for foliage.
Portland's Public Gardens
Portland, Oregon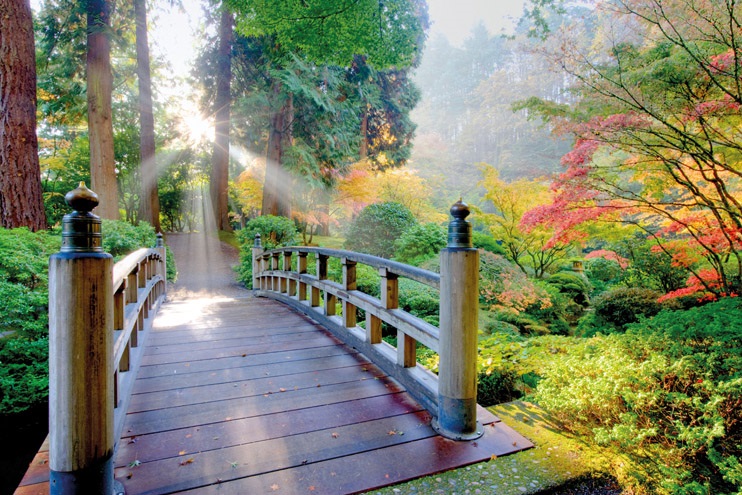 Here's a little-known fact: The world's most spectacular gardens are found within the USDA's climatic Zone 8, the climate that Portland shares with most of the British Isles, much of France, northern Italy, and large areas of Japan—in short, the world's best gardening zip codes. Combine this favorable gardening climate (characterized by four definite seasons but mild winters) with the incredibly fertile soils of Portland, at the base of the Willamette Valley (see here), and you've got a city where—literally—everything's coming up roses.
In the months of glorious (and dry) weather between late spring and early autumn, Portland's infamously dreary winter rainy season seems like a modest price to pay for a gardener's paradise. Evidence of the city's mild climate, plentiful rain, and sunny summers is everywhere, from world-famous public gardens owned by Portland Public Parks (which manages 200 parks in Portland encompassing over 10,000 acres, including 5,000-acre Forest Park, the largest urban wilderness park in the country) to neighborhoods where many residents forgo the traditional front lawn in favor of lush jungles of both familiar and unusual plants. The city's gardens reflect something of the spirit of Portland itself: vibrant, eclectic, creative, and outdoorsy. This nonconformist individualism is practically Portland's civic ethos, and along with an endearingly scruffy funkiness, it gives this city—Oregon's largest—its particular charm.
Portland has been called the "City of Roses" at least since the Lewis & Clark Centennial exhibition in 1905, when roses lined 200 miles of the young city's streets. The holy of holies for enthusiasts is the International Rose Test Garden in Washington Park, in downtown Portland's West Hills. Established in 1917, it boasts more than 7,000 rosebushes representing over 550 varieties (most are new hybrids being tested before marketing) in a magnificent 5-acre location, with a spectacular view across the city toward Mount Hood. Its June Rose Festival is considered by many to be the city's biggest celebration.
Rhododendrons also thrive in Portland's moist and mild climate, and the Crystal Springs Rhododendron Garden in southeast Portland features more than 2,000 rhododendrons and azaleas in a gorgeous setting with spring-fed waterfalls, streams, and lakes.
Reflecting the city's Pacific Rim location are two of the finest examples of Far Eastern garden traditions outside Asia. A stone's throw from the International Rose Test Garden, Portland's renowned Japanese Garden offers five formal garden types in 5.5 serene acres, with a teahouse and koi-filled ponds. Unveiled in 2000, the Lan Su Chinese Garden occupies an entire downtown block at the edge of Chinatown and is the largest of its kind outside China. It was built by artisans from Portland's sister city Suzhou, which shares a similar climate and is also famous for its gardens—hundreds of years older, perhaps, but no more inspiring.
Forest Park: Tel 503-823-4492. International Rose Test Garden: Tel 503-823-3636. Crystal Springs Rhododendron Garden: Tel 503-771-8386. Japanese Garden: Tel 503-223-1321. Lan Su Chinese Garden: Tel 503-228-8131. Best times: May for the wisteria blooming in the Japanese Garden; late May for peak bloom at the Rhododendron Garden; June for heaviest bloom at the Rose Test Garden and the month-long Portland Rose Festival.
International Peace Garden
Dunseith, North Dakota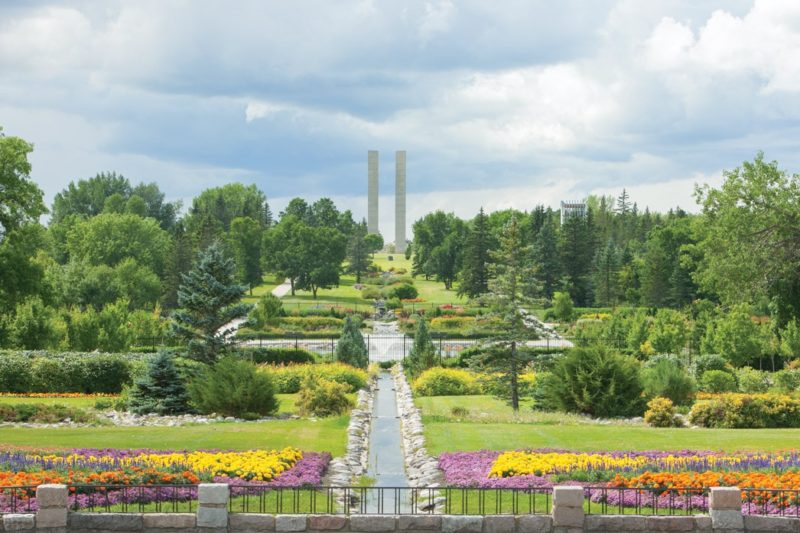 It all started in the mind of Canadian horticulturist Henry J. Moore, who, in 1928 envisioned a grand garden straddling the U.S.-Canadian border, dedicated to the two nations' long and peaceful coexistence. Moore's plan was approved, and the site he chose was dedicated three years later, on July 14, 1932. There, amid low, undulating hills bounded by the American prairie and Canada's Manitoba Forest Preserve, the Peace Garden has grown steadily over the decades. Many of its roads, bridges, and shelters were built in the 1930s by the New Deal-era Civilian Conservation Corps, and its formal garden, reflecting pools, rock walls, and flagstone terraces were completed in the 1950s—the gap in construction caused, ironically enough, by WWII.
Today the Peace Garden boasts 2,339 acres of gardens, forest, manicured landscapes, fountains, walking paths, and several monuments and memorials. Typically the first week in June, 150,000 flowers are planted and are best viewed in full bloom from mid-July through August. The Floral Clock works; its arms revolve around a 14-foot hillside planted with 2,000 to 3,000 flowers in a new design each year. At the Peace Chapel, there's a memorial list of all who died in the terrorist attacks of September 11, 2001, while nearby several girders salvaged from the wreckage at the World Trade Center form a stark memorial cairn.
International Peace Garden. Where: 200 miles northeast of Bismarck; Rural Rte. 1. Tel 701-263-4390 in the U.S., 204-534-2510 in Canada. When: daily year-round, but interpretive center and some other facilities only open June–Sept. Best time: mid-July–Aug, for flowers and when summer programming features music, art, and dance performances.
Bellingrath Gardens
Theodore, Alabama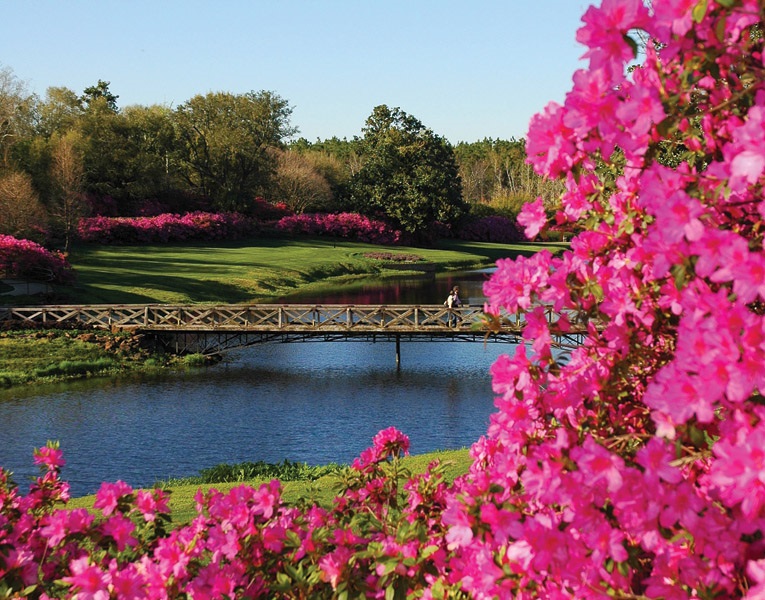 Bellingrath's sea of springtime azaleas, summer roses, or fields of fall chrysanthemums will awaken the inner gardener in even the most indifferent visitor. One of the top public gardens in the U.S., Bellingrath Gardens is a lush 65-acre floral oasis near Alabama's Gulf Coast that has been delighting nature lovers for over eight decades. Here in the heart of the Camellia State, a trip in any season makes the importance of this world-class garden abundantly—and fragrantly—apparent.
Walter Bellingrath, owner of Mobile's first Coca-Cola bottling plant, bought the former fishing camp on the banks of the Fowl River in 1917. The overgrown property was pruned and cleared for a grand expanse of gardens, and opened to the public in 1932. In 1936 he built a lavish home on the grounds, for which his architect salvaged materials from 19th-century Mobile, including flagstone and slate walkways fashioned from the ballast of English ships that sailed here when cotton from the American South was king. Framed by oaks dripping with Spanish moss, the home has become a modern-day museum, filled with fine art, antiques, and the country's largest collection of Boehm porcelain.
Bellingrath's spectacular garden walkways and meadows are in a constant state of verdant evolution. Early spring brings fluffy peonies, multicolored tulips, snapdragons, lilies, and flowering cabbage and kale. Slightly warmer spring temperatures beckon the hydrangeas, delphiniums, petunias, and ruffled azaleas in shades of purple, pink, and white. In fact, spring is the ultimate time to visit nearby Mobile, known as Azalea City. The hot early summers are perfect for roses, and with more than 50 varieties, Bellingrath has twice won the top honor as America's most outstanding rose garden. Exotic flamingo flowers and caladiums complete what feels like a living landscape painting. Fall means 60,000 chrysanthemums that overflow from flower beds and cascade from bridges and balconies. Even winter is a tourist season here, as the mansion and gardens are awash in poinsettias, tinsel, and some 3 million twinkling holiday lights during the well-known Magic Christmas in Lights festival.
Bellingrath Gardens. Where: 15 miles southwest of Mobile; 12401 Bellingrath Rd., Theodore. Tel 800-247-8420 or 251-973-2217. Best times: Mar–Apr for azaleas; spring and summer for festivals; late Nov–Dec for Magic Christmas in Lights festival.
About the Book:
Covering the U.S.A. and Canada like never before, and for the first time with full-color photographs, here are 1,000 compelling, essential, offbeat, utterly unforgettable places. Pristine beaches and national parks, world-class museums and the Just for Laughs festival, mountain resorts, salmon-rich rivers, scenic byways, the Oyster Bar and the country's best taco, lush gardens and coastal treks at Point Reyes, rafting the Upper Gauley (if you dare). Plus resorts, vineyards, hot springs, classic ballparks, the Talladega Speedway, and more. Includes new attractions, like Miami's Pérez Art Museum and Manhattan's High Line, plus more than 150 places of special interest to families. And, for every entry, what you need to know about how and when to visit.
"Patricia Schultz unearths the hidden gems in our North American backyard. Don't even think about packing your bag and sightseeing without it." —New York Daily News
Buy the Book
Amazon | B&N | Indiebound | Workman