Trafalgar's Be My Guest Experience
For all the unforgettable moments that travel promises—visits to over-the-top palaces or stuck-in-time villages, breathtaking views across Alpine meadows, or happening upon the ruins of a medieval castle—the memories that remain indelible in our minds long after we return home are often of the people we meet along the way. After all, they say a journey is best measured in friends, rather than miles.
That's how I found myself in northern England this past summer invited by Trafalgar to rediscover a region I vaguely remembered as being very green, hilly and incredibly beautiful, with cities that were as quaint as they were historically rich. I knew that Trafalgar would unlock a magic gateway and show me a different side that visitors often miss—a look into the Real England—and some of the people who call it home.
I would be meeting two of the local host families of Trafalgar's Be My Guest experiences, from two entirely different corners of this postcard-perfect region—each opening up their homes to Trafalgar guests—and me. The gracious Janie and Christopher Bell from the grand Whitwell Hall outside the fantastic walled city of York, and the down-to-earth Christine and John Stobart who run a sprawling sheep enterprise in the idyllic region of the legendary Lake District.
As the Global Ambassador for Trafalgar I was well familiar with these exclusive BMG encounters that Trafalgar trail-blazed—and has proudly been arranging for 10 years—in their pursuit to deliver travel at its best. Those who sign on for all the advantages of organized vacation commonly express this concern: will they miss the important chance to "go local?" Trafalgar relies on its destination expertise to create an insider's peek into the very soul of the place, where total immersion guarantees the new perspectives and local insights that are the very reason we travel. Oh, and did I mention that that copious amounts of regional homemade food always play a major role in every BMG visit? It has always been the universal language and bond since man first wandered beyond the village walls and Trafalgar promises that it is delivered in delicious quantities.
I'm not quite sure how Trafalgar ever found Whitwell Hall: it was unquestionably bigger-than-life in the eyes of this American standing in awe before its ivy-covered facade, but the meandering roads through rolling Yorkshire that led us there have one believe that it might be a special place not found on any map, as if something drawn from the pages of an early 19th century English novel. But as soon as the casually dressed Janie and Christopher greet us and usher us in, the warm welcome in the stories-high foyer and the sunny portrait-lined sitting room made us feel like old family friends and not museum-going strangers. Sure, it may not be as grandiose as Downton Abbey, but Whitwell strikes the perfect note between an imposing historic manor and a much-loved and lived-in home where the engaging couple's children were raised and return for holiday weekends with grandkids, suitcases and dogs in tow.
In the meantime, the Bells welcome Trafalgar guests who are free to wander the perfectly manicured gardens with a glass of wine in hand, gazing out over quintessentially bucolic vistas as far as the eye can see. We would appreciate these same timeless views when touring the upstairs dwellings while downstairs in the kitchen we could hear Janie's team of friends who come from the local village to help out with an intimately-elegant and candle-lit dinner whenever Trafalgar's big white coach rolls up with guests.
Light years away in another idyllic corner of northern England – regularly rated by guidebooks as Europe's most beguiling lake district – we'd be welcomed into the fold of another BMG host family whose postcard-perfect setting and heritage were as different as they were special. Howbeck Lodge is run by Christine and John, local farmers born and raised in this picturesque region of Cumbria.
They share what life is like raising more than 500 breeding sheep—kept in line by a comical sheepdog named Jack—with guests curious to witness life in England's agricultural backwaters unchanged over the generations. There are six shaggy highland cows, riding horses and a Shetland pony, a pet sheep called Harvey who thinks he's dog, and a large rambling home that is run by a clever border terrier called Bertie—all surrounded by a landscape of open rolling farmland for which Cumbria is famous. Meals are informal, fresh from the day's local market, and are overshadowed by Christine's self-taught talent as a baker—proof is in the half dozen homemade desserts that make a lasting impression.
Off the beaten track and often far away from city centers, it's clear these BMG experiences would be impossible to find or recreate for those visiting without connections and friends. These experiences are responsible travel and sustainable tourism at its best: mutually beneficial encounters that bring guests beyond the congestion and bustle of urban attractions and into the day-to-day lives of small local families and businesses who—with the regular arrivals of foreign guests—benefit from the additional revenue that helps sustain their livelihoods and supports family businesses. The sense of genuine appreciation on everyone's part is palpable and heartfelt and a very big reason for the unbridled success of the BMG model.
Trafalgar has always aimed to ensure meaningful travel on every level, beginning with an itinerary rich with the destination's don't-miss high notes—and many of the lesser-known ones as well. But these personal BMG exchanges—those unique moments when we are privy to someone else's life for just a few delightful hours—encourage a deeper understanding and greater appreciation of both our hosts and ourselves. From a third-generation winery outside of Budapest to a sprawling sheep farm in western Ireland—and now in this sylvan corner of northern England—I have been welcomed by amiable hosts who have opened their homes and their hearts to guests who arrive as strangers and leave as family.
This is the true luxury of travel, these real and authentic moments minus all the lackluster of a staged folkloric show or a recreated historical production. These visits are grassroots and the real deal, what all travelers strive for when exploring foreign places, happy for their souvenirs to be carried home in their heads and not in their suitcases. With a healthy dose of from-the-heart hospitality, animated conversation, and the passion of the hosts for what they do—it is safe to say that for many visitors, these Be My Guest encounters are commonly the take-away memory of a vacation already brimming with countless highlights.
 *  *  *
On the outskirts of York lies Whitwell Hall. The picturesque gardens and huge ivy draped manor is where you'll find the Bell's, who open their home exclusively for Trafalgar's guests to discover the magic of their England at this exclusive Be My Guest experience.
The Lake District is where you'll find Howbeck Lodge, home to the Stobart's, who are passionate about maintaining their heritage and farming traditions in rural England and sharing it exclusively with Trafalgar's guests at this Be My Guest.
Learn more about Trafalgar's trips to England here.
And don't forget to check out the books!
About the Book: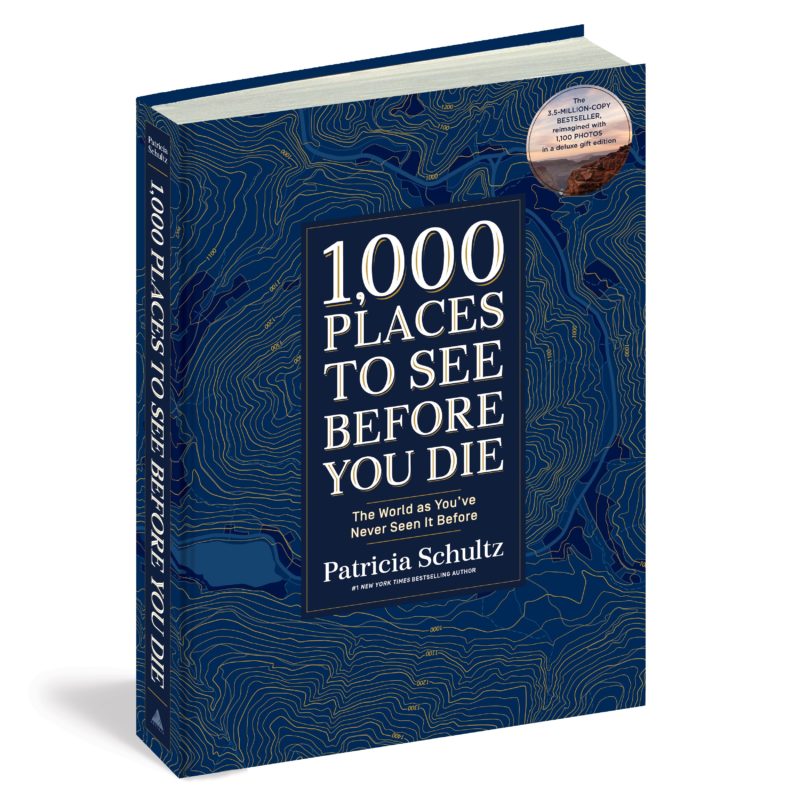 "Gorgeous . . . breathtaking . . . This spectacular coffee-table book will inspire readers to add more destinations to their bucket lists." —Publishers Weekly
Patricia Schultz curates the world. When she published the original 1,000 Places to See Before You Die, she created not only a new kind of travel book but also a new way of thinking about our experiences and interests.
Now Schultz captivates our hearts in the same compelling way her original book spoke to our minds. Moving from eloquent word to breathtaking image, she takes us on a visual journey of the best the world has to offer, and as we turn the pages and pore over these images, we feel it all: joy, curiosity, awe, passion, nostalgia (if we've been there), inspiration (because we want to go), and a profound and transforming sense of how lucky we are to live in a world filled with such beauty and wonder—to see tributaries of mist curling over the Great Wall, elephants grazing on the floor of the Ngorongoro Crater, the sun setting on the wild coast of Donegal, masked whirling dancers at a festival in Bhutan.
The book itself is a thing of beauty, an oversize feast of more than 1,000 all-new photographs and 544 pages, every spread and page designed to showcase these mesmerizing photographs and hold just enough of Schultz's lively text that we know why it is we're looking at them. It is a perfect gift for every traveler, every fan of the original, every dreamer whose Instagram feed is filled with pictures of places near and far.
Buy the Book
Amazon | B&N | Indiebound | Workman

The world's bestselling travel book is back in a more informative, more experiential, more budget-friendly full-color edition. A #1 New York Times bestseller, 1,000 Places reinvented the idea of travel book as both wish list and practical guide. As Newsweek wrote, it "tells you what's beautiful, what's fun, and what's just unforgettable—everywhere on earth." And now the best is better. There are 600 full-color photographs. Over 200 entirely new entries, including visits to 28 countries like Lebanon, Croatia, Estonia, and Nicaragua, that were not in the original edition. There is an emphasis on experiences: an entry covers not just Positano or Ravello, but the full 30-mile stretch along the Amalfi Coast.
Every entry from the original edition has been readdressed, rewritten, and made fuller, with more suggestions for places to stay, restaurants to visit, and festivals to check out. And throughout, the book is more budget-conscious, with starred restaurants and historic hotels such as the Ritz, but also moderately priced gems that don't compromise on atmosphere or charm.
The world is calling. Time to answer.
Buy the Book
Amazon | B&N | Indiebound | Workman