Patricia Schultz, the author of 1000 Places to See Before You Die, shares her picks for unforgettable island outings. 
There is something inherently special about islands. The conventional image of a sandy palm tree–studded atoll is but one of countless interpretations, and I for one am as drawn to temperate destinations (the San Juan Islands of Washington, or Scotland's Hebrides) as I am to tropical (the Galápagos, the Maldives, French Polynesia). I love the larger masses (Corsica in France or Canada's Newfoundland) as those you can walk around in a few inspiring alone-with-your-thoughts hours. And as much as I love to recharge on the beach with a good book, it's an island's unique attractions themselves that I can't resist.
1. Jet-Boat on the Shotover River
South Island, New Zealand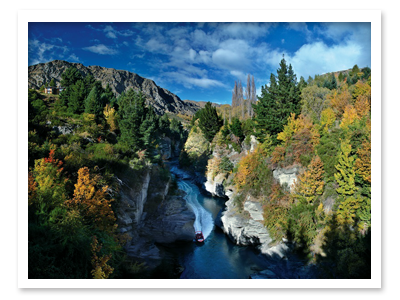 Beneath that Kiwi calm and reserve must throb a vein of derangement. How else to explain why New Zealand is the recognized home of bungee jumping and jet-boating—the latter substantially less scary and therefore more appealing to this travel writer? Revolutionary flat-bottomed jet boats allow navigation in shallow or difficult waters where others dare not go—namely, the Shotover River just 10 minutes outside of Queenstown (the self-anointed Adventure Capital of New Zealand), where in 1954 a certain Sir William Hamilton launched the first jet boat, now used all over the world. The Shotover Canyon's steep rock walls and white-water rapids are the scene for heart-stopping jet-boat trips that have you flying over the shallow waters—sometimes only inches deep—negotiating trademark 360-degree pirouettes within inches of rocky outcrops, skimming around crags and boulders and missing them by this much. Learn more here.
2. Swim Around Fernando de Noronha
Brazil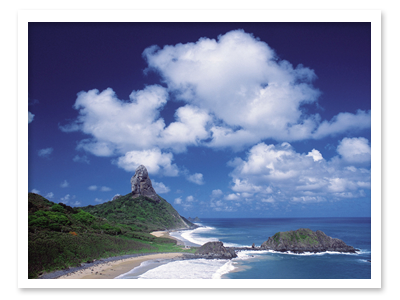 Floating 223 miles off the northeast coast of Brazil, this twenty-one-island paradise offers visitors a pristine ecosystem that many—of the relatively few who have been there—consider a Galapagos-like experience (Darwin dawdled here, centuries after it was discovered by Amerigo Vespucci in 1504). For years a military outpost (and briefly a U.S. Army base in WWII), it has been a closely guarded national marine park since 1988. Its untroubled waters with year-round visibility of more than 300 feet are heaven for scuba (the best in Brazil) and snorkeling, while body boarders reverently call it the Brazilian Hawaii. But this volcanic mini-archipelago is best known perhaps for the school of 600 white-bellied spinner dolphins—some say closer to 1,000—who have chosen to make the aptly named Baía dos Golfinhos their home since the 1700s. Only recently gone are the days when you could swim with them, but the islanders intimately know their daily routines. Early morning boat excursions join them at their friskiest, performing aerial acrobatic spectacles as if for the approval of those who have come to watch.
3. Walk the Nakasendo
Japan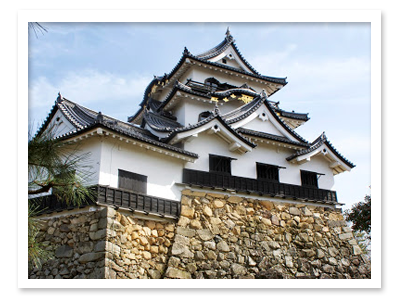 Follow in the footsteps of shoguns, samurai, itinerant merchants and pilgrims along the best preserved, most scenic and historically rich section of the Nakasendo, whose name literally means "the road through the central mountains." Found on Honshu, the largest of Japan's four principal islands, the 17th-century byway linked Kyoto and Edo (modern-day Tokyo). Stopping to rest at various post-towns along the way and overnighting at many of the same inns that welcomed the ancient wayfarers are among the memorable highlights of this hike. You'll enjoy living the Japanese way on tatami mats in traditional rooms, dining on delicious home-cooked Japanese cuisine and being enveloped in the warm, kind hospitality of your Japanese hosts. About 75 highly scenic miles of the 315-mile Nakasendo are covered over the course of a fairly gentle 11-day walk (luggage goes ahead by car). Professional guides, enthusiastic, friendly, knowledgeable and passionate about Japan, promise a fascinating and intimate peek into the Japan of both yesterday and today. Learn more here.
4. Peruse the Markets of Palermo
Sicily, Italy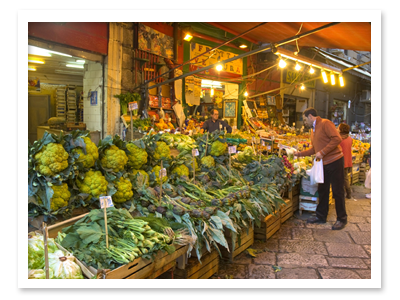 Sicily's remarkable cultural diversity is the result of twenty-five centuries of tumultuous history: No other city in Europe has hosted such a variety of civilizations and waves of conquerors as Palermo. Take a stroll through any of its daily markets (La Vucciria is one of its well-known choices for color and drama) for a heady glimpse of the lingering influences of the ethnic groups and nations that have gone before. They serve as reminder that from Sicily, just "one hop and you're out of Europe," as D.H. Lawrence wrote. Palermo's markets are not just about shopping—each is a vibrant spectacle, full of merchants yelling, shouting, arguing, and singing about their wares—if the local dialect was not so completely unintelligible, you might catch comparisons of succulent pomegranates to parts of the female anatomy. You can eat your way through the market (it helps if you enjoy panini stuffed with tripe or sliced spleen) or just succumb to the mélange of smells, from briny octopus to anchovies and fresh mint, basil, capers, and oregano. Expect awesome displays of fish and unrecognizable sea creatures, and from the interior hills, the proudly displayed carcasses of goats, insides intact to attest to their freshness. You may have heard the expression about Palermo being the northernmost African city in Europe: That may now start to make sense.
5. Visit Morne Trois Pitons National Park 
Dominica, Caribbean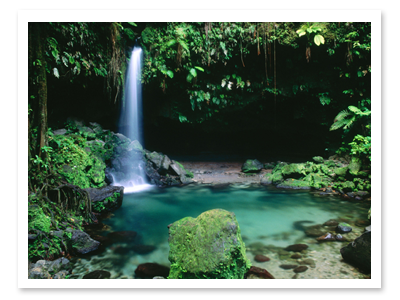 Take a walk on the wild side, through the primal rain forest that is Dominica's Morne Trois Pitons National Park. Much of the island's fame as the Caribbean's "Nature Island" derives from this wild and gorgeous jungle-movie set of a park, a 25-square-mile slice of pure nature that is a refuge of huge ferns, ancient trees, wild orchids, and bright anthuriums. Waterfalls, like the one feeding the fern-bedecked Emerald Pool grotto, hide among lush, steep-sided peaks that are among the Caribbean's highest, the centerpiece being the three-pronged mountain after which the park is named. Those who want a little less Shangri-la and a little more sulfur and brimstone can make the trek to Boiling Lake, the earth's second-largest flooded fumarole. The volcanic field called the Valley of Desolation lives up to its name, with steaming vents and boiling mud cauldrons.
And don't forget to check out the book!
About the Book:
The world's bestselling travel book is back in a more informative, more experiential, more budget-friendly full-color edition. A #1 New York Times bestseller, 1,000 Places reinvented the idea of travel book as both wish list and practical guide. As Newsweek wrote, it "tells you what's beautiful, what's fun, and what's just unforgettable—everywhere on earth." And now the best is better. There are 600 full-color photographs. Over 200 entirely new entries, including visits to 28 countries like Lebanon, Croatia, Estonia, and Nicaragua, that were not in the original edition. There is an emphasis on experiences: an entry covers not just Positano or Ravello, but the full 30-mile stretch along the Amalfi Coast.
Every entry from the original edition has been readdressed, rewritten, and made fuller, with more suggestions for places to stay, restaurants to visit, and festivals to check out. And throughout, the book is more budget-conscious, with starred restaurants and historic hotels such as the Ritz, but also moderately priced gems that don't compromise on atmosphere or charm.
The world is calling. Time to answer.
Buy the Book
Amazon | B&N | Indiebound | Workman