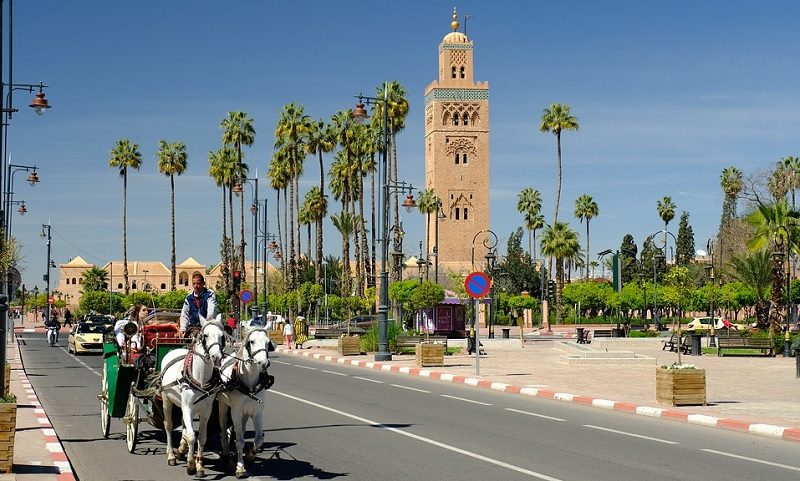 Just miles from Spain across the Straight of Gibraltar, and the gateway to Africa, Morocco is a romantic fusion of Arab, Berber, and European cultural influences. Its interior is marked by the rugged Atlas Mountains and a vast expanse of the Sahara Desert. A long Mediterranean and Atlantic coastline adds to the country's diversity, where visitors head for R&R after exploring the country's many cities—their ancient medinas and spice-filled souks, night markets, museums, music festivals, delicious food, and age-old hospitality. Marrakech is justifiably popular, but there's so much—much!—more.
Place Djemaa el-Fna and the Medina, Marrakech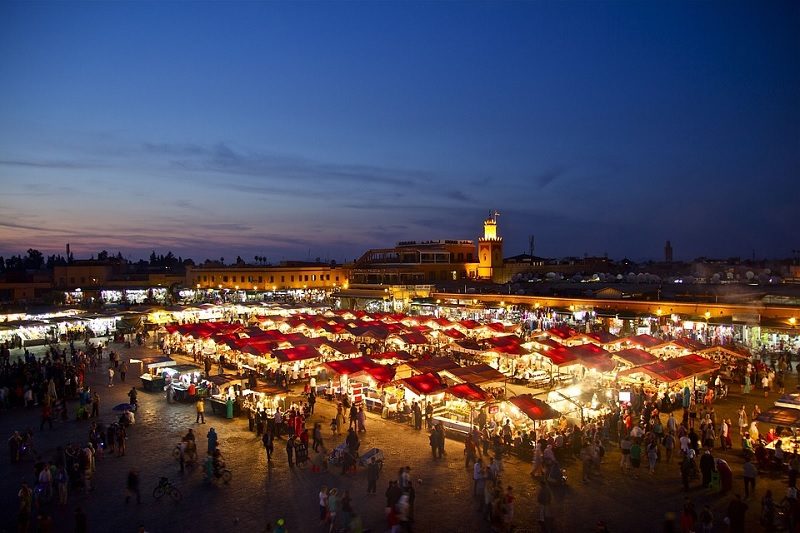 According to Paul Bowles, a Moroccan at heart, Marrakech without the huge Djemaa el-Fna, the teeming central plaza at the heart of the medina, would be just another Moroccan city. This is where it all happens, an impromptu medieval circus enacted around the clock. During the day, snake charmers, performing monkeys, and souvenir sellers lure the tourists, while dentists, barbers, and scribes serve the locals. Later, the square fills with food vendors selling everything from lamb couscous to orange juice, and the air is filled with the smoke and sizzle of grilled kebabs. When Djemaa el-Fna echoes with the muezzin call to evening prayer and lights flood the towering minaret of the Koutoubia Mosque, the impact is magical. The square is lined—at street level and above—with cafés and restaurants, and its less touristy areas are to be found at the square's outer corners.
To the north is the souk, the maze-like marketplace of narrow streets and alleys lined with street merchants and overflowing stores and stalls. Here, while dodging motorbikes and donkey carts, you'll find silk babouche slippers, bags of spice, leather goods, ethnic silver jewelry, carpets, and objets d'art.
Escape to an oasis of comfort and serenity behind the thick walls of newly restored riads, historic homes built around courtyards and now transformed into atmospheric restaurants and small guesthouses that range from modest to sumptuous. Outside the Medina walls is the lavish and newly refurbished La Mamounia, a grand and glamorous hotel built in the 1920s that once entertained Winston Churchill, the Rolling Stones, and Nelson Mandela.
Fès el Bali, Fès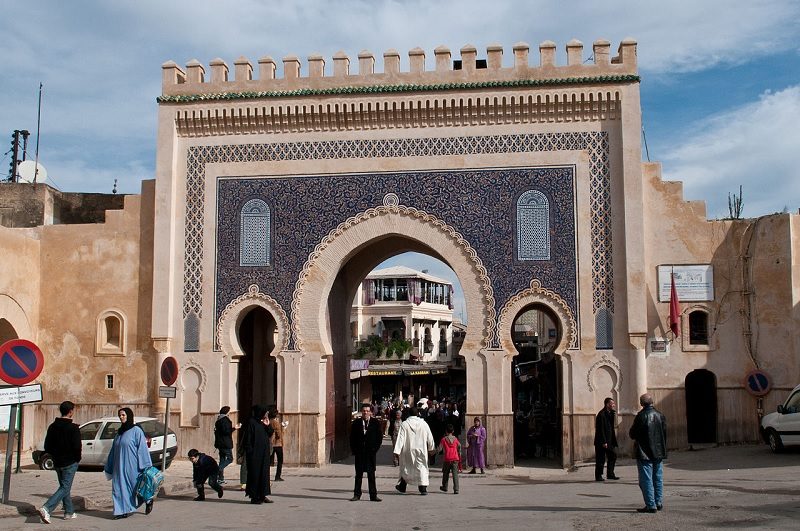 The intellectual, cultural, and religious center of Morocco for 1,200 years, Fès (or Fez) is Morocco's oldest imperial capital and is known for the Fès el Bali, its large, sprawling, walled medina. With 9,500 streets and by some accounts over 180 miles of alleys, it is crammed with every conceivable sort of workshop, market, and restaurant. Fès el Bali is a delirious assault of sights, sounds, and smells, with dye pits, tanneries, butcher shops, tiled fountains, mosques, palaces, spice markets, madrassas, and a legion of persistent rug merchants. It will all seem overwhelming, so consider hiring an official Fassi guide.
Apart from electricity, much of what you'll see in Fès el Bali seems to belong to another century. Medersa Bou Inania, built in the 1350s, is a masterpiece of extravagance, highlighted by a grand courtyard decorated with intricate geometric motifs, dazzling wood carvings, and plasterwork. The Fondouk el- Nejjarin, opened in the 14th century, served for hundreds of years as home to Fès's itinerant woodcrafters, who carved elaborate friezes (it's now a museum of woodworking). The medina's centerpiece is the Kairaouine Mosque, founded in 857 and with room for 20,000 worshipers.
At the weeklong Fez Festival of World Sacred Music in early June, performances may include Berber music, Turkish whirling dervishes of Konya, a Harlem choir singing gospel music, female musicians from France performing Gregorian chants, or ancient Judeo-Spanish lullabies.
Tangier's Medina and Chefchaouen, Tangier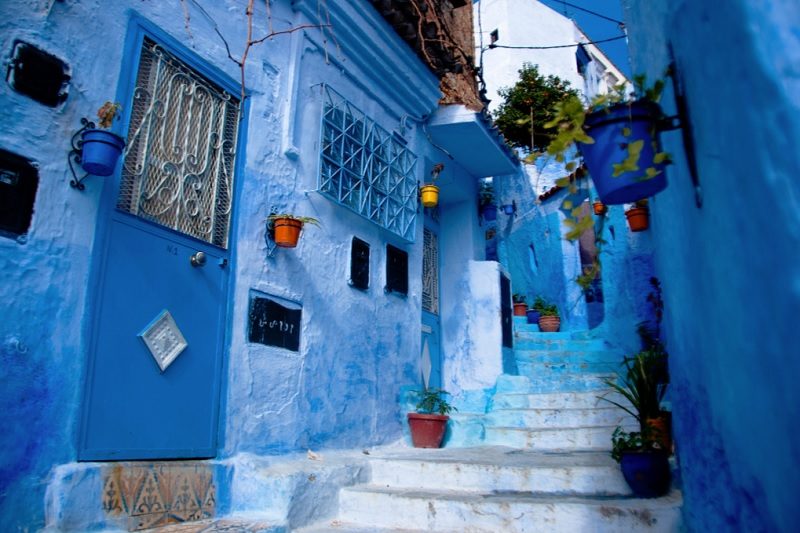 This ancient port and trading center was considered such a vital gateway between Europe and Africa (it lies directly across the Strait of Gibraltar from Spain, just 8 miles distant) that throughout much of its history it was an independent city-state. It only became part of Morocco in 1957. Largely unconstrained by the social mores of either Europe or Muslim Africa, Tangier became known for its decadent ways and attracted such artists and writers as Henri Matisse, Oscar Wilde, André Gide, and, later, Paul Bowles, Allen Ginsberg, and William Burroughs, who would find his inspiration here for Naked Lunch.
Tangier has cleaned up considerably since its lawless days, though the city's medina— the ancient, walled city center—still maintains its slightly seedy and intriguing authenticity. From the Grand Socco, the largest market square, follow Rue es Siaghin past colorful stalls and cave-like souks to the Petit Socco, the "small market" ringed with busy street cafés. Climb the winding Rue des Chrétiens toward the casbah, the highest point in the medina, a former Roman fortification that is now home to the Dar El Makhzen museum.
An hour south of Tangier (and an easy day trip, though photographers will want to linger), in a deep fold of the Rif Mountains, is Chefchaouen, a remote town with a medina that glows with blue-washed mud houses. Founded by Moors and Jews expelled from 15th-century Spain, Chefchaouen became a pilgrimage site for devout Muslims, and Christians were strictly forbidden to enter.
Essaouira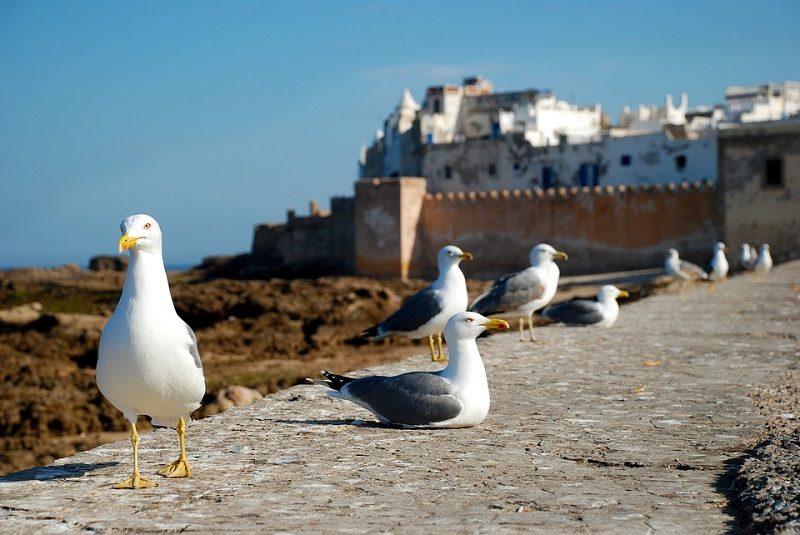 The walled port of Essaouira is perched above some of Morocco's finest beaches, with dunes that unfurl for miles to the south. The city's relaxed atmosphere—along with its exotic medina and stalwart stone ramparts— first attracted backpackers and hippies here in the 1960s (Jimi Hendrix and Cat Stevens each came to drop out). Today's young visitors come for some of Africa's best wind- and kite surfing. Along with excellent shopping for local crafts and the arty ambiance, these sports and beach-y vibe make Essaouira one of Morocco's favorite destinations—particularly in June, when thousands arrive for the 5-day Gnaoua and World Music Festival to hear the hypnotically rhythmic and joyful music of the Gnaoua people, descendants of black slaves.
The medina and fortifications were designed in the 18th century by Théodore Cornut, a French architect held prisoner here by Sultan Sidi Mohammed Ben Abdellah; the sultan liked the orderly city plan and rewarded Cornut with freedom. The car-free medina is a delight to explore, and many galleries feature the work of local artists (particularly marquetry made of indigenous thuya wood and lush, colorful canvases created by Gnaoua painters during mystical trances). You'll also find local products like rich argon nut oil, used in all manner of beauty products. The busy fishing port is where you come eye-to-eye with lunch: Pick your fresh-caught favorite (sardines, sea bass, and squid are delicious choices) and the fishmonger grills it right in front of you.
Taroudant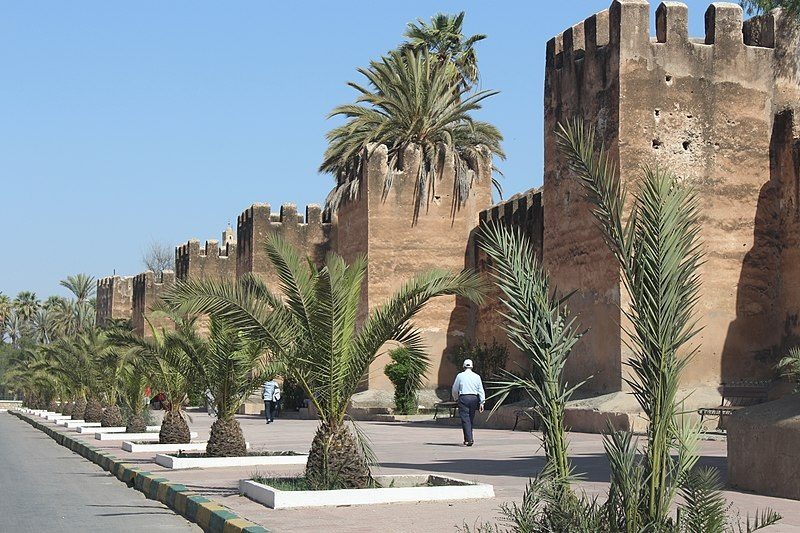 Relatively few travelers journey to southern Morocco's wide and fertile Souss Valley, ringed by the Atlas and Anti-Atlas Mountains, but wonderfully picturesque Taroudant, a 4-hour drive from Marrakech along the exquisitely scenic Tizi n'Test road, is the reward for those who do. Set amid almond and date plantations, Taroudant is an authentic Berber market town little changed for centuries. It is enclosed within castellated mud walls and centers on two vibrant souks offering good-quality, traditional crafts and foodstuffs. Often called "little Marrakech" because of its ramparts and bustling medina, Taroudant offers an opportunity to experience the edge-of-the-desert daily life of local Berbers, who are welcoming if mostly oblivious to the travelers in their midst.
A horse-drawn caleche will make a 3-mile sightseeing circuit of the tawny-brown medina walls before dropping you off at the heart of the city, its markets. Souk Assarag, also called the Arab Souk, features locally made leather goods, rugs, and silver jewelry, while at the Marché Berbère, farmers gather to sell produce and spices (saffron is one of the valley's major crops).
The Great Sahara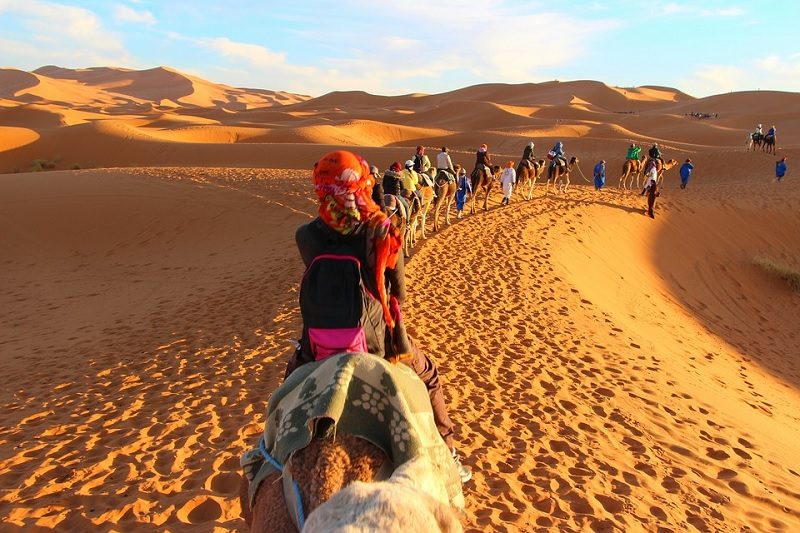 The Sahara desert is easy to reach in Morocco, and once you're there, you'll find mountains of sand, vibrant green oases, miles of barren scrub and stone that the Berbers call hammada, turbaned nomads astride camels, ancient mud-walled casbahs, and, at night, an ocean of stars, uncannily clear and bright.
The road trip from Marrakech into the Sahara brings you across the Atlas Mountains and into barren desert basins where underground rivers sustain oases of date palms and almond, citrus, and olive trees. For millennia, camel caravans traversed this seemingly empty landscape carrying spices, jewels, and gold. The gateway is Ouarzazate, where two routes diverge, both leading toward the great dunes of the central Sahara. South from Ouarzazate, the road follows the palm-fringed Drâa Valley to Zagora, where a sign at the edge of town reads "Timbuktu: 52 Days by Camel." Leave that trail to the nomads, and instead continue south to M'hamid. From here, only jeeps or camels can penetrate the massive Erg Chigaga dunes, enormous mounds of sand stretching for 25 miles and nearing heights of 1,000 feet. Dar Azawad, an elegant lodging where you'll find a talented chef who trained in France, comes as a surprise in this remote wilderness. Set in a palm-shaded oasis, its fit-for-a-sultan rooms, heated swimming pool, and spa with hammam create a splendid base for overnight trips to luxury tent camps deep in the dunes.
The route east from Ouarzazate, following the Road of the Thousand Kasbahs, leads toward the lush oasis of Skoura, where desert hotels await. Or from Skoura, continue past the mighty Dadès and Todra gorges and then to Merzouga, where the soaring dunes of Erg Chebbi rise 450 feet above the verdant oasis.
Whichever route you choose, don't miss an overnight excursion to camp among the dunes. By jeep or camel, you will travel deep into the shifting and undulating hills of towering sand to your tented campsite. Dune walks are arranged for the cool, early hours of the morning; jeeps convey you to desert towns, fortresses, ruins, and lush oases where foreigners rarely venture.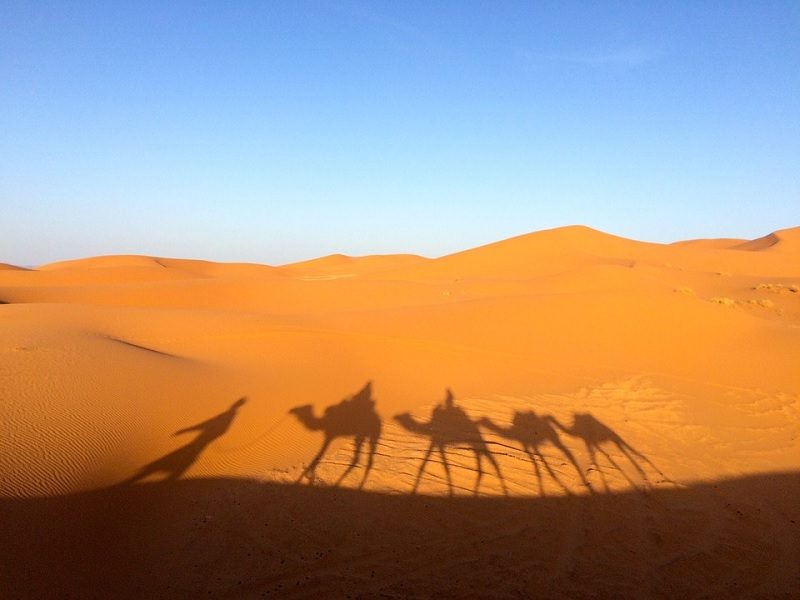 And don't forget to check out the book!
About the Book:
The world's bestselling travel book is back in a more informative, more experiential, more budget-friendly full-color edition. A #1 New York Times bestseller, 1,000 Places reinvented the idea of travel book as both wish list and practical guide. As Newsweek wrote, it "tells you what's beautiful, what's fun, and what's just unforgettable—everywhere on earth." And now the best is better. There are 600 full-color photographs. Over 200 entirely new entries, including visits to 28 countries like Lebanon, Croatia, Estonia, and Nicaragua, that were not in the original edition. There is an emphasis on experiences: an entry covers not just Positano or Ravello, but the full 30-mile stretch along the Amalfi Coast.
Every entry from the original edition has been readdressed, rewritten, and made fuller, with more suggestions for places to stay, restaurants to visit, and festivals to check out. And throughout, the book is more budget-conscious, with starred restaurants and historic hotels such as the Ritz, but also moderately priced gems that don't compromise on atmosphere or charm.
The world is calling. Time to answer.
Buy the Book
Amazon | B&N | Indiebound | Workman