If our photos of cute animals haven't helped alleviate your stress this election day, there's only one thing to do: drink. And what better to imbibe than one of our past president's favorite punches, excerpted from Brian Abrams' hilarious Party Like a President? This whiskey sour recipe, served at President Madison's soirees, is a perfect drink for later, too, whether you're drowning your sorrows or toasting your success.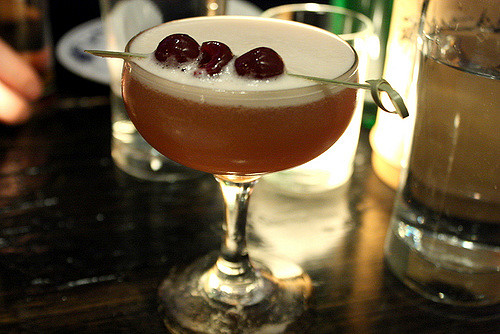 Madison's Whiskey Sours
The name "whiskey sour" itself may not have entered the American lexicon until years later, but "to be fair," according to an assistant curator at Madison's Virginia home, Montpelier, "our modern-day understanding of a whiskey sour is probably similar-ish to the punch served at Dolley Madison's levees." Evidence of this appears in the diary of lawyer Lord Francis Jeffrey, who, in 1813, reported "little cups of what I took for lemonade, but found to my infinite horror was strong punch."
1 lemon
4 ounces bourbon
1 teaspoon powdered sugar
ice
Squeeze and strain the juice from the lemon into a bowl. Save the peel. Pour the lemon juice, bourbon, and sugar into a tumbler over ice. Shake well. Serve in a rocks glass over ice. Garnish with the lemon peel.