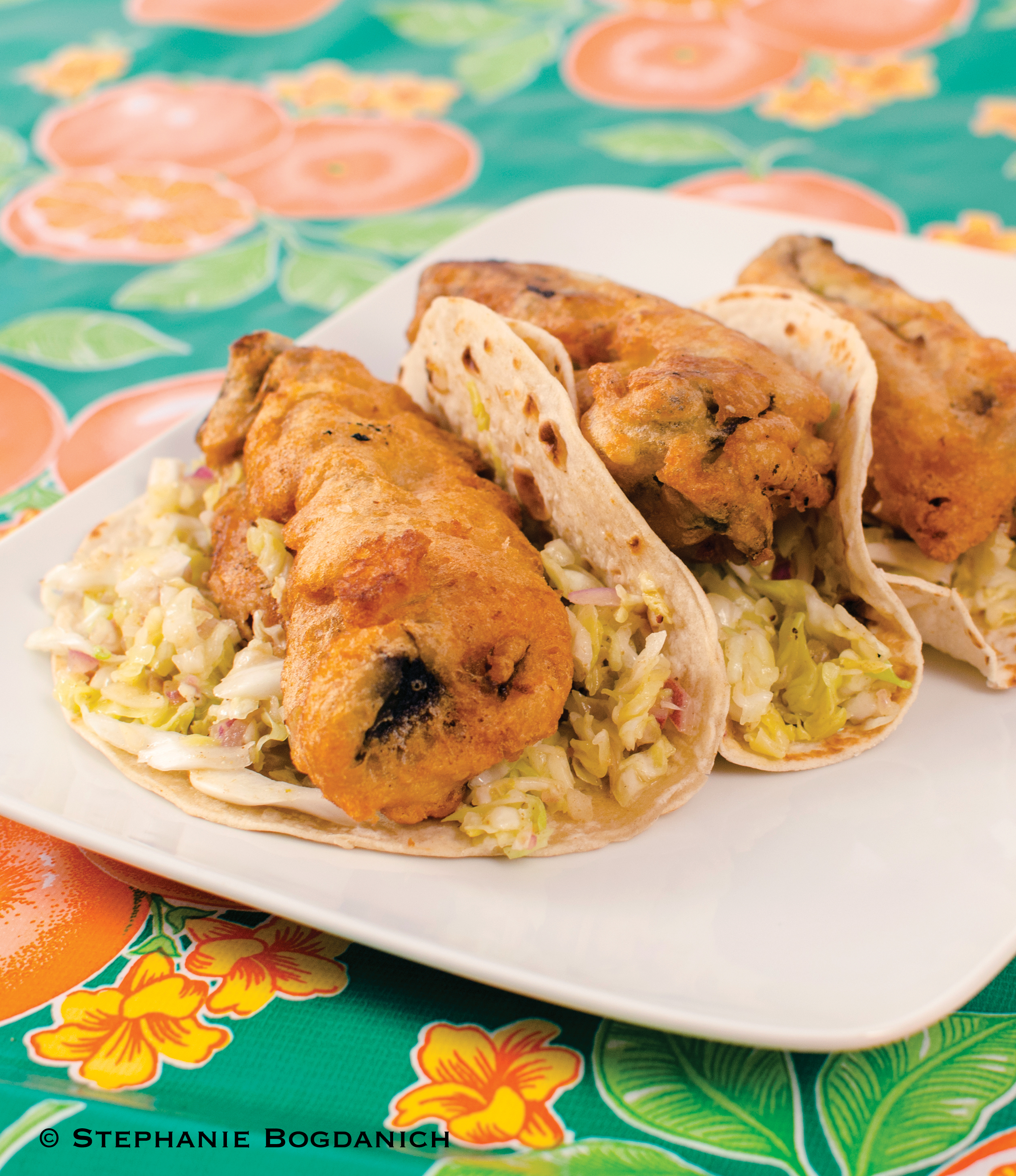 From the authors:
We talk a lot in the taco cleanse about the importance of tequila, but other alcoholic beverages are great, too. Beer is one of the most ancient elixirs used to help people deal with their feelings. Serve these on a Flour Tortilla with french fries and malt vinegar.
Beer-Battered Portobellos
Fills 16 tacos
INGREDIENTS
Cooking oil
1½ cups (180 g) all-purpose flour
1½ teaspoons baking powder
½ teaspoon salt
12 ounces (355 ml) beer
4 portobello mushrooms sliced into 1-inch (2․5 cm) wide strips
INSTRUCTIONS
Pour a 1½-inch (4 cm) layer of oil into a deep pot. Heat the oil to 375°F (190°C). (If you don't have a candy or frying thermometer, throw in a pinch of batter. The oil is hot enough if the batter sizzles and is immediately surrounded with bubbles.) In the meantime, line a baking sheet with paper towels.
To make the batter, mix together the flour, baking powder, and salt, then add the beer and mix again. Coat a mushroom slice in the batter and place it in the hot oil with a slotted spoon. Repeat until the pot has mushroom slices in one layer with space between all of them. After one side of each mushroom is browned, flip it to cook the other side. Remove the mushrooms one at a time and place on the prepared baking sheet. You will have to do several batches depending on how big your pot is. Eat these as soon as possible for maximum crunchiness.
TIP: Watching your oil consumption? Don't make Beer-Battered Portobellos! But consider why you are watching your oil consumption. Did you discuss it with your doctor or nutritionist? If not, maybe you should rethink it. After all, you only live once, and if you want to be happy in that time, eating deep-fried mushrooms might help.
SUPER CLEANSE: Gardein Golden Fishless Filets could be substituted for these portobellos․
Credit line: Recipe from The Taco Cleanse: The Tortilla-Based Diet Proven to Change Your Life, copyright ©Wes Allison, Stephanie Bogdanich, Molly R. Frisinger, Jessica Morris, 2015. Reprinted by permission of the publisher, The Experiment. Available wherever books are sold. theexperimentpublishing.com
The Taco Cleanse
by Wes Allison, Stephanie Bogdanich, Molly R. Frisinger and Jessica Morris
Tired of the same old cleanse? Instead of feeling rejuvenated are you feeling depleted, anxious, and cranky? A group of vegan taco scientists in Austin, Texas, know just how you feel, and now reveal their one-of-a-kind cleansing journey that anybody can follow and stick to—the Taco Cleanse. While the typical cleanse works by depriving you of your favorite foods, the plant-based Taco Cleanse rewards your body with what it naturally craves: tortillas, refried beans, guacamole!
The Taco Cleanse is cheap, easy, and delicious. Its recipes are authentically Austin, and are sometimes even inspired by Mexico, where the taco was first created. Everything tastes better folded (exactly once) into a tortilla. Just eat one or more tacos at every meal, adding margaritas as necessary. It's that simple!
GET THE BOOK: Amazon | B&N | ebooks.com | Google Play | iBooks | Kobo