Presidents Day honors two of America's early presidents, George Washington and Abraham Lincoln, whose birthdays—February 22 and February 12, respectively—fall so close together that they get to share a federal holiday. Before you crash into the long weekend, take a crash course in two of these most iconic of American patriots, courtesy of the "Presidents" Fandex Family Field Guide. Then hit the deck (of cards, that is) to brush up on the other forty-one.*
"First in war, first in peace, and first in the hearts of his countrymen."
Add to this "first in the presidency of the United States" and you have a fairly comprehensive picture of the Father of Our Country, George Washington.
Washington started his career in public office as surveyor for Culpeper County, VA. By 1753 he was an officer in the army, and two years later he was named commander in chief of the Virginia militia. An early proponent of colonial self-governance, Washington earned his title as national hero during the Revolutionary War when he led the Continental Army to victory. In 1787 he presided over the Constitutional Convention at Philadelphia, where the Constitution of the United States was adopted. Two years later Washington took the oath of office and became the first president of the United States. It was Washington's idea to have a cabinet. In short order, the Bill of Rights was approved by Congress and the new government empowered to raise funds by taxation. But laying the groundwork for the American government as we know it certainly didn't go to his head: His diary entry for March 4, 1797, the day he relinquished the presidency to John Adams, read in its entirety: "Much such a day as yesterday in all respects. Mercury at 41."
"Dedicated to the proposition that all men are created equal."
Self-schooled, sinewy, and intensely singular, Abraham Lincoln changed for all time the course of human history.
In 1847 Lincoln began a term in the U.S. House of Representatives, forging a name for himself as a man of strong principles indelibly expressed. But it was not until the enacting of the Kansas-Nebraska Act, sponsored by Senator Stephen Douglas, that Lincoln's righteous indignation was fully roused. In 1856 he joined the new Republican party and two years later ran for the Senate against Douglas. Taking a firm stand on the most divisive issue of the day, Lincoln proclaimed slavery fundamentally evil. Though he won the debates against Douglas, he lost the election—but won the presidential election in 1860. The challenges he now faced were grave—seven Southern states had already seceded from the Union. On April 12, 1861, the Civil War burst into being. In 1863 Lincoln issued his great Emancipation Proclamation declaring slavery unlawful in the rebelling states. The Union forces routed the Confederate troops at Gettysburg, and on April 9, 1865, Confederate General Robert E. Lee surrendered to Union General Ulysses S. Grant on the steps of the Appomattox Court House.
______________________________________________________________________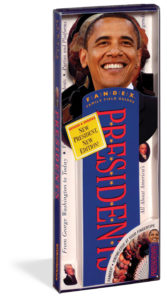 *Yes, Barack Obama is widely considered president #44. But Grover Cleveland was the only POTUS to serve two non-consecutive terms, making him #22 and #24. So technically Obama is the forty-third unique president of the United States!
—Avery, who thinks that William Henry Harrison (#9) could have been a great president, if only he'd worn an overcoat.