Excerpted from Can You Be Happy for 100 Days in a Row? by Dmitry Golubnichy (Artisan
Books). Copyright © 2017.
Buy the Book
Amazon | B&N | Indiebound | Workman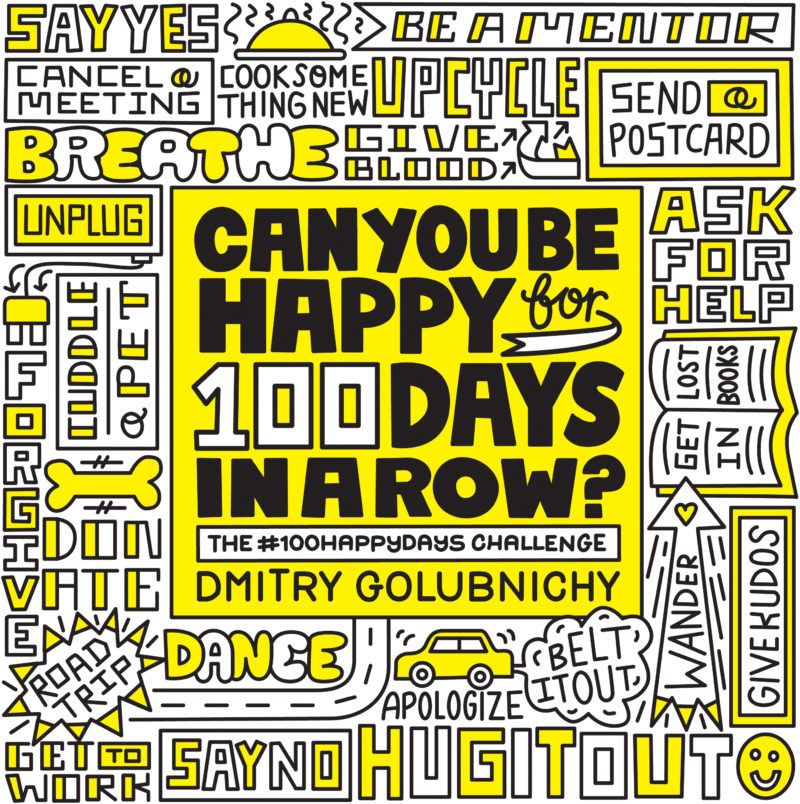 When I started the #100happydays challenge, I already had everything that was supposed to make me happy: a dream job in the education sector with a good salary, passport stamps from more than fifty countries, an attic apartment in the heart of Zurich, a lovely girlfriend by my side. I was living the life. But even with all those boxes checked off, I still didn't feel satisfied. I felt like I needed to chase more, new, better . . .
So I took a trip back home to Riga, Latvia, where most of my childhood friends had settled. And I noticed something: They were very content working the same jobs they'd had since high school, living in their small apartments, marrying their childhood sweethearts, going for weekly beers with buddies. They didn't care about finding the fanciest club or the most beautiful seashore. Rather than flying off to Polynesia or the Amalfi Coast, they were happily honeymooning in a small town fifty kilometers (thirty miles) from Riga where there is—trust me on this—literally nothing to do. Me? I was miserable about the lack of really great snow in the Swiss Alps during that skiing season.
Clearly, my unhappiness was coming from within. I needed a new perspective. Just as I had set about achieving ambitious career goals, I decided that discovering what makes me happy would be my priority for the next hundred days. And to hold myself accountable, I promised to post a photo of my findings daily on social media with the hashtag #100HappyDays.
Around day 12, people began asking what I was up to. Our exchanges often went like this: What are you doing? Appreciating what makes me happy. Can I join? Of course! What are the rules? Just find what makes you happy, post about it, and repeat for 100 days!
Soon friends of friends wanted to do their own happiness challenge and asked me to create a website to answer their questions. On December 30, 2014, 100HappyDays.com went live, and that same day, three thousand people registered. I realized this was bigger than my own happiness quest.
But what did I learn about what makes me happy?
Happiness is an active choice.
Happiness lies in small things.
Happiness is most real when it's shared with others.
To achieve happiness, it helps to appreciate and accept uncertainty.
Before long, I grew less concerned with my own mental state and more interested in helping others discover their personal happiness. And it turns out that I am happier when I am ­empowering others to focus on joy!
To date, more than 8 million people worldwide have taken on the #100HappyDays challenge, celebrating over 25 million happy moments. Participants are randomly selected to rate their happiness levels on days 1, 25, 50, 75, and 100. By the end of the challenge, people report being an average of 19 percent happier than when they started it!
Participants say the challenge helps them notice what makes them happy. It improves their mood and makes them appreciate their life. They become more optimistic, they receive more compliments, and they realize how fortunate they are—they even fall in love!
As for me, I now work full-time with the 100 Happy Days Foundation to inspire people to choose a happier existence. And I wrote a book Can You Be Happy for 100 Days in a Row? to help you do just that.
* * *
Do you want to participate in the #100HappyDays challenge?
Find something that makes you happy every day for a hundred days. It's as simple as that. Many people start and stop the challenge, citing not enough time as the reason. My new book Can you Be Happy in 100 Days? is meant to help you make it through by supplying ideas and inspiration. In it, you will find a hundred happiness-inducing suggestions inspired by doing the challenge myself, watching others, and reading and thinking about happiness full-time.
Please remember, though, that this is your happiness journey, and you should customize it as you wish. If riding your bike really fast (Day 16) isn't your thing, move on to something that is. And if decluttering a drawer (Day 88) will bring you joy two or three days in a row, that counts too. You can choose to open to a random spot every day or proceed page by page.
Throughout the book, you'll also find Science of Happiness essays that go deeper into the research-based findings on what tends to make us happy, so that you can better understand why self-care, physical activity, and connecting to nature, for example, are essential to achieving lasting happiness.
It helps to create support for your happiness challenge. Pick your favorite social network and share photos of your happiness journey there using the hashtag #100HappyDaysBook, or you can simply send your pictures to MyHappyDay@100HappyDays.com to do it privately.
The most important thing to remember is that this is for you and no one else—you don't have to compete with anyone else's happiness levels, and it won't make you happier to cheat. Discovering what makes you happy is its own success!
And now you're ready to become an expert on your own happiness. Off you go!