5 Pantry Staples to Comfort Your Body AND Mind
---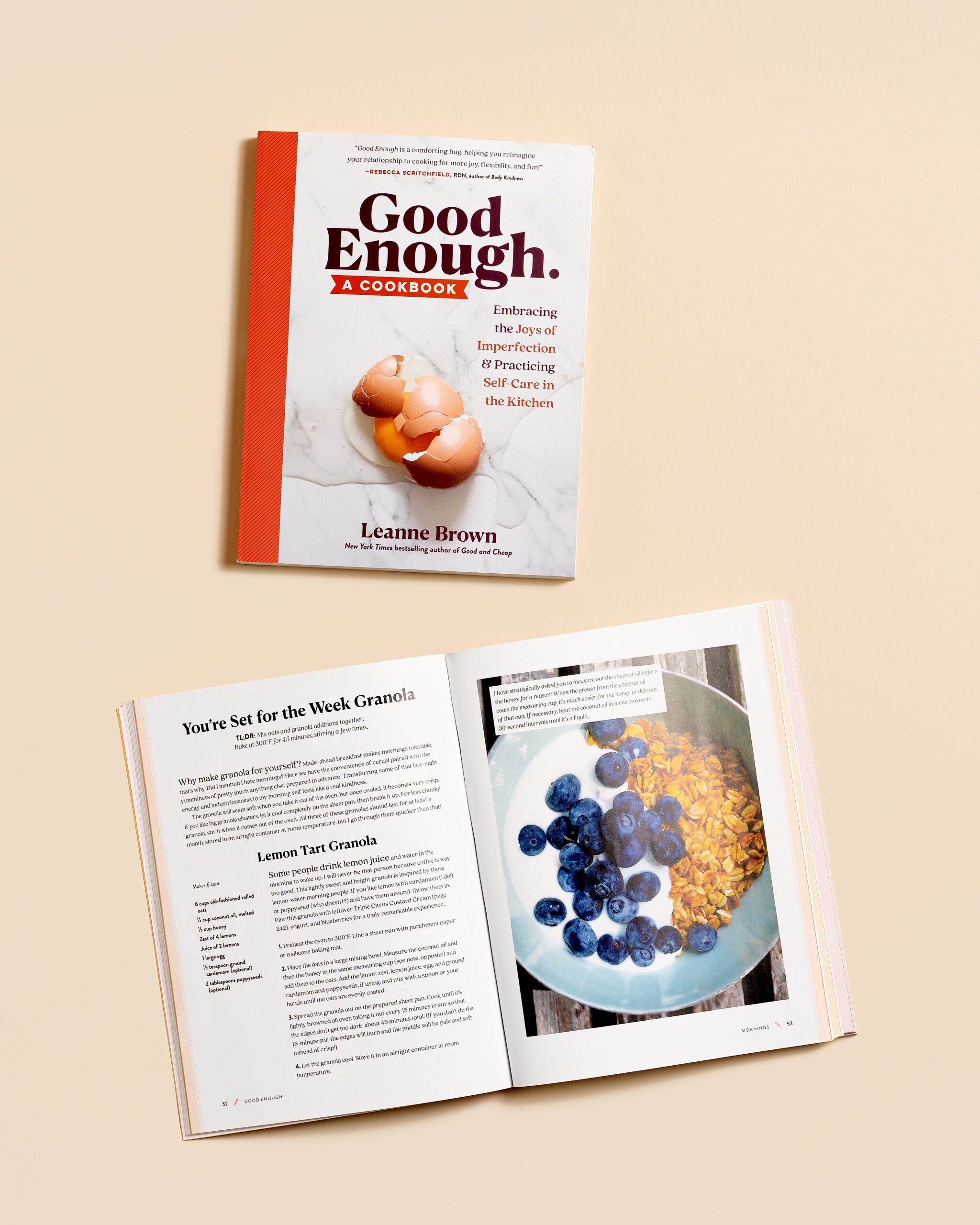 We've all been there: eating handfuls of nuts over the sink and cold pizza for breakfast, unable to find the motivation to pull together a meal even when there are groceries in the refrigerator. Good Enough: A Cookbook by Leanne Brown, author of the New York Times bestselling book Good and Cheap, is a rare cookbook that approaches food and cooking through the lens of self-care, mental health, and forgiveness. Filled with essays that delve into the feelings that can surround food—anxiety, self-doubt, guilt—Brown's overarching message is that if "you cook with self-compassion you can enjoy the experience, appreciate the great meals, laugh at the not-so-great ones, and generally live your cooking life with way less fear."  
We went behind the scenes with Leanne Brown to ask her about her 5 favorite pantry staples and flavor enhancers to give readers a place to start in their cooking journeys and help find peace and happiness in and out of the kitchen. Here's what she had to say.
Adapted from Good Enough: Embracing the Joys of Imperfection and Practicing Self-Care in the Kitchen. Copyright © 2022 by Leanne Brown.
Bread/Crackers/Rice/Pasta
Yes, technically this is more than one thing, but the point is to always have one kind of starchy carbohydrate on hand. You don't necessarily need all these in the house at once, but you want at least one of them so you have a hearty and satisfying base for a bowl or sandwich or toast. Cook a larger quantity of rice or pasta and reheat it when you are ready to create your dish the next day. I always feel a sense of ease knowing I have bread in the house because I can make cheese toast or a grilled cheese sandwich or pb&j if time or energy or forethought are not allowing for something else. It's the backup plan that is always there for you and that takes pressure off and gives comfort.
Canned Tomatoes
Yes, canned tomatoes, garlic, olive oil, and salt are all you need for a delicious, simple tomato sauce. Make a meal of it with shakshuka, tomato soup, or brown some meat and add some cream and spices for a ragu or butter chicken. Further, canned tomatoes are great for chili, braising beans or lentils, and enlivening rice or other cooked grains. Tomatoes are sweet and acidic, so they enhance the flavor of everything they touch! You can generally add them to anything savory you are cooking in a pot.
Frozen salmon or frozen ground meat/sausage/meat alternative
Having a go-to protein is a huge comfort. To find the right one for you, consider something you can make a few different ways that is also simple enough to prepare from memory. I love baked salmon for this reason–it is one of the rare fish that isn't atrocious as leftovers so you can make a larger quantity. I also often prepare cubes of tofu and fry them in batches with tamari. Then, once they cool I can freeze them or use them in whatever way suits the moment—eaten straight out of the pan hot or fridge cold, or added to salad, fried rice, or a bowl of prepared grains or vegetables. Ground meats and sausage are great for the freezer because they defrost relatively quickly and can be added into the bases of soups, stews, rice dishes, bean stews, or pastas.
Frozen Vegetables
I'm talking frozen halved brussels sprouts in the fall. I'm talking peas and corn all the time. I'm talking cauliflower and broccoli florets, green beans, and edamame. Tumble larger pieces of frozen veggies onto a sheet pan for roasting with the addition of salt, pepper, and some garlic, then top them with a sprinkling of cheese, herbs, or lemon zest. Warm them in fried rice dishes or add them to mac and cheese or pasta dishes. Sauté them quickly in a pan with garlic and lemon and serve them with salmon or other protein. They are your friends and often don't require the chopping and organization that fresh vegetables require. (You won't find them wilting on the bottom of the crisper drawer either.)
Eggs
I hope you know by now that eggs are not just for breakfast. On their own scrambled, fried, baked, or omeletted (it's a word now!), eggs are a great way to nourish yourself quickly and with little effort besides warming a pan. But add in some of the other staples and you have so much possibility: breakfast burritos, egg sandwiches, fried rice, carbonara, veggie scramble, or even a frittata!
But of course, no matter how much you work to create a rotation of simple wholesome meals, you will always have a need for the near-instant meal that comforts. For me, the answer is cheddar cheese. Even when we've been out of town for weeks, we will pick up cheddar on the way home and at minimum a cheese and cracker plate will get my head unfogged enough to make it to the next moment. I think this is important because instant meals need a reframe in our culture. We might say cheese and crackers is "not a proper meal" or some other such language that invites shame. But there are so many situations, whether it is external, like travel or internal, like when sadness and low energy strike, where we just need to get food into our bodies. That is not only not shameful, it is something to be proud of. So, whatever your instant meal helper, be it peanut butter and jelly, boxed mac and cheese, canned soup, or instant rice, know that it is valid and good enough.
Top 5 flavor enhancers to really own the kitchen 
The 5 pantry staples above make up the bulk of your meals, but what is life without flavor? Turn to these friendly, versatile flavor enhancers to elevate your basics into something that will make you melt with delight.
Favorite hot sauce or 3
It's nice to have something fresh, chunky, or herby like salsa or zhoug, some kind of vinegar based hot sauce to add that brightening zing, and something deeper and sweeter like a chipotle sauce or sriracha.
Cheese
Pick your favorites, but we always have aged cheddar (which goes with everything) and aged gouda because my daughter cannot live without it, parmesan or Romano for topping pastas, soups, stews, omelets and some fresh mozzarella for the melty factor.
Garlic
I prefer having bulbs of garlic fresh out on the counter that I can peel and chop whenever I need them, but pre-chopped garlic or pre-roasted garlic paste or even garlic powder all have a place, and you should use whatever suits your kitchen style.
Lemons
Lemon zest is essential in my kitchen. We grate fresh lemon zest to add a powerful lemon flavor to roasted vegetables, soups, stews, or just to top a simple toast with cream cheese or olive oil. Then just before you eat, squeeze a bright, acidic hit of lemon juice over the top of your tacos, soups, salmon, and more.
Fresh herbs
Basil is prolific in the summer, rosemary and thyme in the winter, and cilantro at any time of year. I tend to try to savor them and then end up letting them wilt, so be sure to use them generously when you have them!
More About Good Enough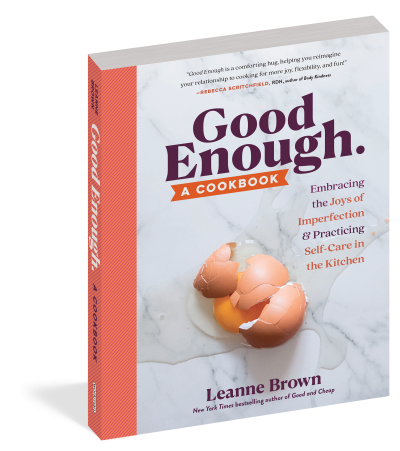 You've got this!

Good enough is a cookbook, but it's as much about the healing process of cooking as it is about delicious recipes. It's about acknowledging the fears and anxieties many of us have when we get in the kitchen, then learning to let them go in the sensory experience of working with food. It's about slowing down, honoring the beautiful act of feeding yourself and your loved ones, and releasing the worries about whether what you've made is good enough. It is.
A generous mix of essays, stories, and nearly 100 dazzling recipes, Good Enough is a deeply personal cookbook. It's subject is more than Smoky Honey Shrimp Tacos with Spicy Fennel Slaw or Sticky Toffee Cookies; ultimately it's about learning to love and accept yourself, in and out of the kitchen.