Excerpted from Cara Mangini's The Vegetable Butcher. 
Just once, try roasting broccoli with garlic until it is bronzed all over, and you may never steam it again. Toss the florets with lemon zest and juice, grated parmesan, and a drizzle of DIY chile oil and you'll have an excellent at-home happy hour bite (no plates required) or a show-stealing side. I also recommend tossing them with your cooked grain of choice (farro and black rice are nice) or pasta, adding some cannellini beans and more lemon juice and chile oil to taste.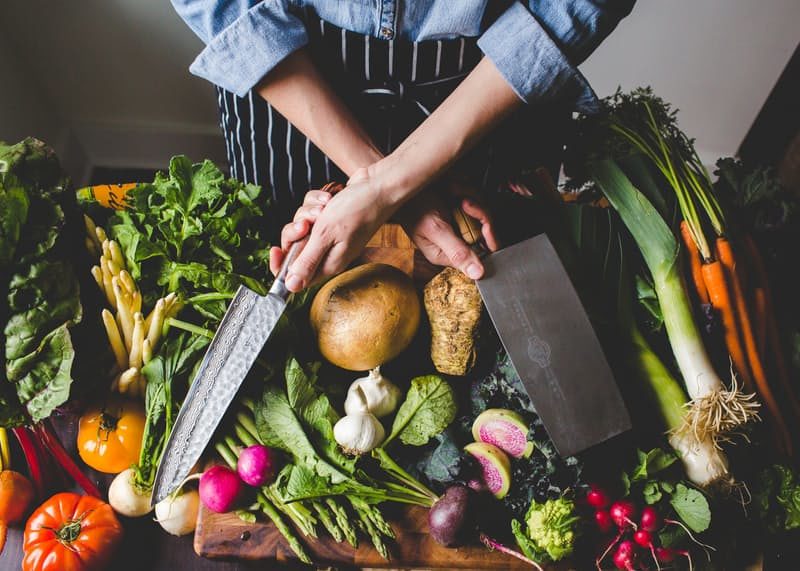 Caramelized Broccoli (with Chile Oil and Parmesan)
Serves 4-6
Ingredients
3 pounds broccoli (about 2 medium bunches or 6 stalks), cut into florets, stems peeled and cut into ½-inch rounds
3 garlic cloves, thinly sliced
¼ cup extra-virgin olive oil
¾ teaspoon fine sea salt, plus extra as needed
⅛ teaspoon freshly ground black pepper
2 medium lemons, one zested and halved, one cut into 4 to 6 wedges
1½ tablespoons Chile Oil (recipe follows here)
⅓ cup freshly grated parmesan cheese
Instructions
Preheat the oven to 425°F and line a rimmed baking sheet with parchment paper.
Toss the broccoli and garlic with the olive oil, ¾ teaspoon of salt, and the pepper in a large bowl until well combined.
Spread the broccoli on the baking sheet (reserve the bowl) and roast, turning the florets halfway through, until caramelized and partially browned, 25 to 30 minutes.
Immediately transfer the florets back to the bowl, add the lemon zest, and squeeze in the juice from 1 lemon half. Drizzle the chile oil over all, add half of the parmesan, and toss again to combine. Adjust the salt to taste. Transfer to a serving bowl and top with the remaining parmesan. Serve with the lemon wedges.
NOTE: Leave about 1 inch of stem on your broccoli florets. Peel and cut the rest of the stalk into thin rounds, and save them for a stir-fry. Store in an airtight container for up to 3 days.

Chile Oil
Makes ¼ cup
Ingredients
¼ cup extra-virgin olive oil
1 teaspoon crushed red pepper flakes
Instructions
Heat the oil and red pepper flakes in a small skillet over medium heat. Cook until the flakes begin to sizzle, about 2 minutes. Transfer to a small heatproof bowl to cool to room temperature. Strain the cooled oil through a fine, double-mesh sieve. It should keep, refrigerated in an airtight container, for about 1 month.
About the Book:
The skills of butchery meet the world of fresh produce in this essential, inspiring guide that demystifies the world of vegetables.
In step-by-step photographs, "vegetable butcher" Cara Mangini shows how to break down a butternut squash, cut a cauliflower into steaks, peel a tomato properly, chiffonade kale, turn carrots into coins and parsnips into matchsticks, and find the meaty heart of an artichoke.
Additionally, more than 150 original, simple recipes put vegetables front and center, from a Kohlrabi Carpaccio to Zucchini, Sweet Corn, and Basil Penne, to a Parsnip-Ginger Layer Cake to sweeten a winter meal. It's everything you need to know to get the best out of modern, sexy, and extraordinarily delicious vegetables.
Buy the Book
Amazon | B&N | Indiebound | Workman