Once in a great while a curry recipe comes along that blows away everyone's palate. This Maharashtrian-influenced potato dish will appeal to all — we're willing to bet on it. Even though it is a great side dish, you can also stuff it into slices of pita bread for a substantial lunch, along with a bowl of creamy kidney beans.
Ingredients
2 tablespoons white sesame seeds

2 tablespoons raw peanuts (without the skin)

4 medium-size cloves garlic

3 dried red Thai or cayenne chiles, stems removed

2 tablespoons peanut or canola oil

1 pound russet or Yukon Gold potatoes, peeled, cut into 1-inch cubes, and submerged in a bowl of cold water to prevent browning

1/2 teaspoon ground turmeric

1 can (14.5 ounces) diced tomatoes

2 teaspoons coarse kosher or sea salt

2 tablespoons finely chopped fresh cilantro leaves and tender stems

12 medium-size to large fresh curry leaves
Instructions
1
Combine the sesame seeds, peanuts, garlic, and chiles in a food processor, and pulse to form a gritty, sticky, mellow-smelling blend.
2
Heat the oil in a medium-size saucepan over medium-low heat. Scrape the sesame-peanut blend into the warmed oil and roast the mixture, stirring, until it starts to release its own oils and loosen, turning crumbly and nutty brown, 5 to 8 minutes.
3
Meanwhile, drain the potatoes.
4
Stir the turmeric into the sesame-peanut blend and cook for 5 seconds. Then add the potatoes, tomatoes (with their juices), 1 cup water, and the salt. Stir once or twice, raise the heat to medium-high, and bring to a boil. Then reduce the heat to medium-low, cover the pan, and cook, stirring occasionally, until the potatoes are fork-tender and the sauce has thickened, 25 to 30 minutes.
5
Stir in the cilantro and curry leaves, and serve.
More about 660 Curries: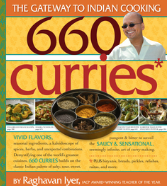 Presented by the IACP award–winning Cooking Teacher of the Year (2004), Raghavan Iyer, 660 Curries is a joyous food-lover's extravaganza. Mr. Iyer first grounds us in the building blocks of Indian flavors—the interplay of sour (like tomatoes or yogurt), salty, sweet, pungent (peppercorns, chiles), bitter, and the quality of unami (seeds, coconuts, and the like). Then, from this basic palette, he unveils an infinite art. There are appetizers—Spinach Fritters, Lentil Dumplings in a Buttermilk Coconut Sauce—and main courses—Chicken with Lemongrass and Kaffir-Lime Leaves, Lamb Loin Chops with an Apricot Sauce. Cheese dishes—Pan-Fried Cheese with Cauliflower and Cilantro; bean dishes—Lentil Stew with Cumin and Cayenne. And hundreds of vegetable dishes—Sweet Corn with Cumin and Chiles, Chunky Potatoes with Golden Raisins, Baby Eggplant Stuffed with Cashew Nuts and Spices. There are traditional, regional curries from around the subcontinent and contemporary curries. Plus all the extras: biryanis, breads, rice dishes, raitas, spice pastes and blends, and rubs.
Buy the Book
Amazon | B&N | Indiebound | Workman