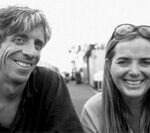 Artisan is happy to announce that at the James Beard Awards, BEYOND THE GREAT WALL: Recipes and Travels in the Other China, by Jeffrey Alford and Naomi Duguid, won in its category, Best International Cookbook of 2008!
This is Jeffrey and Naomi's second big victory this spring, having won in the same category last month from the International Association of Culinary Professionals.
Congratulations, Jeffrey and Naomi!
Also a winner, for Best Wine Service, was Aldo Sohm, the sommelier at Le Bernardin in New York.
Artisan's ON THE LINE, by Eric Ripert and Christine Muhlke, gives you a detailed, behind-the-scenes look at what it takes to make Le Bernardin a four-star restaurant year after year.
You can read about Aldo Sohm and his award-winning wine service on pages 128-131.
Congratulations, Aldo, Chef Ripert, and the staff at Le Bernardin!