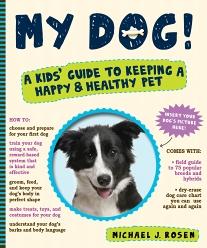 So, you love dogs. (We do, too.) You want to make a special treat for your furry best bud–maybe it's his birthday, or she mastered the "stay" command, or it's just a Tuesday and you feel like baking something yummy. How does a dog-friendly peanut butter carrot cake sound? Amazing?! Great! Check out the video below, where Chef Josh teaches you how, with a little help from guest sous-chef (and author of My Dog! A Kids' Guide to Keeping a Happy and Healthy Pet), Michael J. Rosen.
[youtube]http://www.youtube.com/watch?v=sR7_3LVtR5o&list=PL21E9130DE455977E&index=2[/youtube]
Mmmmmmmm. Want the full recipe? Head on over to the "My Dog! Delights" section of the the My Dog! website.
_______________________________________________________________
For even more tips, crafts, recipes, and games, check out the official My Dog! website. And make sure to like the My Dog! Facebook page and follow Michael J. Rosen on Twitter (@fidosopher) to keep up on all the latest My Dog! news.