Sweater weather has arrived at last! Here's our favorite drink to cozy up with as the weather gets colder, courtesy of Kat Odell's Day Drinking: 50 Cocktails for a Mellow Buzz.
Buy the Book
Indiebound | B&N | Amazon | Workman
From Craig Lane of Bar Agricole, San Francisco
During the colder months, and especially when organizing holiday gatherings, mulled wine is my go-to. Not only is hot spiced wine incredibly simple to make—you're basically dumping a bunch of ingredients into a pot and cooking—but the outcome of the drink always tastes far more complex than the effort that went into making it. Sometimes mulled wine can be a bit too sweet: The heat of the drink masks the sugar, but if you don't finish your mug right away and the wine cools down a bit, suddenly the sweetness can wallop you. Happily, this recipe is the exception. Not too sweet, but just sweet enough, it tastes like the holidays in a glass. Note that it makes enough for a big party, but you can easily scale it down by cutting the recipe in half or even a quarter.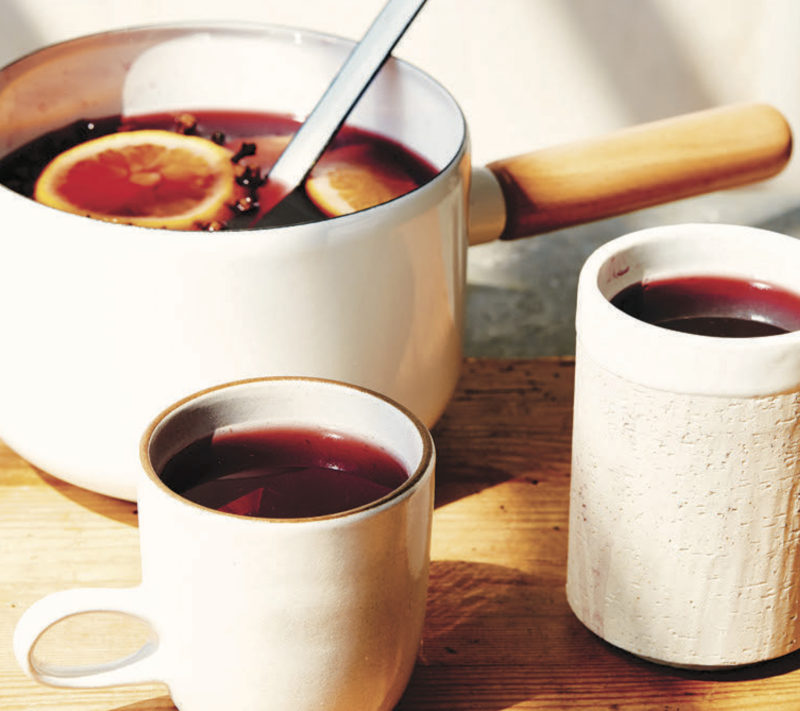 Mulled Wine
Makes about 40 cups.
Ingredients
8 bottles (750 ml each) dry, fruity red wine, such as Pinot Noir or Beaujolais
1¼ cups sugar
8 cinnamon sticks
3 oranges studded with cloves, then sliced into 1⁄2-inch-thick wheels
30 whole cloves
1⁄4 teaspoon ground mace
1⁄4 teaspoon ground allspice
1⁄4 teaspoon ground nutmeg
Peel of 2 lemons
2½ cups brandy, such as Armagnac or Cognac
1 bottle (750 ml) kirsch or maraschino liqueur, for serving
Instructions
Combine the wine, sugar, cinnamon sticks, clove-studded orange wheels, cloves, mace, allspice, nutmeg, and lemon peel in a 9-quart stockpot over low heat. Cook, stirring occasionally, until the sugar dissolves and the mixture begins to simmer, 15 minutes.
Add the brandy and simmer, stirring occasionally, for another 15 minutes. Do not allow the mixture to boil.
Strain the mixture through a fine-mesh sieve set over a large heatproof bowl, pressing the oranges with the back of a spoon to extract the juice; discard the solids. Return the mulled wine to the pot and keep warm, over low heat. To serve, pour 1⁄2 ounce of the kirsch into each mug and top with 1⁄2 cup of the mulled wine.