Few things in life are epic: The Battle of Bunker Hill, Homer's Iliad, the movie Alien (not the sequels), and, as of this week, DoSomething.org's Epic Book Drive.
In partnership with Better World Books, Do Something.org is encouraging kids to hold book drives to raise funds for New Orleans' Recovery School District libraries. The school or community that collects the most books will win a $1000 donation to their school library and a pizza party for the WHOLE school!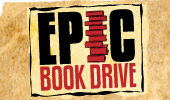 For more information on this truly epic cause go to DoSomething.org/epic-book-drive. While you're there, check out a still from an upcoming PSA with Ludacris who happens to be a big fan of our book, Do Something!: A Handbook for Young Activists. And be sure to keep checking back here for some more awesome-but-not-quite-epic related posts.