Recipe excerpted from Raquel Pelzel's Sheet Pan Suppers Meatless.
Buy the Book
Amazon | B&N | Indiebound | Workman
Dark, stark, and beautiful—black "forbidden" rice is a statement grain. It cooks up with the hearty chew of brown rice, but has a more floral, less nutty flavor (it's available in most health-minded grocery stores or in the organic aisle of the supermarket). Here, I roast beets and red onion on a sheet pan before adding the black rice, which ends up staining the vegetables inky black. It's very noir—a bit moody, yet pleasantly sweet when you bite into a beet or red onion, both of which are naturally sweeter than their yellow counterparts. The goat cheese–and-dill vinaigrette offers a classic flavor pairing for the beets, while the pistachios add crunch and that gorgeous bright green burst of color.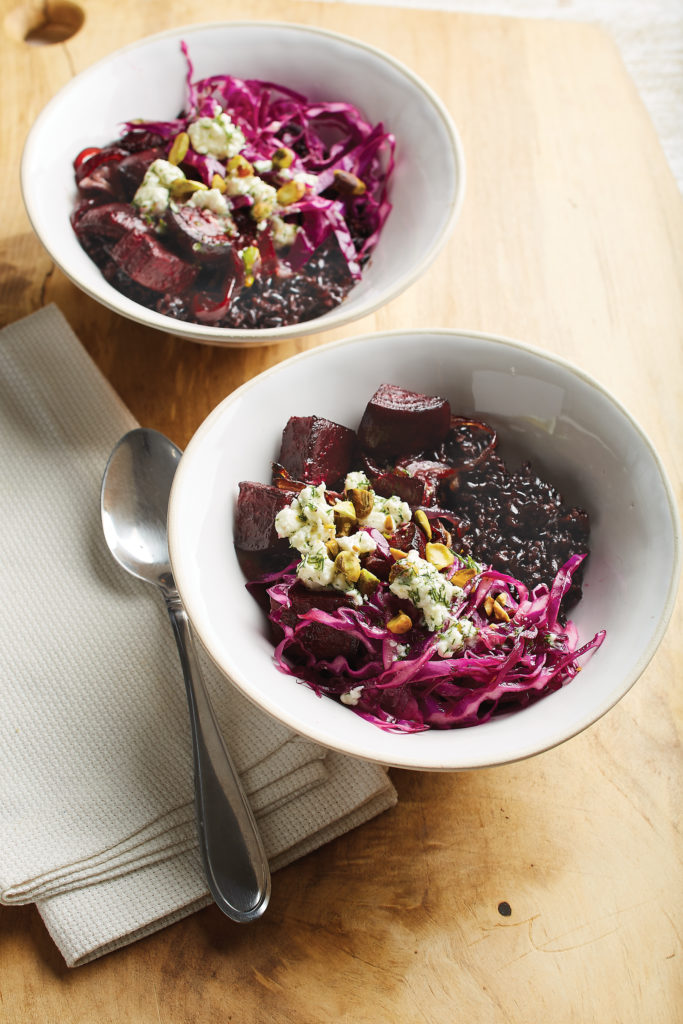 Forbidden Rice Bowl with Beets and Goat Cheese–Dill Vinaigrette
Serves 4
Ingredients
3 medium-size beets, peeled and cut into bite-size pieces (see box, page 96)
1 small red onion, halved and thinly sliced
6 tablespoons extra-virgin olive oil
1¾ teaspoons kosher salt, plus extra as needed
1½ cups black rice (see headnote)
3 cups boiling water
2¼ cups (about 8 ounces) thinly sliced red cabbage
3 tablespoons plus 2 teaspoons fresh lemon juice
2 tablespoons chopped fresh dill
2 teaspoons honey
½ teaspoon freshly ground black pepper, plus extra as needed
4 ounces fresh goat cheese
¼ cup shelled, roasted, salted pistachios
Instructions
Adjust an oven rack to the middle position and preheat the oven to 350°F.
Place the beets and red onion onto a rimmed sheet pan and toss with

2 tablespoons olive oil and 1 teaspoon

salt. Roast until they start to soften, about 15 minutes.

Wearing oven mitts, remove the pan from the oven and add the rice, sprinkling it evenly over the beet mixture. Pull the oven rack out partway, place the pan back on it, carefully add the boiling water, and give everything a quick stir to distribute evenly. Cover the sheet pan with aluminum foil (you may need 2 sheets), crimping it tightly around the edges to seal. Bake until the rice is tender and the water is evaporated, 35 to 45 minutes. Remove the sheet pan from the oven and set it aside (leave it covered).
While the rice bakes, place the cabbage in a medium-size bowl and massage it with 1 tablespoon oil, 2 teaspoons lemon juice, and ¼

 teaspoon salt, and set it aside.

Whisk 3 tablespoons olive oil with the remaining 3 tablespoons lemon juice, dill, honey, ½

 teaspoon salt, and pepper in a small bowl. Crumble in the goat cheese and stir gently. Taste and add more salt or pepper if needed.

Divide the rice among 4 bowls. Top with the cabbage and some goat cheese vinaigrette. Sprinkle the pistachios over the top before serving.