Excerpted from Gluten-Free Flavor Flours by Alice Medrich (Artisan Books). Copyright © 2014. Photographs by Leigh Beisch.
Buy the Book
Amazon | B&N | Indiebound | Workman
Rice and oat flours give this moist and otherwise classic American cake a surprising delicacy while letting the spices shine through. A guest once pronounced this the best carrot cake he'd ever eaten. Cool the cake thoroughly and make sure the frosting is soft before topping with Cream Cheese Frosting.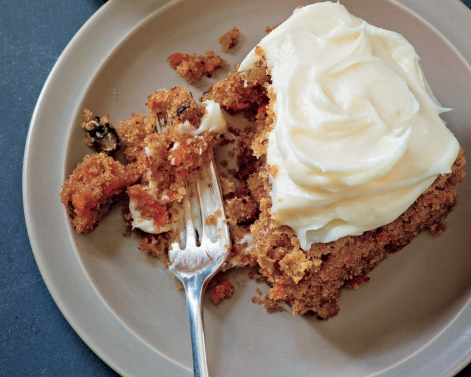 Carrot Spice Cake with Cream Cheese Frosting
Serves 12
Ingredients
1¼ cups flavorless vegetable oil (such as soybean, corn, or safflower)
2 cups (400 grams) sugar 4 large eggs
1½ cups plus 1 tablespoon (240 grams) white rice flour or 2⅓ cups (240 grams) Thai white rice flour
¾ cup plus 1 tablespoon (80 grams) oat flour
1 teaspoon baking soda
2 teaspoons baking powder
2 teaspoons ground cinnamon
½ teaspoon ground nutmeg
¼ teaspoon ground cloves
½ teaspoon salt
3 cups (340 grams) lightly packed shredded peeled carrots (about 4 large carrots)
1 cup (100 grams) coarsely chopped walnuts
Cream Cheese Frosting (recipe follows below)
Equipment
9-by-13-inch glass baking dish
Stand mixer with paddle attachment or handheld mixer
Instructions
Position a rack in the lower third of the oven and preheat the oven to 350°F. Grease the baking dish with vegetable oil spray or butter.
Combine the oil, sugar, and eggs in the bowl of a stand mixer and beat on medium speed with the paddle attachment until lighter in color, about 2 minutes. Or beat with a handheld mixer on medium-high speed for 3 to 4 minutes.
Add the rice and oat flours, baking soda, baking powder, cinnamon, nutmeg, cloves, salt, carrots, and walnuts and beat on low speed until smooth. Scrape the batt er into the prepared dish.
Bake for 30 minutes at 350°F, then reduce the heat to 325°F and bake for 30 minutes longer, or until a toothpick inserted in the center comes out clean. Set the pan on a rack to cool for at least 2 hours before frosting.
To frost, use a spoon to drop dollops of frosting all over the cake, then spread with a small spatula. Cut into 3-inch squares to serve. This cake keeps, covered, in the refrigerator for up to 5 days.
Note: To make this into a layer cake, grease the sides of two 9-by- 2-inch round cake pans and line the bottoms with parchment paper. Divide the batter evenly between the pans. Bake for 30 minutes at 350°F and 20 minutes at 325°F. Fill and frost the cake with 1½ batches of Cream Cheese Frosting.
Cream Cheese Frosting
Makes 2 cups
Ingredients
8 ounces (225 grams) cream cheese
8 tablespoons (1 stick/115 grams) unsalted butter
1½ cups (170 grams) powdered sugar
½ teaspoon pure vanilla extract
Instructions
Warm the cream cheese and butter in a microwave oven on Low until soft but not melted. Add the powdered sugar and vanilla and beat with a spoon until smooth.