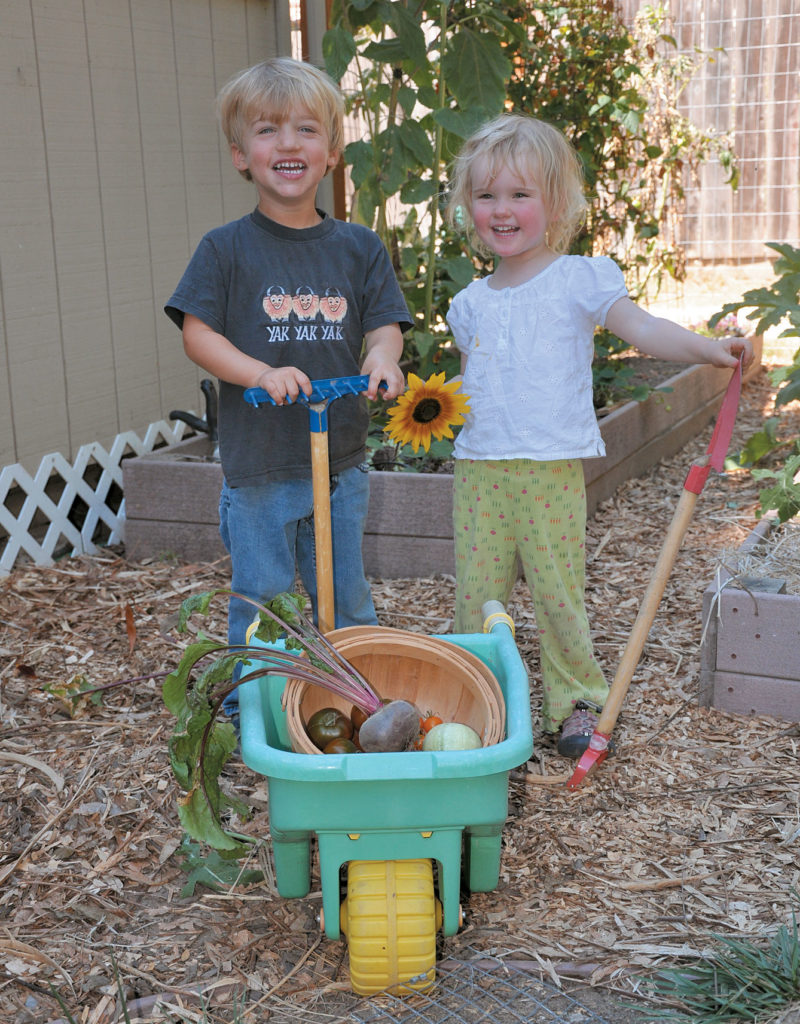 This summer, make outdoor play a daily adventure. If your yard and garden are full of things your kids love, it will become a favorite hangout spot. Some of the most playful ways to get your kids outside are taking inspiration for crafts and cooking projects from the garden, and using your yard as a site for birthday parties and celebrations. Check out some of our favorite must-do strategies from Whitney Cohen and John Fisher's The Book of Gardening Projects for Kids.
Buy the Book
Amazon | B&N | Indiebound | Workman
Crafts: Rock Plant Markers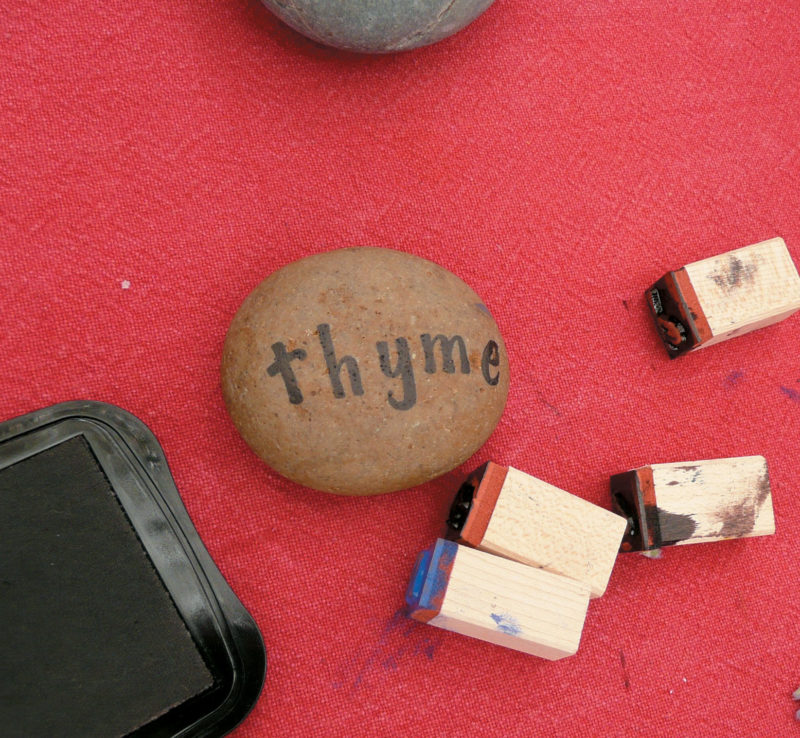 Here's what you'll need:
Flat rocks
Acrylic enamel paints
Inexpensive artists' paintbrushes
Here's what you'll do:
Collect some smooth flat rocks that are large enough to write across. Or purchase beach stones at a construction supply store.
Scrub your rocks clean and then set in the sun until completely dry.
Paint the name of a garden plant on each rock. If you like, you can also paint a picture of the plant.
Place your rock next to those plants in your garden.
Also try this:
Use rubber stamps with the letters of the alphabet to write words on your stones. To keep your stamps in alphabetical order when not in use, you can stick them into a floral arrangement foam block.
Cooking: Zucchini Fritters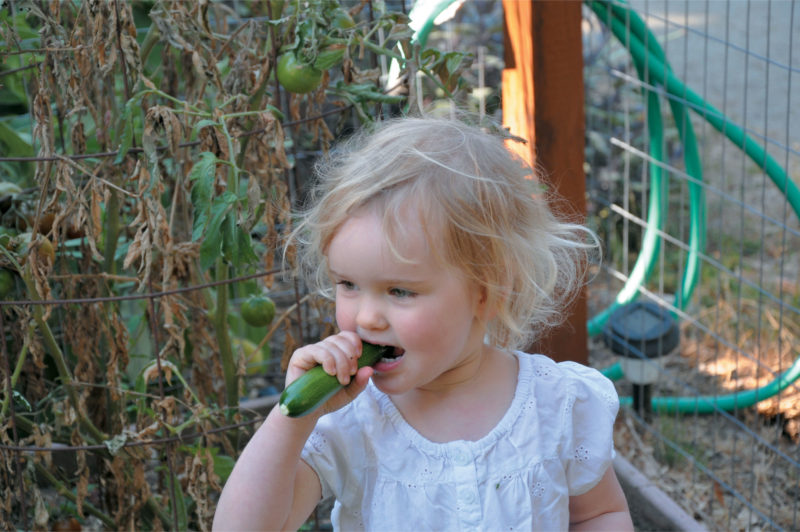 We love this recipe, not only for the delicious end result, but because kids of all ages can help with almost every step. This can be a fun cooking activity for a group, with one child grating zucchini, one grating lemon zest, one cracking and beating eggs, one measuring flour, oil, and salt, and one grating or crumbling cheese. Older children will also enjoy helping you flip the fritters on the pan.
Active time: 45 minutes Total time: 45 minutes Makes about 12 small fritters
Here's what you'll need:
1 pound (about 3 medium) zucchini ½ onion, diced
1 tablespoon of lemon zest, freshly grated
2 tablespoons fresh parsley, chopped
2 large eggs, lightly beaten
½ cup all-purpose flour
¼ cup Parmesan cheese, freshly grated, or feta cheese, crumbled
1 teaspoon salt
Dash of freshly ground pepper
2 tablespoons canola oil, or more as needed
Medium bowl Large frying pan
Here's what you'll do:
In a medium bowl, coarsely grate the zucchini, leaving the skin on.
Add diced onion, lemon zest, chopped parsley, eggs, salt, and pepper and mix well to combine.
Slowly add the flour, stirring so no lumps form. Then fold in the cheese.
Heat 2 tablespoons of oil in a large frying pan over medium-high heat.
One at a time, carefully drop about 2 tablespoons of zucchini mixture into the hot pan; spacing fritters a few inches apart. Cook fritters until golden, 2 to 3 minutes. Reduce heat to medium. Flip fritters with a spatula, and continue cooking until golden on all sides, 2 to 3 minutes more.
Transfer cooked fritters to a plate and set aside in a warm place. Repeat cooking process with any remaining zucchini mixture, adding more oil to pan if necessary.
Celebrate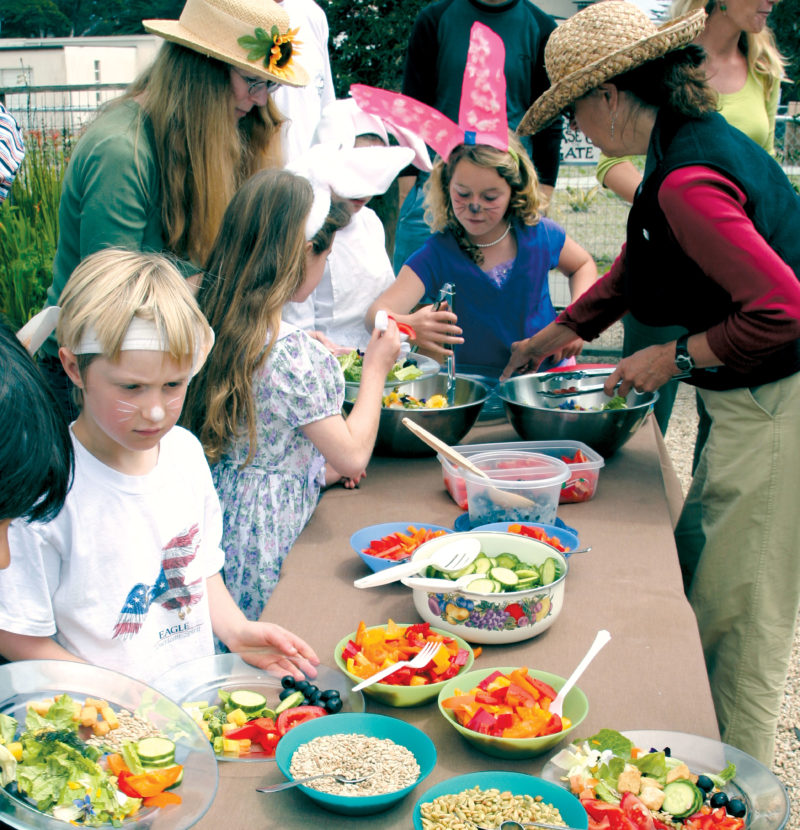 Celebrating the fruits of our labor is a common joy shared by families that garden. Garden fairy parties, flashlight garden scavenger hunt sleepovers, and honeybee-themed birthdays are all examples of ways families weave the garden into their events and parties. Holidays and birthdays are on an annual cycle that helps shape family traditions and celebrations. The garden works the same way! If we look at the cycle of a garden and the seasons that drive that cycle, there are more reasons to celebrate than we could likely fit into our lives. From pulling well-kept carrots from under the snow in winter, to canning dilly beans in the middle of the summer to give to Grandma, many of the families share traditions tied to the garden that focus on reaping the harvest.
Summer Party Ideas
Firefly Campfire: Prepare a nighttime flashlight-led scavenger hunt around the garden, and then gather around a fire pit for roasted corn.
Bug Party: Make insect collecting nets and use bug boxes to collect bugs. Have a bug race. If you dare, serve chocolate covered insects.
Water Party: Paint metal watering cans, set up a slip and slide or sprinklers to play in, and have a water balloon toss.
Community Jam: Canning and jamming are not quick and easy tasks, which is all the more reason to include the whole family or neighborhood. Have the little ones harvest and wash produce and older kids can help slice and can.
---
Whitney Cohen is the education director at Life Lab and presents garden-based learning workshops for educators across the country. Her expertise in gardening with children comes from years as an environmental educator, a middle school science teacher, a teacher trainer, and, most recently, a mother.
John Fisher is Life Lab's director of outreach and communication. He designed and helped build Life Lab's one-acre garden classroom, and has created videos and websites on garden-based learning for Life Lab and the University of California Santa Cruz Farm.