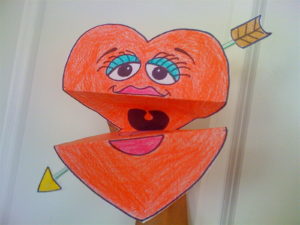 …and I mean it from the bottom of my heart. No self-respecting Valentine's Day serenade is complete without a valentine that can actually help out with the melody. I'm not talking about those singing greeting cards with sound chips. I'm talking about a heart that talks–and sings, too, if you let it. Ladies and gentleman, lovers and friends, it's a puppet!
Noel MacNeal, author of 10-Minute Puppets, made a 10-Minute Puppet (download the Lovin' Heart template here) especially for you this Valentine's Day (you know, in case you're shy and need someone else to deliver the message to your sweetheart).
Materials:
Crayons or markers
Scissors
Drinking straw
Tape
Your hand
Make it:
1.) Print the template sheet and use crayons or markers to color in the heart, the arrow point, and the arrow tail. (There's no need to color in the finger strap since it will be hidden behind the puppet.)
2.) Cut out the four template pieces. Then fold the Heart in half, lengthwise along its narrowest point, right sides facing.
3.) Fold the top part of the heart up halfway, so the top lip lines up with the bottom lip. Then flip the heart over and fold back the bottom of the heart at the bottom lip.
4.) Place the heart face down. Fold the ends of the finger strap and tape the ends flat against the top of the mouth (leave a loop big enough for your fingers!). Optional: Cut an extra strip of paper to roll into a thumb loop, then tape it together and tape it to the bottom of the mouth.
5.) Cut the straw in quarters. Tape the arrow point to the end of one straw piece and tape the arrow tail to the end of another piece. Then line up and tape the arrow tail to the top back of the Heart, along one side. Tape the arrow point to the bottom back of the Heart, opposite the arrow tail.
6.) Now slip your fingers through the loop and start crooning your love ballad!