Lingerie. It's better than butter. It doesn't add to the waistline; rather, it slims and accentuates where desired. Ladies, what could be better to unwrap on Valentine's Day? A giant plush hippopotamus (or real, JK)? Bearing flowers? Filled with truffles (chocolate or black)? Singing you the Glee soundtrack? None of these things.
But lingerie comes with a cost, and not just the price. We females must make a sacrifice in order to receive such bounty. The giving of this gift may turn our significant others into a particular breed of undesirable character, whom we shall call the "Creepy Solo Male Shopper in Lingerie Store." Ladies, you already know about this person. He may be wearing sunglasses, a baseball cap, a five-o'clock shadow, a frat tat. Or perhaps he is impeccably dressed, irretrievably timid, and otherwise perfectly normal. These things, unfortunately, are irrelevant. He is the loiterer lurking among the feathery bras, sneaking furtive glances at the mannequin's thong. As far as you know. As you sift through yards of lacy underthings, a number of thoughts may run through your head. This is what the internet is for… Stop looking at what I'm looking at... Now is not an appropriate time to strike up a conversation…. Please tell me you are in a monogamous relationship… You may be panic-stricken with the desire to grab the first unmentionable in your size and flee. But, sadly, it is often the case that a CSMSLS may not be avoided. It is in the nature of the lingerie store.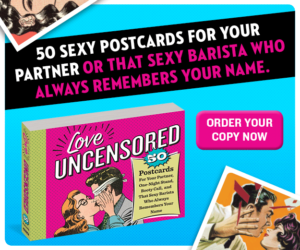 So, if you suspect that someone you know will be suffering from CSMSLS this consumerist holiday, please make sure that he is equipped with some knowledge. It's in your breast best interests! Here, straight from the book, is a little tutorial on bra size reconnaissance, so he doesn't have to spend time lurking around the store. Girls, it's never too subtle to leave his internet browser open to this page. Or (even better) leave Lessons in Lingerie out on your coffee table.
---
Size Matters
The most common question you'll hear saleswomen ask male shoppers is, "What size is she?" That's because most of them come in without measurements. The guessing game is fun, but a little strategic planning is a good idea. Here are four ways to make this mission possible:
1. Do some detective work. Sneak a peek inside her drawers–her lingerie drawers! Find the type of item you are looking to buy, or something similar, and locate the size. Check out a few tags, because sizes vary from brand to brand. Beware of items at the back of the drawer that you've never seen her wear. She could be one of those ladies who hangs on to items that haven't fit for years, dreaming of the day she'll lose those last ten pounds. If you size her up based on a single item only, Murphy's Law guarantees you will choose one of those ancient relics. Do your reconnaissance work and capture the necessary information: her average size!
2. Ask her best friend. Girlfriends tend to know these kinds of things about each other. If she doesn't know, she'll probably be able to find out. A good friend will happily be an accomplice on this operation.
3. Ask her. Do this well before you plan to go shopping. While you're at it, get all of her sizes (bras, panties, clothes, shoes, even ring finger… and don't forget favorite colors too). There's something to be said for a man who has done a proper background check–and who carries all of his lady's sizes around in his wallet, ready at a moment's notice.
4. Take the Fruit Test. If you have not obtained her bra size, and can't track down her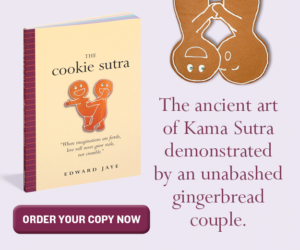 actual digits, here's your last resort: a visual aid to help you approximate her size. Just imagine which of these fruits most resembles her breasts in size or volume:
Plum: Is she cute and compact? She's probably a AA cup or smaller.
Lemon: Budding and beautiful? Try an A cup.
Orange: Ample and alluring? She's probably a B.
Grapefruit: Is she full and fabulous? Think C cup.
Cantaloupe: Voluptuous and va-va-voom? She's probably a D cup or even a DD.
Honeydew: Is she bodacious and bountiful? She's probably a DD cup or larger.
---
About the Book:
It's the essential guide to dressing to undress, from the basics of bras, panties, slips, and shapewear to the sexy extremes of corsets, sheer chemises, balconets, and bustiers—perfect for the tens of millions of fans of Fifty Shades of Grey who are now wondering what to wear. Written by lingerie expert Rebecca Apsan ("the best bra-fitter in the country"—New York magazine), Lessons in Lingerie covers it all: The revelation of a properly fitted bra. How to cultivate your inner coquette. How to look ten pounds thinner. What works under a clingy dress or a sheer white blouse. The basics of shopping, cleaning, organizing. And Ms. Apsan's manifesto for change: Stop wearing underwear!
Buy the Book
Amazon | B&N | Indiebound