Say, what?! Yes, today on Today, Matt Lauer revealed that he's 11,745 feet above sea level at Jungfraujoch's Sphinx Observatory, in the Swiss Alps (and now we understand the poor weather that caused him to change his itinerary early in the week–it's hard to travel anywhere in complete whiteout conditions!).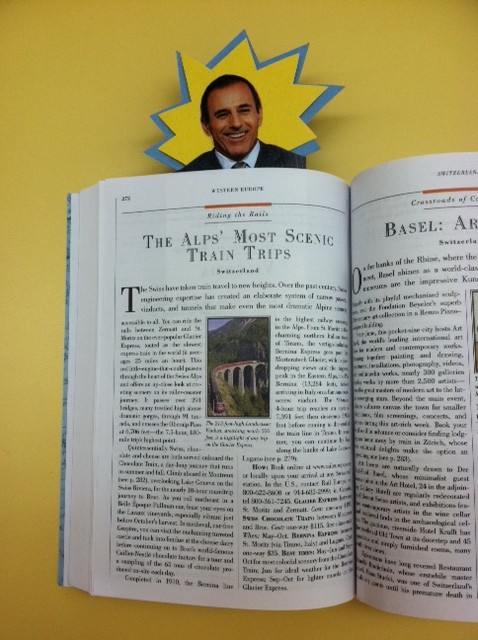 Now, if he were really traveling through the pages of the new 1000 Places to See Before You Die, Matt could have skipped across a mere six pages from Madrid (page 266), where he was on Monday, to The Swiss Alps (page 272) where he landed himself this morning (no nasty weather conditions to worry about there, unless you count the wind generated from rapid page-turning).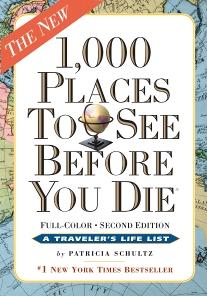 Matt took the train to the observatory, which is precisely the highlight that Patricia Schultz points to in the 1000 Places entry. Swiss engineering has taken train travel to new heights — literally! There's a rail tour called the Glacier Express that passes through the heart of the Swiss Alps, over 291 bridges, through 91 tunnels, and across the Oberalp Pass at 6,706 feet. There's also the appropriately named Chocolate Train–a 10-hour journey that takes riders through the Lavaux vineyards (wine!), by the turreted castle in Gruyere (yes, as in the cheese–you can sample fondue there!), and on "to Broc's world-famous Cailler-Nestle chocolate factory for a tour and sampling of the whopping 65 tons of chocolate produced on-site each day." (Wine, cheese, chocolate = winning trifecta!) Then take your sugar high on the Bernina Express line, the highest railway in the Alps, that cruises by the Morteratsch Glacier and the Piz Bernina which, at 13,284 feet, is the highest peak in the Eastern Alps.
But while a lot of people take a train through The Alps, Matt chatted with some folks this morning who mountain climb to get there!
So did you unravel the clues to guess Matt's location correctly? Natalie Morales did! (I didn't…) Any guesses for tomorrow? Here are some clues that Matt revealed this morning: "With the Alps to our backs, we make tracks for a party of epic proportions." Hmm…not sure what my guess is just yet, but my fingers are ready to rifle through this book one more time!