The creators of Biz Kid$ (and authors of How to Turn $100 into $1,000,000) share valuable tips to help build your children's financial literacy. They've discussed kid (and parent) friendly tips on ways to set savings goals, save without sacrificing fun, and avoid money leaks. This excerpt features some great money-making ideas for kids!
Ask anyone, "Would you like to make more money?" and the universal reply will most likely be, "Yes!" The good news is that for kids, there's an unlimited number of ways to make some extra cash on the side, even if they're not old enough to drive.
And, if they can beat their savings goals month over month by earning their own income, it will kick their 2017 financial resolutions into overdrive. But the Benjamins are not going to just land in their lap—for some it will mean overcoming shyness and breaking a sweat. Here are a few ideas to get an industrious-minded young person going: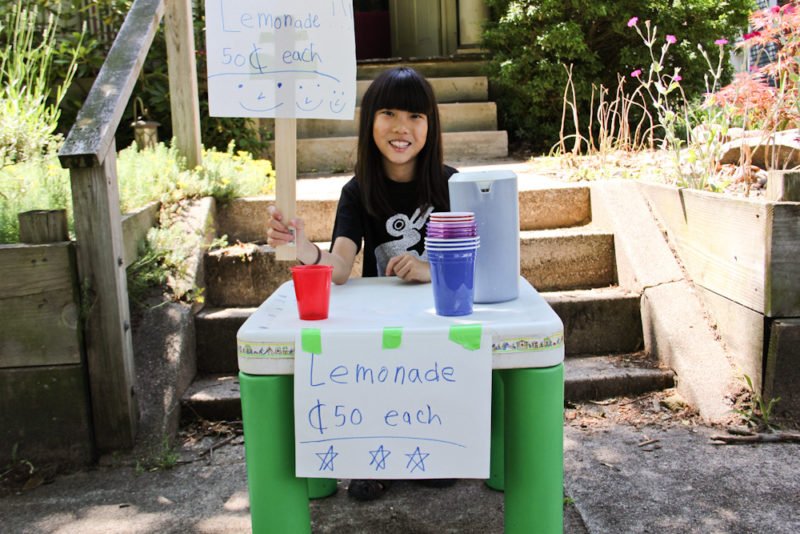 Products to Sell:
Design, make, and sell:

baked goods, pet biscuits, or candy
bird houses and feeders
decorated hats, t-shirts, sneakers
picture frames
greeting cards
holiday decorations
jewelry
key chains
soaps, candles, or bath bombs
start plants for gardening

Buy and sell used bikes or toys
Create a stand to sell lemonade, food, or worms for fishing
Sell items at a farmers market or holiday bazaar
Set up a gumball machine
Sell gently-used clothes through a consignment shop
Sell used books, DVDs, or CDs online
Build an online following with makeup tutorials, or DIY room decor
Services to Offer:
Tutor for computer skills, math, or reading
Teach music lessons
Babysit or dog walk
House sit or take care of plants
Clean houses
Organize garage, attic, cupboards, etc.
Run errands for the elderly
Mow lawns, rake leaves, weed, or shovel snow
Entertain—be a clown or magician for kids birthdays
Organize a yard sale
For some kids these activities could turn into an ongoing business.
Tips to Consider:
Ensure safety: check with an adult about any supplies needed, operation of equipment, and the people they might be meeting
Start out small: discuss the details of the business with a family or friend to get feedback
Plan, plan, plan: consider filling out the Biz Kid$ One-Page Business Plan to work everything out on paper before starting
Market the business: get the word out to everyone you know—email, social media, poster, flyers, etc.
Let us know how it goes! Send us a picture of your money-making activities to J9@bizkids.com, and Biz Kid$ will share it on social media. Good luck!
About the Book:
From the creators of Biz Kid$ and Bill Nye the Science Guy, here is a comprehensive guide for kids to the basics of earning, saving, spending, and investing money.
Written in a humorous but informative voice that engages young readers, it's the book that every parent who wants to raise financially savvy and unspoiled children should buy for their kids. It is packed with lively illustrations to make difficult concepts easy to understand—all as a way of building financial literacy, good decision-making, and the appreciation of a hard-earned dollar.
Buy the Book
Amazon | B&N | Indiebound | Workman