Scroll down for Sarah Leah Chase's perfect recipe for perfect blueberry muffins from her New England Open-House Cookbook.
Buy the Book
Indiebound | B&N | Amazon | Workman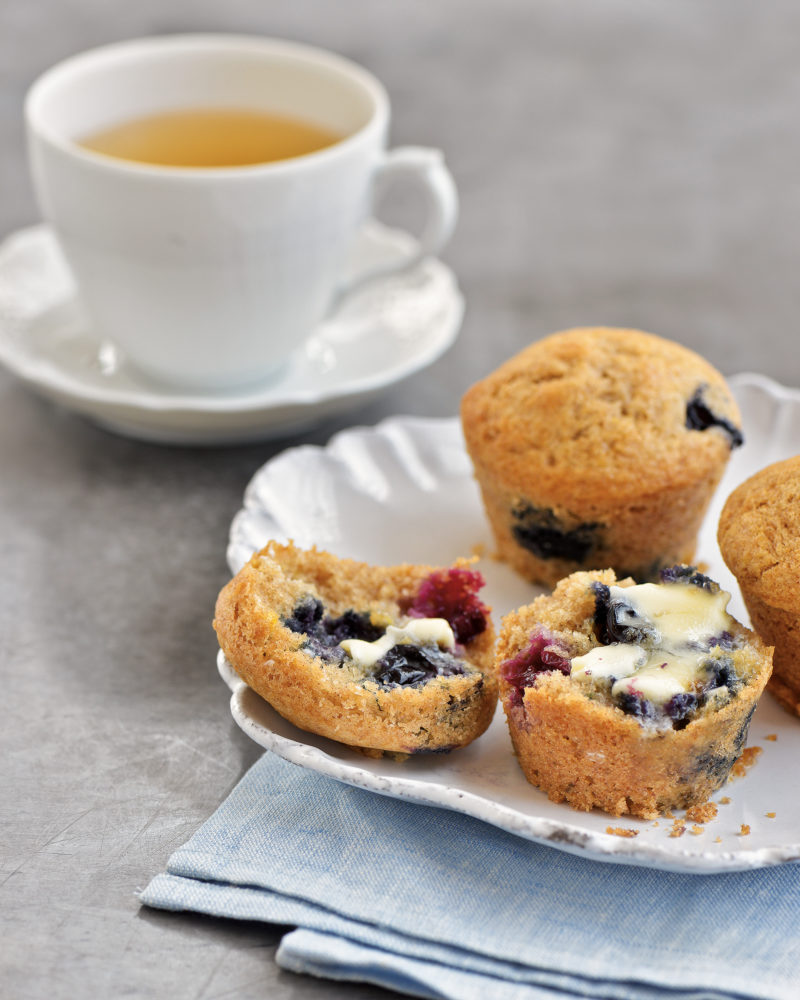 A while ago I was reading Jason Epstein's culinary memoir entitled Eating. While the chapters include several recipes, Mr. Epstein happened to mention but not print a recipe for Devon Fredericks's blueberry muffins, stating that they were far too rich for him to consider making any longer. The comment piqued my curiosity since I reasoned that something too rich for this legendary editor might in fact be right up my alley.
I knew my friend Ina Garten was a close friend of Devon's and that they were neighbors out in East Hampton so I asked her if she knew of the recipe. Ina was able to trace the recipe immediately to the great little Loaves and Fishes paperback cookbook Devon had written with Susan Costner back in 1980. As Ina rattled off the recipe to me, I realized that it was this very recipe that had inspired the tri-berry muffins I had made every summer morning in the 1980s in my Nantucket food shop, Que Sera Sarah. The tri-berry recipe was published in my Nantucket Open-House Cookbook and has lived on to become my son's favorite muffin and a recipe that I am frequently asked to bake for various school functions.
The recipe here revisits both Devon's blueberry muffin and my tri-berry muffin recipes but places an exclusive taste emphasis on the plump and juicy highbush blueberries that are most prevalent in New England from late June through July. I love the combination of blueberries and lemon and have thus chosen to lace these muffins with grated lemon zest, though blueberry purists and young children might prefer having the zest left out. If you are looking for a truly great blueberry muffin recipe that is easy to make and feeds a crowd, look no further. Just don't count the calories.
Ingredients
3½ cups unbleached all-purpose flour

1½ cups sugar

4½ teaspoons baking powder

½ teaspoon baking soda

½ teaspoon fine sea salt

1 tablespoon ground cinnamon

2 large eggs, beaten

1½ cups whole milk

16 tablespoons (2 sticks) unsalted butter, melted and cooled for at least 5 minutes

2 teaspoons finely grated lemon zest (optional)

2 to 2½ cups fresh blueberries, rinsed and carefully sorted for stems, leaves, and mushy berries
Instructions
1
Place a rack in the center of the oven and preheat the oven to 375˚F. Line 18 to 20 standard-size 1/2-cup muffin cups with double-lined aluminum foil and paper muffin cup liners (see Note, this page).
2
Place the flour, sugar, baking powder, baking soda, salt, and cinnamon in a large mixing bowl and stir to mix. Make a well in the center of the dry ingredients. Pour the eggs, milk, and melted butter into the well and stir quickly until all of the ingredients are just combined and the batter is almost smooth. A little lump here or there is fine. Gently fold in the lemon zest, if using, and the blueberries until evenly distributed.
3
Divide the muffin batter evenly among the prepared muffin cups, filling each almost to the brim. Bake the muffins until they are puffed and lightly golden on top, about 25 minutes. Let the muffins cool in the muffin tins for at least 10 minutes, then enjoy them hot, warm, or at room temperature. The muffins taste best the day they are baked but are still quite tasty the following day. They may also be frozen for up to 2 months in zipper-top freezer bags. If frozen, thaw the muffins in the refrigerator overnight and then let come to room temperature before serving.