SHARE A PHOTO OF YOUR DOG IN GLASSES for a chance to win a signed copy of Arlo Needs Glasses by Barney Saltzberg. Whether or not your dog has fuzzy vision, we are positive he will look just as smart as Arlo in a pair of snazzy frames.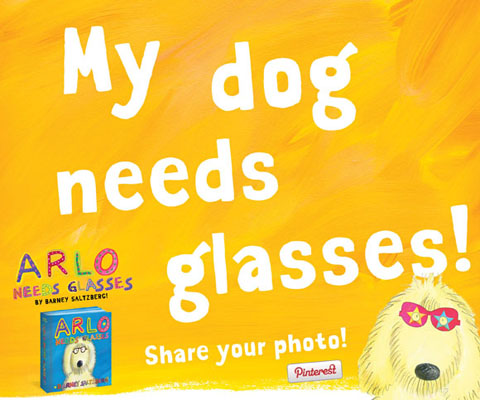 To enter the "My Dog Needs Glasses!" Pinterest contest, follow these steps:
1)      Follow Workman Publishing on Pinterest (so you can vote and enter the contest).
2)      Pin a photo of your dog wearing glasses on your personal Pinterest with the hashtag #ArloNeedsGlasses (to help us track entries). You can pin to win between June 25 and July 31!
3)      Vote on your favorite photos with repins and likes.
We'll pin photos to the official "My Dog Needs Glasses!" board. The five photos with the most likes and re-pins by July 31st will win an autographed copy of Arlo Needs Glasses. Entrants must be U.S. residents.
Contest opens Monday, so start scheming now (copious treats recommended.)
[youtube]http://www.youtube.com/watch?v=NuDPB_fBW3c[/youtube]
Arlo Needs Glasses (Workman Publishing, July 1, 2012, Hardback, $15.95, Ages 3+, ISBN 9780761168799) is an interactive children's title by bestselling author Barney Saltzberg, chock full of pop-up features and try-on glasses. Arlo Needs Glasses introduces a shaggy, free-spirited dog who loves to play catch – until one day, he can't see the ball anymore. He needs glasses! Arlo Needs Glasses playfully demystifies the eye doctor experience, allaying anxiety in kids who are about to enter the world of glasses – which among other things, help them become better readers.
Barney is the author-illustrator of Beautiful Oops!, the successful Kisses series, Peekaboo, Crazy Hair Day, and Good Egg, as well as many other beloved children's books. Also a singer-songwriter, he has written tunes for the PBS show "Arthur" and continues to perform music for children. He lives in Los Angeles with his wife and two dogs. You can follow him on Twitter @BSaltzberg.
ATTN bloggers! If you love dogs, glasses, and/or the combo of dogs & glasses, please feel free to share this contest: http://www.workman.com/blog/?p=16100
OFFICIAL MY DOG NEEDS GLASSES CONTEST RULES
NO PURCHASE NECESSARY TO ENTER OR WIN. VOID OUTSIDE THE FIFTY UNITED STATES AND WHERE PROHIBITED. ALL CONTEST ENTRIES ARE SUBJECT TO THE OFFICIAL RULES WHICH GOVERN ALL ASPECTS OF PARTICIPATION AND PRIZE AWARD.
ELIGIBILITY:
Entrants must be legal U.S. residents. Employees of Workman Publishing Co., Inc. and their respective parents, subsidiaries, affiliates, advertising and promotion agencies, promotional partners, and the immediate families of each living in the same household are not eligible to enter.
By accepting a prize, winner (and parent or legal guardian, if applicable) agrees to release and hold harmless Workman Publishing Co., Inc. and each of their parents, affiliates, subsidiaries, and directors, officers, attorneys, employees and agents from any all damage, injury, death, loss or other liability of any kind that may arise from or in connection with his or her acceptance of a prize awarded.
HOW TO ENTER:
To enter, take a photo of your dog wearing glasses and pin your photo to your  Pinterest  board with the hashtag: #ArloNeedsGlasses  and follow Workman (www.pinterest.com/workmanpub) between June 25, 2012, 12:00:01 a.m. (Eastern Time) and July 31, 2012, 11:59:59 (Eastern  Time). Photos will be repinned onto the "My Dog Needs Glasses board.
We encourage you to be silly, but not put your dog through too much embarrassment.
For purposes of these rules, "receipt" of an electronic entry occurs when Sponsor's servers record the entry information upon clicking the "submit" (or similar) button. In the event of a dispute as to the identity of the entrant, the entrant will be deemed to be the individual who is the registered holder of the email account. All entries must include your name and e-mail address. Incomplete entries will be voided.
PRIZES:Five Prize Winners will each receive an autographed copy of the book ARLO NEEDS GLASSES by Barney Saltzberg.
SELECTION:
The five photos with the most "likes" and re-pins" will be declared he winning entries.
NOTIFICATION:
Winners will be notified on their Pinterest posts by August 3, 2012. If potential winner cannot be reached or does not acknowledge notification within five (5) days of first notification attempt, the prize will be forfeited and the next photo with the most likes  and re-pins will be selected as a potential  Prize Winner.
CONDITIONS OF PARTICIPATION:
By entering or accepting a prize in this contest, the winners ( and parent or legal guardian, if applicable) agree to be bound by these Official Rules, and to conform to all federal, state, and local laws and regulations.  There are no prize substitutions, transfers, or cash equivalents permitted.
SPONSOR OWNERSHIP OF ENTRIES:
All entries submitted will become the property of  Workman Publishing Co. Inc., and will not be returned to anyone. As such, they can be used on books and calendars published by Workman Publishing Co., Inc. or licensed to third parties by Workman Publishing Co., Inc. without specific permission or compensation. Efforts will be made to credit the contributor by name when possible. If you prefer to remain anonymous, please let us know when you make your submission.
RESERVATION OF RIGHTS:
Sponsor is not responsible for (a) incorrect or inaccurate entry of information by entrants; late, lost, garbled, misdirected, incomplete, or damaged entries or transmissions caused by interrupted or unavailable network, server or other connections; scrambled transmissions or other errors or problems of any kind whether mechanical, human, or electronic, technical malfunctions of the computer hardware, software, or any combination thereof; or problems associated with any virus or any other damage caused to entrants' systems; (b) any Contest disruptions, injuries, losses, or damages caused by events beyond the control of Sponsor; or c) any printing or typographical errors in any materials associated with this Contest.
Sponsor reserves the right to cancel, terminate or modify this Contest in the event that this Contest is not capable of being conducted or completed as planned for any reason including, without limitation, as a result or computer virus(es), bugs, tampering, or technical failures of any kind. If the Contest is cancelled or terminated, notification will be posted at www.barbecuebible.com. In the event that an individual attempts to undermine the legitimate operation of this Contest Sponsor, in addition to disqualifying such person from in this Contest, reserves the right to seek damages and all other available remedies (whether at law or in equity) against him or her.
DISPUTE RESOLUTION:
By entering, participant waives all rights to claim punitive, incidental and consequential damages, attorneys' fees or any damages other than actual out-of-pocket costs or losses that may arise in connection with participation in the Contest or acceptance, possession and use of any prize Except where prohibited, by participating, you agree that a) any and all disputes, claims and causes of action arising out of or connected with this Contest shall be resolved individually, without resort to any form of class action, b) any and all claims, judgments and awards shall be limited to actual out-of-pocket costs incurred, including costs associated with participating, but in no event attorney's fees; and c) under no circumstances will any participant be permitted to obtain awards for and hereby waives all rights to claim punitive, incidental and consequential damages and any other damages, other than for actual out-of-pocket expenses, and any and all rights to have damages multiplies or otherwise increased.
WHO WON:
Any mailed requests to receive the list of prize winners must be sent to Workman Publishing, My Dog Needs Glasses Contest Winners, 225 Varick Street, New York, NY 10014, no later than August 31, 2012 and must be accompanied by a self-addressed, stamped envelope.
SPONSOR:
Workman Publishing Co., Inc., 225 Varick Street, New York, NY 10014