Hey, we've got a new look! Welcome to our new and improved site, now including a blog we'll be updating regularly to feature spotlighted tips and recipes, Q&As with cooks and food writers, ebook giveaways, and more. We also have a spiffy twitter handle (@BluePlateEbooks), Facebook page, and Pinterest of our very own; follow us there for more Blue Plate Special goodness and exclusive giveaways.
Cookbook Giveaway!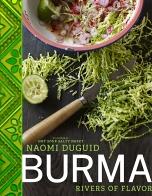 To show you we mean business, we're offering a free e-copy of BURMA, the newest cookbook from Naomi Duguid, to the first five people who comment on this post. (Bonus points for originality.)
"A treasury of Burma's cuisine . . . Duguid's portrait of Burma's rich food heritage contains vivid glimpses of the people who create it along with cultural insight and a dash of travel advice."
—Publishers Weekly, starred review; featured in Top 10 Cookbooks for Fall
Leave your comment below for a chance to win!
This Month's Goodie Bag
This month's Blue Plate Special is a culinary trek through Asia's incredibly varied and rich food culture, courtesy of award-winning authors who have lived and traveled extensively throughout the continent. Equal parts cookbooks and travelogues, Jeffrey Alford and Naomi Duguid's books are filled with foolproof, flavor-packed recipes. And during the month of September, they are only $2.99–that's a whopping savings of 85%! Click here to learn more.