The shrimp farming industry has a dark secret—slave labor.
Shrimp farming slavery is common in the seafood industry, although little-known by the general public. Stopping this abhorrent practice begins with awareness, but Sophie Egan includes some practical things you can start doing right now to make a change.
Excerpted from How to Be a Conscious Eater by Sophie Egan. Copyright © 2020.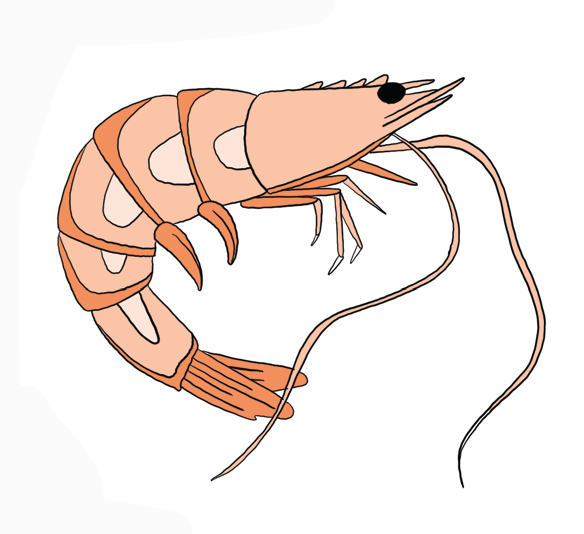 SHRIMP + SLAVERY = ONE HOT MESS
In the United States, it's common to think of slavery as a scar of the past, a dark regression in an otherwise gradual march toward civic enlightenment, during which humans treated other humans as sub-human. Enslaved people were forced to work against their will, and their basic needs, such as safe living quarters, rest, food, and water, were withheld—often while they were being subjected to violent physical and psychological abuse.
Unfortunately, this reality is not merely an abomination from history. As many have been shocked to learn, slavery has been rampant recently in the seafood industry. It is primarily a problem in Southeast Asia, and especially in the shrimp sector of Thailand. Not only men and women but children have suffered under unconscionable work conditions in the name of bringing seafood to tables and pet bowls, including ours in the United States. The most alarming case involved the largest shrimp farm on the planet, Charoen Pokphand (CP) Foods, based in Thailand. It has been supplying most major supermarkets, including the top four globally, Carrefour, Costco, Tesco, and Walmart.
Often the workers are migrants who get taken by traffickers to serve in what the New York Times called "boating labor camps." Work without wages for years at a time. Beatings. Even murder. No matter how hot or cold, light or dark, stormy or calm, boat captains and crew masters demand long hours, meaning almost no sleep. Often there's just one meal per day, of questionable nutritional quality and food safety.
Sadly, seafood is by no means the only sector of the food and agriculture supply chain plagued by inhumane work practices. An estimated 21 million people are victims of forced labor around the world, and 3.5 million of them work in some form of agriculture (which includes shing and forestry). Although the problem is much worse in developing countries, neither the United States nor Europe is entirely virtuous. In 2016, the nonprofit group KnowTheChain reported that one in twenty farmworkers in the United States is working against his or her own will. Most of them are migrant workers from Mexico, Guatemala, and Haiti, the report says, and they receive little or no pay.
Fishing is particularly susceptible to shady behavior, though, because once a boat has left a harbor and dipped past the horizon, no one is watching. Part of the reason this is so problematic in Southeast Asian waters is the larger issue of "illegal, unreported, and unregulated" (IUU) fishing—the designations of suspicious fishing. It's estimated that one in five fish and seafood products worldwide is IUU. What's on the list of illegal practices? Taking more fish than is permitted. Taking the wrong size, or taking them in the wrong season. Catching fish from another country's waters without consent. And slavery. Definitely not legal—anywhere in the world.
After consumers, restaurateurs, retailers, and government officials were left shell-shocked when an exposé by The Guardian first came out in 2014, we quickly yearned for solutions. Headlines like "How to find shrimp that's not produced by slave labor in Thailand" certainly caught my attention in the months afterward, as did "Thai seafood: Are the prawns on your plate still shed by slaves?" years later. Well into 2018, journalists and NGOs continued to unearth more disturbing details while keeping tabs on the issue. Tragically, as The Guardian reported in 2018, despite pledges from the Thai government to clamp down, many of the problems have persisted—from migrant workers sold like goods and subjected to unfathomable working conditions to physical abuse and the injustice of not being paid at all.
In 2014, Barack Obama established the Presidential Task Force on Combating IUU Fishing and Seafood Fraud. Visit iuufishing.noaa.gov to see how the action plan is unfolding.
WHAT CAN YOU DO? ABOVE ALL, INSIST ON TRACEABILITY.
There are several ways to make sure what you're buying can be traced to legitimate fisheries whose practices have been verified.
The Marine Stewardship Council blue eco-label that applies to sustainability standards also verifies the specific fishery where fish and seafood are sourced, and therefore that they're worthy of certification. But remember, this is for wild-caught fish and seafood only.
For farmed products, the Aquaculture Stewardship Council's label is a good way to verify strict standards for not only sustainability but also social responsibility and traceability.
With Seafood Watch already having established itself as the go-to guide for sustainable seafood, used by millions of people each year, it was fitting—and much needed—that the Monterey Bay Aquarium helped launch a database called the Seafood Slavery Risk Tool. (You can find it atseafoodslaveryrisk.org.) Although this feature is primarily aimed at a business audience, you can still use it to learn about the human rights track record of a fishery before you buy.
If no third-party labels are available and you're unsure about a product you're considering buying at a grocery store or restaurant, ask questions. "Where is the farmed shrimp from exactly? Was the fish on your menu caught legally?" Transparency is not merely the modern currency of the retail and restaurant worlds—it is your right.
Check for country of origin. The majority of shrimp we eat in the United States is imported, so you've got to be vigilant. Clearly, shrimp from Thailand remains untrustworthy, so I'd avoid it altogether until we can be sure it's free of human rights violations. Shrimp from US sources—North Carolina, Louisiana, Florida, Texas, and Alaska—are safer choices. Surprised to see how much more those options may cost? This is a reflection of how artificially low the prices have been set for shrimp from ill-gotten sources—stealing wages, well-being, and dignity from the people laboring to get it to us.
Being a conscious eater doesn't mean forking over your entire paycheck to support only the top-of-the-line products or precious artisanal foods. But it does mean being aware of the true cost of food—and doing everything in your power and within your means to adjust your expectations and weekly shopping habits accordingly.
More About How to Be a Conscious Eater
A radically practical guide to making food choices that are are good for you, others, and the planet.
Is organic really worth it? Are eggs ok to eat? If so, which ones are best for you, and for the chicken—Cage-Free, Free-Range, Pasture-Raised? What about farmed salmon, soy milk, sugar, gluten, fermented foods, coconut oil, almonds? Thumbs-up, thumbs-down, or somewhere in between?
Using three criteria—Is it good for me? Is it good for others? Is it good for the planet?—Sophie Egan helps us navigate the bewildering world of food so that we can all become conscious eaters. To eat consciously is not about diets, fads, or hard-and-fast rules. It's about having straightforward, accurate information to make smart, thoughtful choices amid the chaos of conflicting news and marketing hype. An expert on food's impact on human and environmental health, Egan organizes the book into four categories—stuff that comes from the ground, stuff that comes from animals, stuff that comes from factories, and stuff that's made in restaurant kitchens. This practical guide offers bottom-line answers to your most top-of-mind questions about what to eat.
Buy the Book
Amazon | B&N | Indiebound | Workman