Excerpted from Six Seasons by Joshua McFadden (Artisan Books). Copyright © 2017. Photographs by Laura Dart and A.J. Meeker. 
This side dish is so perfect on its own that I hesitate to suggest any additions, but if you must, a handful of freshly picked herbs— especially chives and dill—is fantastic.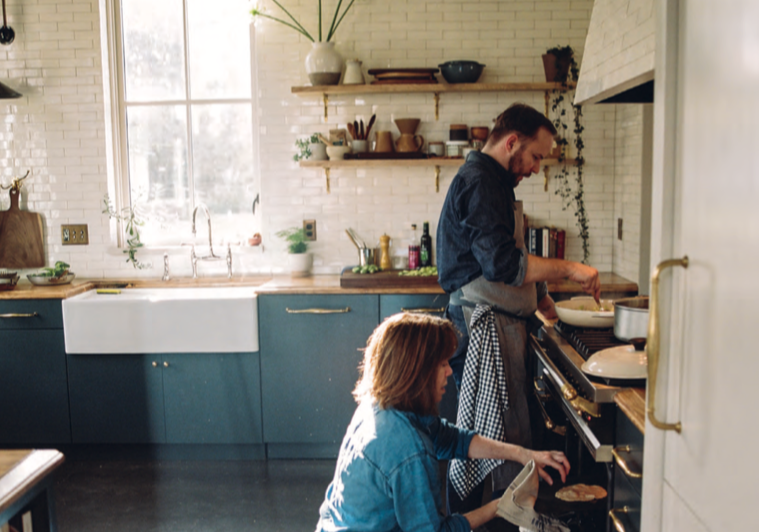 Smashed New Potatoes with Lemon and Lots of Olive Oil
Kosher salt
1 pounds new potatoes, rinsed and just lightly scrubbed if they need it
Freshly ground black pepper
1 lemon, halved
Extra-virgin olive oil
Put the potatoes in a pot and add cold water to cover by 2 inches. Add salt until the water tastes like the sea. Bring to a gentle boil and boil the potatoes until they are very tender, 15 to 20 minutes.
With a ladle or a measuring cup, scoop out about cup of the cooking water and drain the potatoes well. Put them back in the pot and crush them using a potato masher or a big fork or a wooden spoon. Squeeze on the lemon juice, season with teaspoon salt and many twists of pepper, and add cup olive oil. Sprinkle on a tablespoon or so of the cooking water and crush a few more times and then taste. Adjust with more lemon, salt, pepper, or olive oil until the flavor is irresistible. Add a bit more cooking water if you like in order to make the texture chunky but a bit creamy.
More Ways
Make amazing hash browns: Shape the potatoes into little pucks, dip the top and bottom in breadcrumbs, and shallow-fry in a blend of oil and butter until browned and crisp.
Load it up for a gutsy version: Right before nal seasoning, fold in chopped pitted olives, capers, and chopped scallions.
Add some California: Smash a diced avocado into the potatoes as you smash them.
About the Book
"Never before have I seen so many fascinating, delicious, easy recipes in one book. . . . [Six Seasons is] about as close to a perfect cookbook as I have seen . . . a book beginner and seasoned cooks alike will reach for repeatedly."
—Lucky Peach
The debut cookbook from Joshua McFadden, a chef with the soul of a farmer and the palate of a visionary
Joshua McFadden, chef and owner of renowned trattoria Ava Gene's in Portland, Oregon, is a vegetable whisperer. After years racking up culinary cred at New York City restaurants like Lupa, Momofuku, and Blue Hill, he managed the trailblazing Four Season Farm in coastal Maine, where he developed an appreciation for every part of the plant and learned to coax the best from vegetables at each stage of their lives.
In Six Seasons, McFadden channels both farmer and chef, highlighting the evolving attributes of vegetables throughout their growing seasons—an arc from spring to early summer to midsummer to the bursting harvest of late summer, then ebbing into autumn and, finally, the earthy, mellow sweetness of winter. Each chapter begins with recipes featuring raw vegetables at the start of their season. As weeks progress, McFadden turns up the heat—grilling and steaming, then moving on to sautés, pan roasts, braises, and stews. His ingenuity is on display in 225 revelatory recipes that celebrate flavor at its peak.
Buy the Book
Indiebound | B&N | Amazon | Workman