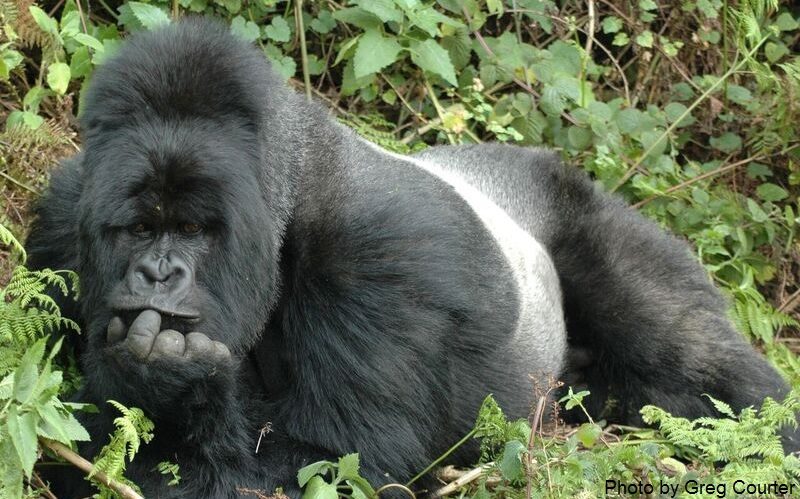 The narrow valleys and lush, steep slopes of southwestern Uganda promise a true once-in-a-lifetime encounter of the closest kind. The critically endangered mountain gorillas, unlike their lowland cousins to the west, cannot survive in captivity, so wildlife enthusiasts must make the trek to their last remaining habitat, in the forest-cloaked volcanoes of Central Africa that spread from Uganda to neighboring Rwanda and the Democratic Republic of the Congo.
Poaching, war, disease, and habitat destruction from logging and farming gravely diminished their numbers in the last century, but a recent census of mountain gorillas revealed that steadily growing numbers have reached 1,000, thanks to collaborative efforts by the three nations.
Half of these powerful but gentle creatures live in Uganda, particularly in Bwindi Impenetrable Forest. This aptly named 128-square-mile national park at the edge of the Western Rift Valley is designated as a UNESCO World Heritage Site for its outstanding natural value: Among Uganda's wealth of natural beauty and rich biodiversity, it is the star attraction. I traveled here in June with US-based Natural Habitat Adventures, who have been offering gorilla safaris since the late 1990s: This is one of their signature adventures, and it had been on the top of my wish list since, well, forever.
Bwindi's giant ape inhabitants have become a major source of revenue for Uganda, and we joined the visitors who came from all over the globe, having purchased a limited number of date-specific permits far in advance. Small groups of 8 meet in the early misty hours, accompanied by a park ranger, armed guards, and porters from the local town: Each group is assigned a designated gorilla family that is reached via a vine-tangled trail created by machete-wielding trackers. The dense rain forest, while not exactly impenetrable, is challenging (though some days are harder than others). When I went, we were lucky enough to have missed the heavy humidity and grueling, slick, and muddy conditions I had read about.
A limited number of habituated gorilla families—those that are comfortable in the presence of humans, thanks to a 2-to-3-year program begun by government conservation groups in the 1990s—have become Uganda's main, but tightly regulated, tourist attraction. And seeing them is one of the most coveted travel experiences anywhere.
Like humans (they are our closest relatives—we share 98% DNA), they live in families generally ranging from 10-20 members, made up of a mighty silverback patriarch (named for his band of grey hair upon maturity) who can grow to 6 feet and 500 pounds, and a number of females sometimes half his size who keep a watch on the cluster of adorable babies and juveniles.
Treks can be as short as an hour, but, more typically, take 3 hours or sometimes longer. Despite the hefty cost of a permit ($600 for one day in Uganda, and more than twice that in Rwanda), there is no guarantee you will see the gorillas, but it seems that almost everyone does. And once you first lay eyes on them in utter astonishment, the limited one-hour visit is worth every expense and effort (although our muscles complained for days after).
Despite our proximity to the gorillas—we were told to be quiet and keep a distance of 20 feet, but they sometimes nonchalantly lumbered past us within arm's reach—we felt perfectly safe, and dangerous encounters are almost unheard of. The gorillas were quite unperturbed and sat in complete disregard of their human visitors, continuously eating and dozing while the energetic babies supplied the comic relief. Their warm eyes, demeanors, and mannerisms—and even their communication by grunts and noises—were surreally close to our own. Boredom, hunger, curiosity, trust, fatigue—we have all of these in common.
Most visitors come exclusively to Bwindi for this special meet and greet and commonly trek to visit the gorillas for one day only. We had splurged for two days and were able to visit two different gorilla families that promised very different experiences. Much of Bwindi's legendary variety of birdlife (with more than 350 species, it is one of the most exciting bird-watching destinations in Africa), 11 species of primates (including baboons, chimpanzees, vervet, and colobus monkeys), and more than 100 species of other mammals get overlooked by those with limited time.
There are also nearby villages and schools to visit for impromptu dancing and singing, as well as a country health clinic and the small community of the Batwa people, formerly known as pygmies and the one-time (but no longer) poaching villains seen in Gorillas in the Mist, some of whom now work as guides and porters.
Winston Churchill once called Uganda—with its lush, plantation-covered hills and warmhearted people—the "Pearl of Africa"—and that was before the gorillas were waiting for you to visit.
The gorillas share these forests with countless other primates, whose abundance and diversity explain Uganda's title of "Primate Capital of East Africa."
Uganda is home to more than 5,000 chimpanzees: Sharing 99 percent of our DNA, they are our closest living relatives! About 1,300 of them can be found in Uganda's Kibale National Forest, the heaviest concentration in the region and one of the highest in the world. Like the gorilla treks in Bwindi, visitors with permits purchased in advance and accompanied by an armed guide can spend a few exhilarating hours with groups of chimpanzees who have been habituated by local park authorities. While gorillas—once you actually locate the family you'll be visiting—tend to be slower moving and even stationary as they settle in for an hours-long lunch, chimpanzees are less predictable and more active. The rainforest jungle was filled with their squeals, screams, and canopy-swaying antics as we stumbled across roots and underbrush in an attempt to keep up with them.
While not endemic, many of the other monkeys we spotted were new to me, such as the black-and-white colobus, red colobus, and red tail. A host of more classic safari animals also showed up in impressive numbers. During our thrilling safari drives in Queen Elizabeth National Park, elephants in large herds were not an uncommon sight (there are some 3,000 in the park) but were always a heart-stopping one, with bull elephants the size of a house. A late-afternoon boat ride on the Kazinga Channel had us float past large numbers of hippos, the country's largest population (they could be heard grazing outside our rooms at night in our waterfront lodge).
While in the park's remote Ishasha area, the lions are peculiarly adept at climbing trees, many say to avoid annoying flies and insects on the ground or to catch a cool breeze and keep an eye out for lunch. We drove through pristine expanse looking for padded paws draped over the branches of open-armed fig trees and were not disappointed.
Each day's magical horizon was often framed by the Rwenzori Range, also called the "Mountains of the Moon," proving a dramatic backdrop with sometimes-snowcapped heights rising over 16,000 feet. Much of the country had been surprisingly green and lush, where fertile soil supports a tapestry of tea, coffee and banana plantations dotted with tiny villages. The people, both hardworking and fun-loving, are always quick to smile—before I left home, my friend emailed me, "You'll be seeing a lot of teeth!"
Patricia traveled with Natural Habitat Adventures.
And don't forget to check out the book!
About the Book:
The world's bestselling travel book is back in a more informative, more experiential, more budget-friendly full-color edition. A #1 New York Times bestseller, 1,000 Places reinvented the idea of travel book as both wish list and practical guide. As Newsweek wrote, it "tells you what's beautiful, what's fun, and what's just unforgettable—everywhere on earth." And now the best is better. There are 600 full-color photographs. Over 200 entirely new entries, including visits to 28 countries like Lebanon, Croatia, Estonia, and Nicaragua, that were not in the original edition. There is an emphasis on experiences: an entry covers not just Positano or Ravello, but the full 30-mile stretch along the Amalfi Coast.
Every entry from the original edition has been readdressed, rewritten, and made fuller, with more suggestions for places to stay, restaurants to visit, and festivals to check out. And throughout, the book is more budget-conscious, with starred restaurants and historic hotels such as the Ritz, but also moderately priced gems that don't compromise on atmosphere or charm.
The world is calling. Time to answer.
Buy the Book
Amazon | B&N | Indiebound | Workman