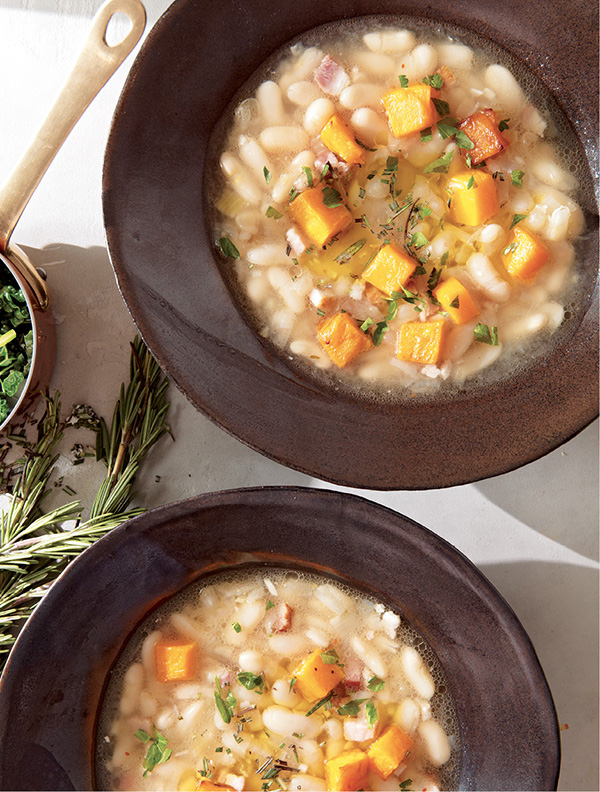 Winter Minestrone
This month over at the Artisan Cookbook Club, we're celebrating all things David Tanis as we gear up for the release of One Good Dish. In his first non-menu cookbook, the New York Times food columnist offers 100 delicious recipes that epitomize comfort food, Tanis-style. Individually or in combination, they make perfect little meals that are elemental and accessible, yet totally surprising—and there's something to learn on every page. From ham and Gruyère bread pudding to South Indian cabbage with black mustard seeds; from rice porridge with salted egg to polenta pizza with crumbled sage, this is a book with recipes to crave.
From One Good Dish, here's a recipe for hearty Winter Minestrone.
Winter Minestrone
Serves 4 to 6
"This is not a vegetable-laden summer minestrone. It's mostly about earthy, creamy, slowly cooked white beans with accents of pancetta, roasted winter squash, and rosemary. Choose sweet, firm-fleshed squashes like kabocha, delicata, or butternut."
3 tablespoons olive oil
2 medium onions, cut into small dice
Salt and Pepper
¼ pound pancetta or bacon, sliced into ¼-inch-wide strips
3 garlic cloves, minced
½ teaspoon crushed fennel seeds
¼ teaspoon red pepper flakes
1 pound dried cannellini beans, soaked overnight in cold water and drained
6 cups water
1 pound winter squash, peeled and cut into ½-inch cubes
½ pound small pasta, such as tubetti or orrechiette, cooked until al dente and drained
2 teaspoons chopped rosemary
Fruity olive oil for drizzling
In a heavy soup pot, heat 2 tablespoons of the olive oil over medium-high heat. Add the onions, season with salt, and cook until softened, about 5 minutes. Add the pancetta, garlic, fennel seeds, and red pepper flakes and cook for 2 minutes. Add the beans and water, bring to a simmer, and cook gently until the beans are very tender, about 1½ hours.
Meanwhile, heat the oven to 400°F. Put the squash cubes on a baking sheet, season with salt and pepper, and coat with the remaining tablespoon olive oil. Roast until tender and lightly caramelized, about 30 minutes. Set aside to cool. Adjust the seasoning of the beans and broth with salt and pepper. Gently stir in the cooked squash and pasta and heat through.
To serve, ladle into bowls. Sprinkle each serving with a pinch of freshly chopped rosemary and a drizzle of fruity olive oil.
"David Tanis understands that sometimes maximum flavor is achieved through subtraction. This book is a perfect example of his culinary philosophy that food doesn't have to be complicated to be delicious." —David Chang, chef and owner, Momofuku
One of Publishers Weekly's Top 10 Cookbooks for Fall 2013
PREORDER THE BOOK: Amazon | iBooks | B&N | Kobo | Google Play