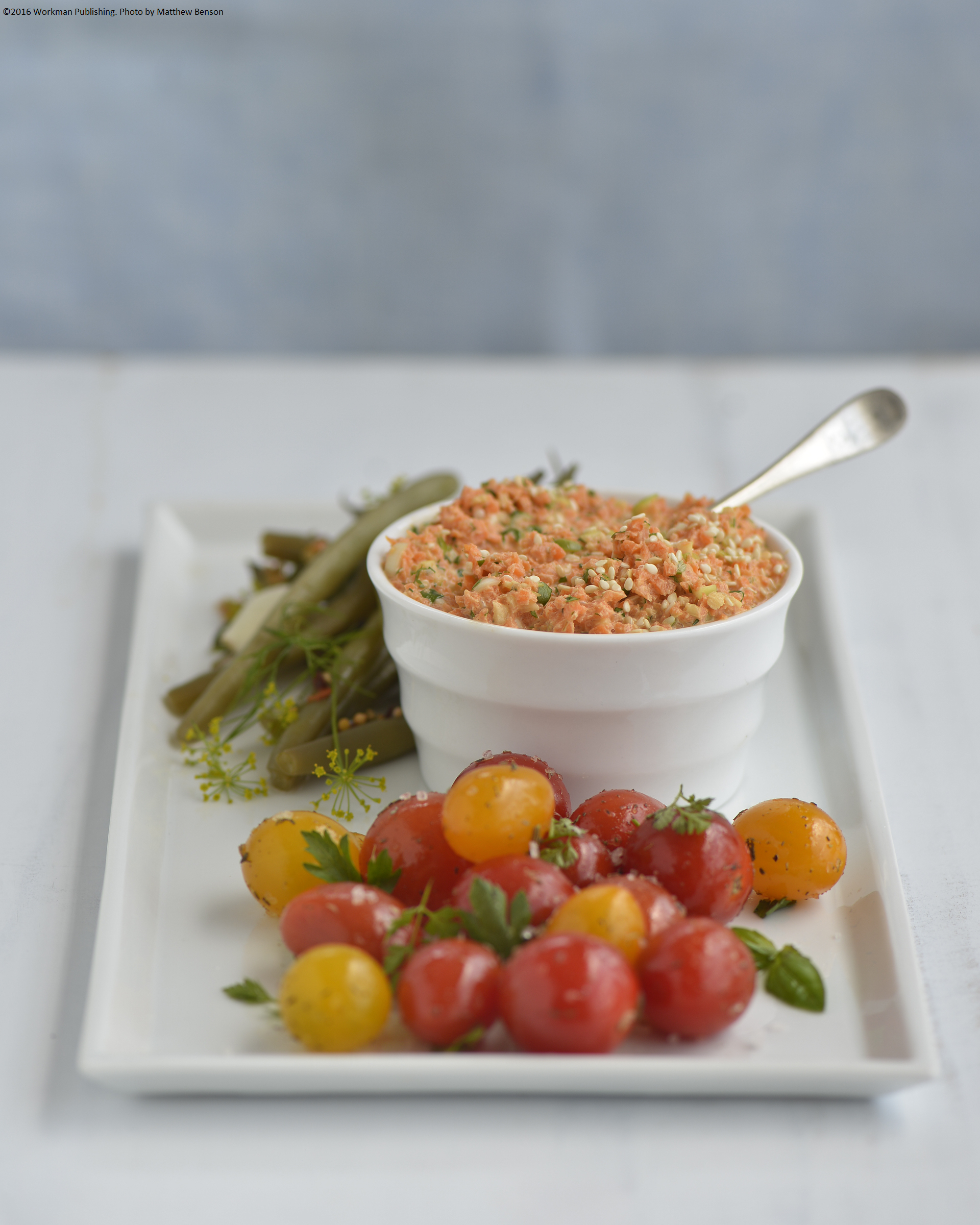 From Sarah Leah Chase: Serve this vibrant carrot dip with your favorite crackers, layer it into sandwiches, or even dollop a few spoonfuls on a plate as a bright and delicious side salad accompaniment to lunch and dinner entrees. Purchasing a pre-shredded bag of carrots will help make the dip a breeze to make, but locavores can of course start with whole carrots from the backyard or a nearby farm. 
Woodstock Farmers' Market Carrot Dip
Makes about 2½ cups
INGREDIENTS
1 bag (1o ounces) shredded carrots, or 4 to 5 whole carrots, trimmed, peeled, and cut into 1-inch pieces
3 scallions, both white and tender greenparts, trimmed and minced
3 tablespoons finely minced peeled fresh ginger
⅓ cup minced fresh cilantro
⅓ cup mayonnaise, Hellman's of homemade, or more as needed
1½ tablespoons rice vinegar
1 tablespoon tamari or soy sauce, or more to taste
½ teaspoon Asian (dark) sesame oil
1 tablespoon toasted white or back sesame seeds (optional; see Note)
INSTRUCTIONS
Place the shredded carrots or carrot pieces in a food processor fitted with the metal blade. Pulse the machine several times until the carrots are uniformly finely chopped. You should have about 2 cups. Transfer the carrots to a mixing bowl and toss them with the scallions, ginger, and cilantro.
Place the mayonnaise, rice vinegar, tamari or soy sauce, and sesame oil in a small bowl and whisk together until thoroughly combined. Pour the mayonnaise mixture over the carrots and toss to coat evenly. Taste for seasoning, adding a splash more tamari or soy sauce if the dip is not quite salty enough or a spoonful of mayonnaise if it is too dry.
Transfer the carrot dip to a decorative serving bowl and refrigerate it, covered, for at least 3 hours to marry the flavors. Serve the dip chilled, garnished with the toasted sesame seeds, if desired. The dip is best when served within 2 days of making it.
Note: I buy my sesame seeds already toasted. However, if you want toast your own, place the seeds in a small skillet set over medium heat and cook, shaking the pan back and forth, until fragrant, 60 to 90 seconds.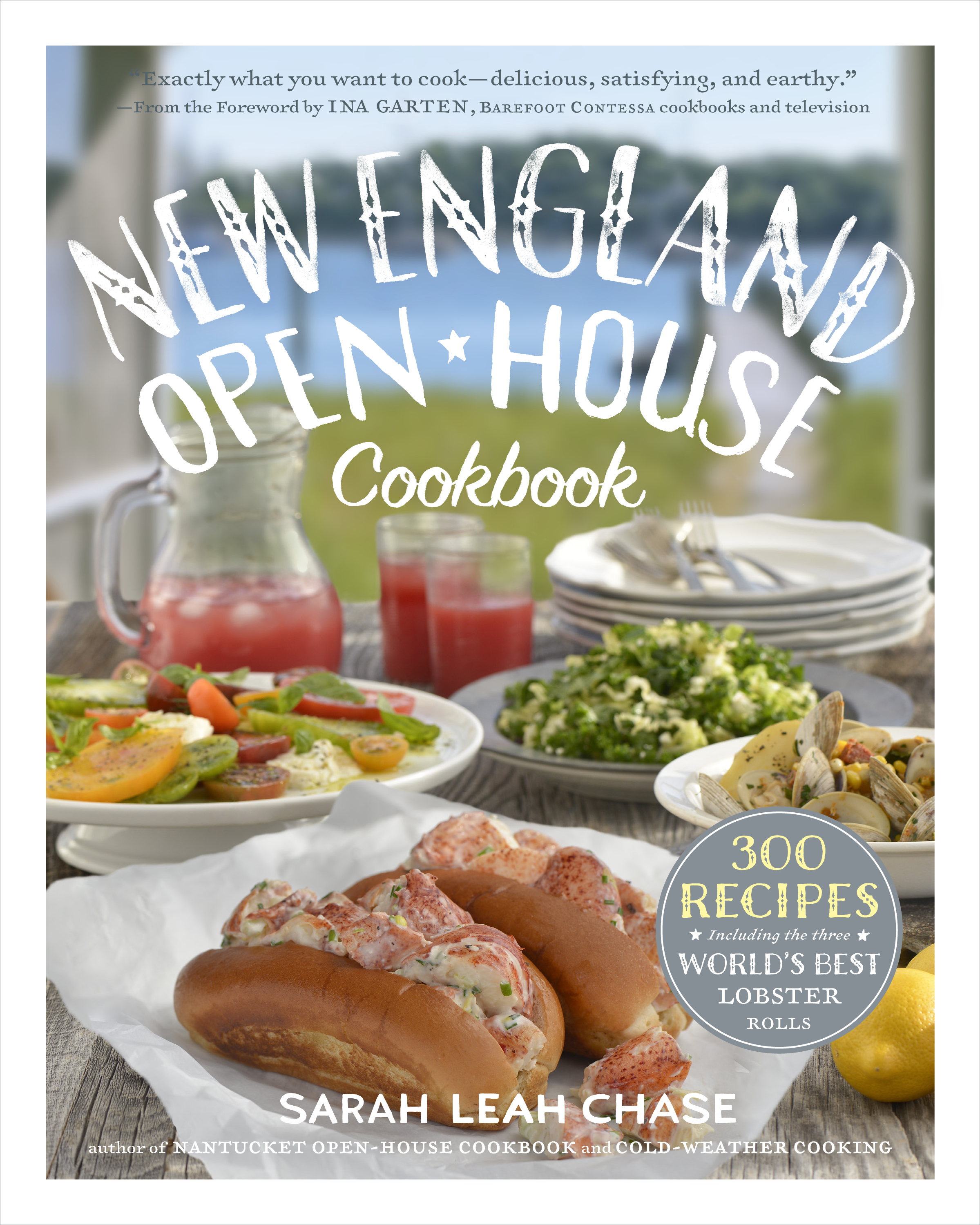 New England Open-House Cookbook by Sarah Leah Chase
From a born-and-bred New Englander comes a book that sings with all the flavors and textures of the beloved region. Sarah Leah Chase is a caterer, cooking teacher, and prolific writer. In New England Open-House Cookbook, Sarah draws from her memories of growing up in Connecticut and Maine; her experience living and cooking on Cape Cod; and her extensive travels meeting farmers, fishermen, and chefs. The result is a wide-ranging cookbook for everyone who has skied the mountains of Vermont, sailed off the coast of Maine, dug for clams on Cape Cod, or just wishes they had.
GET THE BOOK: Amazon | B&N | IndieBound | Powell's | Workman