In honor of President's Day, we asked Patricia Schultz to share her favorite U.S. presidential locales for history buffs and architecture enthusiasts alike. Here are 5 of the most captivating homes and libraries, excerpted from the revised edition of 1,000 Places to See in the United States & Canada Before You Die.
Monticello
Charlottesville, VA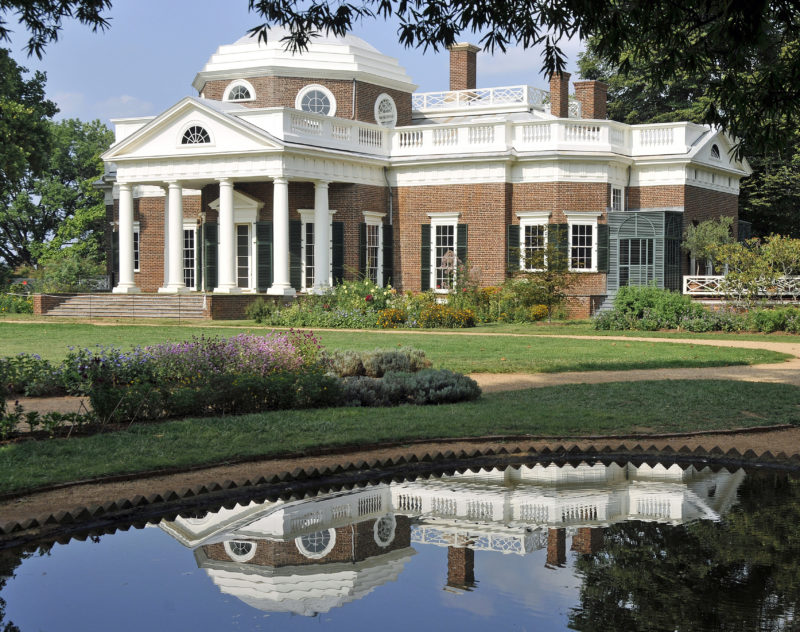 America's most famous historic home, Monticello was the dream house of Renaissance man Thomas Jefferson—visionary, principal author of the Declaration of Independence, founder of the University of Virginia, and America's third president. He designed the house over a 40-year period and said of it, "I am as happy nowhere else." Set on a hilltop overlooking Charlottesville and the 2,000 remaining acres of the Jefferson family's original 2,500-acre plantation, Monticello is one of America's outstanding architectural achievements, a gem that graces the back of the currency's nickel and serves as a kind of autobiography of the president who was known as a writer but chose not to pen the story of his life.
The three-story Palladian-style structure was entirely the product of Jefferson's own vision, begun in 1769 when he was just 26 and expanded and refined over four decades—especially after Jefferson's five-year stay in France as U.S. minister. The design that resulted was a blend of Italian and French styles, with elements that include the first dome on a residence in North America and an entrance hall filled with Indian artifacts, mastodon bones, and other relics from Lewis and Clark's expedition to the Pacific Ocean, a journey Jefferson himself had ordered. With a standard day pass, only the 11 first-floor rooms are open to the public; they look as if the owner had just stepped out for a stroll. With a Behind the Scenes day pass you can climb the narrow stairs for a guided tour of the upper floors. Touches of ingenuity and whimsy fill the place, from a handwriting copier and seven-day clock to an alcove bed that allowed Jefferson to rise in either of two rooms, depending on his mood.
After serving as president, Jefferson retired to Monticello, where he concentrated on the founding of the University of Virginia (see here). He died here at age 83 on July 4, 1826, and is buried on the extensive grounds. These fields, orchards, and gardens reflect Jefferson's love of agriculture and landscape design. In 1807, he planted one of the earliest crops of European vinifera grapes in the New World, and today the Jefferson Vineyards offer tours and tastings daily. Stop by for lunch at the 1784 Michie Tavern, originally built as a stagecoach stop and today serving an all-you-can-eat colonial-style buffet.
End your day at Ash Lawn-Highland, the official residence of the fifth U.S. president, James Monroe, from 1799 to 1823. Overnighters can stay at the Clifton Inn, built in 1799 by Jefferson's son-in-law, and today offering 17 unique rooms and a well-regarded restaurant. For more opulence, head to Keswick Hall, a 1912 Italianate villa on a 600-acre spread that has been turned into an exclusive country resort. Accommodations are grand and guests are kept busy on the tennis courts and golf course (one of Arnold Palmer's favorites on the East Coast) and at the excellent restaurant, Fossett's.
Monticello. Where: 4 miles southeast of Charlottesville. Tel 434-984-9800. Jefferson Vineyards Winery: Tel 434-977-3042. Michie Tavern: Tel 434-977-1234. Cost: lunch buffet $18. Ash Lawn-Highland: Tel 434-293-8000. Clifton Inn: Tel 434-971-1800. Cost: from $229 (off-peak), from $269 (peak); dinner $62. Keswick Hall: Tel 888-778-2565 or 434-979-3440. Cost: from $279 (off-peak), from $449 (peak); dinner $58. Best time: July 4th for the Monticello Independence Day Celebration and Naturalization Ceremony, when new U.S. citizens are sworn in.
FDR's Springwood
Hyde Park, NY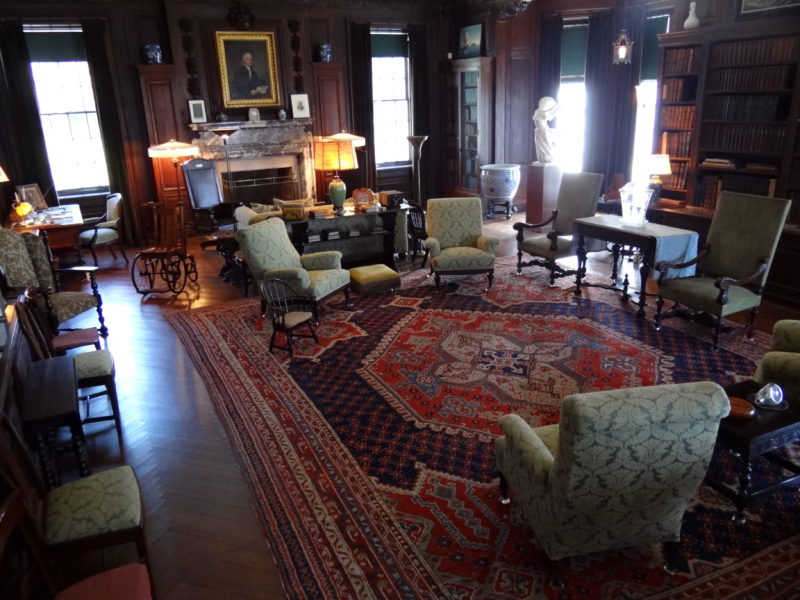 Offering a surprisingly vivid and personal glimpse of how American aristocrats once lived, Springwood was the lifelong home of Franklin D. Roosevelt, considered to be the 20th century's greatest American president for his ability to steer the nation through the Great Depression and WWII, and the only president elected to four terms of office (1933-1945). The Roosevelt home represents Hudson Valley old money: a large, unpretentious stucco and fieldstone house furnished with polished mahogany woodwork, tufted sofas, Oriental rugs, and ancestral oil paintings, along with intimate touches like the cabinet of stuffed birds that FDR collected as a boy.
Perched on a bluff that affords beautiful views of the Hudson River, the home and estate were purchased in 1867 by Franklin's father, James, who enjoyed the life of an English squire, busying himself with his horses and cattle, hunting, fishing, and riding, and iceboating on the Hudson. He passed his love of the outdoors on to his only child with Sara Delano Roosevelt. A strong woman involved in her son's life, Sara inherited the property from her husband in 1900 (rare in those days) and ruled the roost until her death in 1941. She kept the lady-of-the-house's bedroom to herself, even after Franklin's marriage to his distant cousin Eleanor in 1905. During guided tours you see all just as they left it, down to the old-fashioned bedroom telephone that was a hotline to the White House, and FDR's wheelchair. (He was unable to stand alone or walk unaided, as a result of contracting polio at age 39.)
Today Springwood has 290 acres, with walking trails and America's first presidential library, which Roosevelt designed himself in Dutch Colonial style and actually used while he was president. By donating his papers to it, Roosevelt established the precedent for public ownership of presidential papers, which soon became federal law. Highlights include an excellent documentary film, report cards from Groton and Harvard (bearing few A's), and the desk FDR used during his four successive terms of office. The Rose Garden is the location of the Roosevelts' simple graves and the tiny tombstone of their beloved Scottish terrier, Fala.
Originally a furniture workshop that Eleanor started in 1926 to teach manufacturing skills to underemployed farmworkers, nearby Val-Kill Cottage became the exceedingly modest home Eleanor came to prefer, down to the Colonial reproduction furniture, knotty pine paneling, and dimestore tumblers. She moved here full-time upon her husband's death (FDR died in 1945 in Warm Springs, Georgia, at the Little White House).
As FDR neared the end in 1944, Springwood was the place he longed to be. "All that is within me cries out to go back to my home on the Hudson River," he said.
FDR's Springwood. Where: 90 miles north of New York City; 4097 Albany Post Rd. Tel 845-229-5320. Eleanor Roosevelt Historic Site: Val-Kill. Tel 845-229-9422. When: daily, May–Oct; Thurs–Mon, Nov–Apr.
Mount Vernon, VA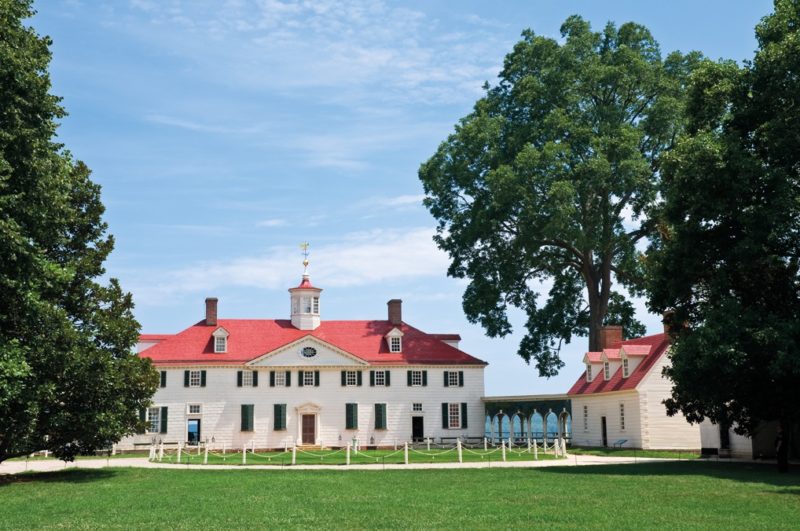 George Washington may have a towering memorial to his name in the heart of Washington, D.C., but off across the Potomac sits a more personal memorial raised by his own hand and reflecting his strong, virtuous, independent, and wholly American character. It is Mount Vernon, Washington's home, set on land originally granted to his great-grandfather in 1674. Washington inherited the estate in 1761 at the age of 29, and over the next four decades gradually expanded it to 8,000 acres, making it one of the finest plantations in Virginia. Like Thomas Jefferson and many other 18th-century gentlemen, Washington himself acted as architect and planner, creating a home for himself and Martha and forging an image of substance, probity, and prosperity that would propel him first into the ranks of colonial society and later into the history books. After commanding the Continental Army and serving as the country's first president, Washington was finally able to return home, spending two quiet years with Martha before dying in his bed on December 14, 1799, at age 67.
Today, as then, the main house at Mount Vernon sits on a hillside, enjoying such a dramatic view over the Potomac that Washington once remarked, "No estate in America is more pleasantly situated than this." The grand three-story mansion has 21 rooms, a two-story columned porch, and a cupola topped with a dove-shaped weathervane, symbolizing peace. Rooms are in their original bright shades of green and blue, and numerous original pieces, including a swivel chair Washington used during his presidency and a large globe that sat in his study, have been tracked down and returned to their rightful spots.
A variety of outbuildings occupies the grounds of the now-500-acre estate, including a kitchen, a stable, a smokehouse, a restored version of Washington's whiskey still, and the quarters that housed the 316 slaves Washington owned at his death. Since Mount Vernon is still a working farm, there are also a barnyard full of animals, thriving gardens, and a reconstructed 16-sided barn. The president's and Martha's tomb is also on the property, its markers stating simply "Washington" and "Martha, consort of Washington."
Getting to Mount Vernon can be half the fun. In addition to driving, you can bike there along the 18-mile Mount Vernon Trail from Memorial Bridge in Washington, D.C.
Mount Vernon. Where: 18 miles south of Washington, D.C. Tel 703-780-2000. Best times: Feb 22 for George Washington's birthday celebration and wreath-laying ceremony; July 4th for Independence Day celebrations; late Nov–Dec for period holiday decorations and traditions and tours by candlelight.
Independence, MO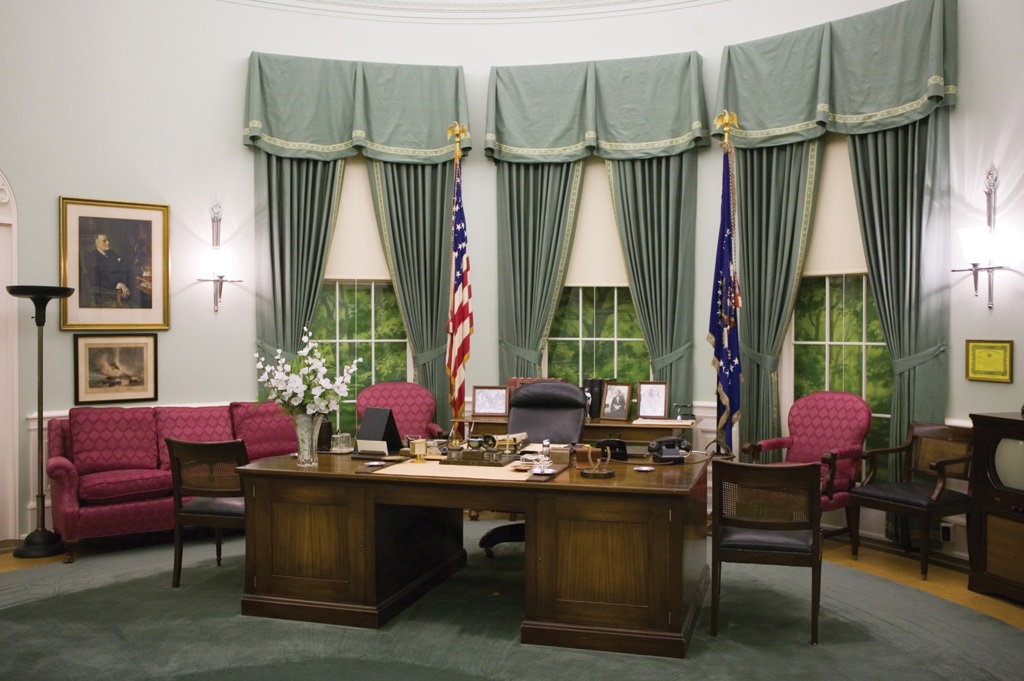 In his early years, America's 33rd president, Harry S. Truman, lived in Independence with in-laws who regarded him as an inferior match for their beloved Bess. Such is the sort of intimate glimpse into Truman's life that you'll glean from a visit to the white 14-room Victorian home where he and Bess lived upon their marriage in 1919 (it took him nine years to convince her) and to which they returned in 1952 after his eight years in the White House. "I have had all of Washington I want," he said at the time. "I prefer my life in Missouri." Everything in the house is just as they left it, down to the 1950s kitchen with the patched linoleum floor and Truman's signature flat-brimmed hat and cane hanging behind the front door, ready for his morning walk.
The very first presidential library to be built (in what is now a suburb of sprawling Kansas City), the Truman Presidential Library & Museum tells of the unlikely rise of Truman, who was born into a modest family, never went to college, and went into politics only because his clothing store failed, launching a political career distinguished by integrity and and hard work. The famous "The Buck Stops Here" sign still sits on the desk in a replica of Truman's Oval Office. Built in 1957, the library was recently updated with interactive "decision theaters" that put into visitors' hands life-and-death decisions that Truman faced, such as whether to use atomic weapons during WWII or to send troops to fight in Korea. Truman died in 1972; he and Bess are buried in the library courtyard.
Independence is also known as the "Queen City of the Trails" because three of the great routes that led pioneers west from the 1820s to the 1850s—the Santa Fe, California, and Oregon—began right around here, when western Missouri was the edge of civilization. The only museum in the country dedicated to all three trails, the National Frontier Trails Museum shows the massive preparations that were made before people set off across the vast prairie grasslands.
Every Labor Day weekend 300,000 visitors swarm to the city to celebrate SantaCaliGon Day, a four-day street festival named for the three mid-19th-century superhighways. Men dress up as trappers, and women in long calico dresses tend big pots of kettle corn. Modern-day folks listen to top country music acts, watch root-beer-chugging contests, and cruise displays of crafts in nine huge tents on historic Independence Square.
Independence is not just about all things trails or Truman; the Mormon Independence Visitors Center regularly rivals the Truman Library as the most visited site. Mormons came to town in 1831 led by founder Joseph Smith, but were ultimately driven out. The majority continued on to Salt Lake City (see here), but some stayed in the region and eventually returned to Independence. Another showpiece is the magnificent 31-room Vaile Mansion, one of the finest examples of Second Empire Victorian architecture in the country. The opulently decorated mansion has such marvels of the day as toilets that flushed, Carrara marble fireplaces, and something oenophiles can only dream of—a 48,000-gallon wine cellar.
Independent, MO. Where: 10 miles east of downtown Kansas City. Visitor info: Tel 800-748-7323 or 816-325-7890. Harry S. Truman National Historic Site: Tel 816-254-9929. Harry S. Truman Library & Museum: Tel 800-833-1225 or 816-268-8200. National Frontier Trails Museum: Tel 816-325-7575. Mormon Independence Visitors Center: Tel 816-836-3466. Vaile Mansion: Tel 816-325-7430. When: closed Nov and Jan–Mar. Best time: early Sept for SantaCaliGon Days Festival.
Lincoln Presidential Library
Springfield, IL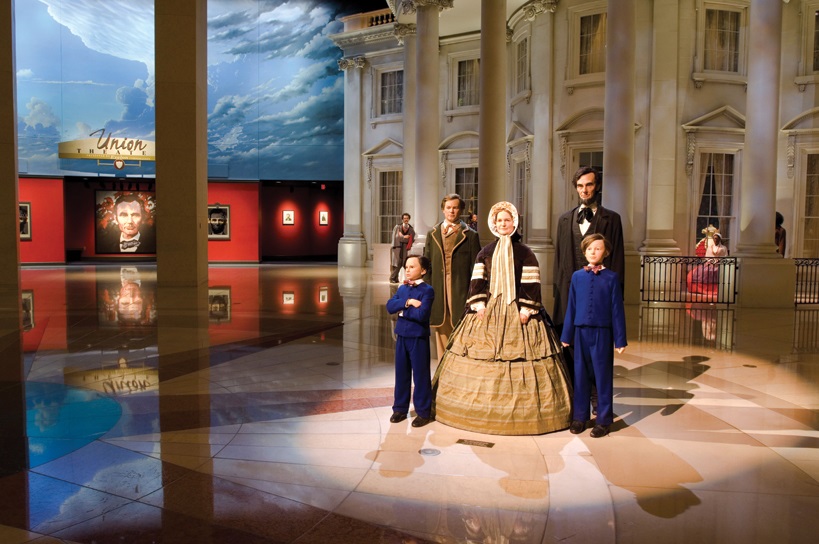 When Lincoln left Springfield for Washington on February 11, 1861, a civil war was fast approaching and his qualifications as a national leader were still to be tested. Nearly a century and a half later, the Abraham Lincoln Presidential Library and Museum was established in his honor, the first such facility dedicated to Lincoln and the largest repository of Lincoln artifacts anywhere. Opened in 2005, the complex aims not merely to house the papers and personal effects of the 16th president, but also to give visitors an experience of the self-taught man and his tumultuous times; as much a respectful theme park as a museum, it is a successful blend of scholarship and showmanship.
The exterior of the complex, designed in a sort of stripped-down Prairie style, features clean lines and broad eaves. Once inside the airy central plaza, visitors set out on "exhibit journeys" populated by mannequins of Lincoln, his family, and other figures. They begin with Lincoln's youth in the Indiana wilderness, where his family moved after meager early years in Kentucky, then move on to his career as attorney and politician in Springfield, his troubled presidency, and his assassination at Ford's Theatre on the evening of April 14, 1865.
Exhibits come to life with evocative sound, from whispered insults of detractors to music from Lincoln's era. "Ghosts of the Library" summons holographic imagery, Disney-like special effects, and a live actor to bring history to life. In the Union Theatre, "Lincoln's Eyes" shows the president from the perspective of an artist commissioned to paint his portrait, with digital projection screens and even a vibrating floor and fake cannon smoke to simulate the effects of an artillery barrage.
The Treasures Gallery offers a more old-fashioned museum experience, with intimate artifacts from the life of Lincoln and his Kentucky-born wife, Mary Todd, that rotate in and out of the collection. Two standouts you can hope to glimpse are a copy of the Emancipation Proclamation, signed by Lincoln on January 1, 1863, and a draft of the Gettysburg Address written in his own hand. In the museum are reproductions of several significant places; once you've seen a reproduction of Representatives Hall in the Old Capitol, you can head out the door to visit the real thing just a short walk away (see here).
Lincoln Presidential Library. Where: 112 N. 6th St. Tel 217-558-8844. When: museum daily; library closed Sat–Sun. Best time: Lincoln birthday celebrations on Feb 12.
About the Book:
Covering the U.S.A. and Canada like never before, and for the first time with full-color photographs, here are 1,000 compelling, essential, offbeat, utterly unforgettable places. Pristine beaches and national parks, world-class museums and the Just for Laughs festival, mountain resorts, salmon-rich rivers, scenic byways, the Oyster Bar and the country's best taco, lush gardens and coastal treks at Point Reyes, rafting the Upper Gauley (if you dare). Plus resorts, vineyards, hot springs, classic ballparks, the Talladega Speedway, and more. Includes new attractions, like Miami's Pérez Art Museum and Manhattan's High Line, plus more than 150 places of special interest to families. And, for every entry, what you need to know about how and when to visit.
"Patricia Schultz unearths the hidden gems in our North American backyard. Don't even think about packing your bag and sightseeing without it." —New York Daily News
Buy the Book
Amazon | B&N | Indiebound | Workman