The world has been captivated and saddened by the news of the Australian bushfires, and the toll that the fires have taken on Australia's wildlife. News reports estimate that more than a billion animals have been killed, and a number of species with habitats destroyed by the fires are now endangered.
Australia's remarkable animals are the stars of  Outback: The Amazing Animals of Australia: A Photicular Book (Workman, Fall 2019, 978-1-5235-0823-5). Now Workman is offering a way for book retailers and consumers to make a difference for this wildlife as it faces so much danger.
Workman will make a donation of $2.00 per copy of Outback sold at retail from 1/18-2/29/20 (based on Bookscan reported sales) to WIRES Australian Wildlife Rescue Organization, which is working to help animals affected by the Australian bushfires.
More About Outback: The Amazing Animals of Australia: A Photicular Book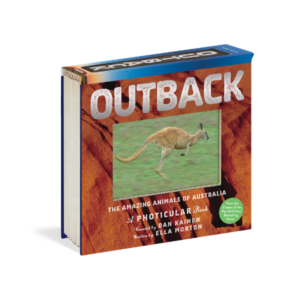 Embark on an eye-opening adventure in the land Down Under, and see eight creatures in astounding motion. From the New York Times bestselling series.
Using Photicular® technology that's like a 3-D movie on the page, OUTBACK whisks you to the vast, remote world of wild Australia, where heat waves dance forever and animals, isolated by the vagaries of continental drift, are unlike those found anywhere else on Earth.
Each moving image delivers a rich, immersive visual experience—and the result is breathtaking. The kangaroo hops. A wombat waddles. The frilled lizard races on two legs across the desert floor. A peacock spider dances and shows off its vibrant colors. Experience it for yourself!
Buy the Book
Amazon | B&N | Indiebound | Workman