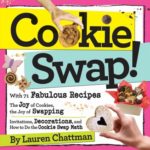 Wouldn't you know it, that holiday everyone loves to hate is coming up: Valentine's Day. But instead of moping around, sending flirtatious texts to your would-be Romeo, or wallowing in a vat of chocolate, we have an alternative activity for you. A Valentine's Day cookie swap! It can be lovey-dovey or grumpy; to accompany the cookies, you can serve bittersweet souffles, decadent chocolate layer cake, or solely raw vegetables and protein bars. But please do yourselves a favor and make these Mini Hazelnut Linzer Hearts, no matter what the sentiment! (Unless you have a nut allergy, that is.)
Mini Hazelnut Linzer Hearts
Makes: 36 small sandwich cookies
Bake time: 10 to 12 minutes
Linzer sandwiches are so rich that large cookies often go half-eaten. But bite-size Linzer hearts give you all the Viennese-style decadence of a big cookie with half the guilt (which–let's be honest–means you can eat more of them!). These cookies are made with two sizes of cookie cutters–a larger heart to cut out the cookies and a smaller one to create the window; you can find them at Williams-Sonoma or N.Y. Cake & Baking Distributor (where the small ones are sold in a set of aspic cutters).
1 cup skinned hazelnuts*
2/3 cup granulated sugar
1 cup (2 sticks) unsalted butter, at room temperature
1 large egg yolk
1 teaspoon pure vanilla extract
2 2/3 cups unbleached all-purpose flour, plus extra for working the dough
1/4 teaspoon salt
1/4 cup seedless raspberry jam
Confectioners' sugar, for dusting
1. Place the hazelnuts and 1/3 cup of the sugar in a food processor and pulse 8 to 10 times until very finely ground (the mixture should resemble very coarse sand).
2. Place the butter and the remaining 1/3 cup of the sugar in a large mixing bowl and beat together with an electric mixer on medium-high speed until fluffy, 2 to 3 minutes. Add the egg yolk and vanilla and beat until incorporated. Add the flour, salt, and the hazelnut mixture and mix on low speed until the dough comes together in a ball.
3. Divide the dough into three parts and, on a lightly floured surface with lightly floured hands, press it into three 1/2-inch-thick disks. Wrap the disks in plastic and refrigerate them for at least 2 hours or up to 2 days. (At this point, the dough may be wrapped in a double layer of plastic and then a layer of heavy-duty foil and frozen for up to 1 month. Defrost it in the refrigerator for at least 5 hours or overnight before proceeding with step 4.)
4. Preheat the oven to 350 F. Line several baking sheets with parchment paper.
5. Remove one of the dough disks from the refrigerator and knead it 4 or 5 times on a lightly floured work surface to soften it. With a lightly floured rolling pin, roll out the dough to a thickness of a scant 1/4 inch. Use a 1 1/2-inch heart-shaped cutter to cut out as many hearts as you can. Place the hearts on the prepared baking sheets and use a smaller heart-shaped cutter to cut a peek-a-boo center into half of the cookies. Alternatively, use a skewer to poke holes in half of the cookies. (These holes should be in rows, about 1/4-inch apart from each other.)
6. Bake the cookies until they are lightly golden, 10 to 12 minutes. Slide the parchment sheets with the cookies onto wire racks and let the cookies cool completely.
7. Roll, cut, and bake the remaining disks of dough (and any scraps), using fresh parchment paper, as directed.
8. To assemble the cookies, use a small offset spatula to spread about 1/4 teaspoon of jam on each of the un-poked hearts; spread the jam to within 1/8 inch of the edge. Lightly sift some confectioners' sugar over the poked hearts and place each on top of the jam-covered hearts.
*Use this technique to skin the hazelnuts: Place the hazelnuts in a saucepan and cover them with water to a depth of 1 inch. Add a tablespoon of baking soda and bring to a boil for 3 minutes. Strain the nuts under cold running water, rubbing them between your palms. The skins will completely dissolve. Pat the hazelnuts dry before using them.
Mini Hazelnut Linzer Hearts will keep, layered between parchment paper, in an airtight container at room temperature for up to 2 days.
–Liz, editorial assistant, who does in fact have a nut allergy, but wishes she could eat these anyway, because they are so beautiful. Oh yeah, there they are on the cover of the book!