Explore a Spooky Water Park Deep in the Jungle of Vietnam
Ho Thuy Tien Water Park
Ho Thuy Tien, Thua Thien–Hue Province
N 16.41136  E 107.5760
The water park of Ho Thuy Tien was an expensive disaster. It cost $3 million to build. Only a few years after it opened in 2004, business problems forced it to close. But that wasn't the end of the story. Now that the water park has officially shut down, it's more popular than ever.
Adventurers come from around the world to marvel at the collapsing park. They love it because it's weird, spooky, and beautiful. Its buildings are crumbling and the jungle is slowly taking over. Huge, broken water slides peek out from the trees. A 3-story-tall metal dragon scowls above an empty aquarium. At one time, hungry escaped crocodiles roamed the park. Luckily, they've all been captured and taken to a preserve.
Ho Thuy Tien is so attractive to tourists that the locals have started charging admission and selling drinks and snacks. It's almost like a real amusement park! Just don't go on any of the slides. . . .
More About Atlas Obscura Explorer's Guide for the World's Most Adventurous Kid: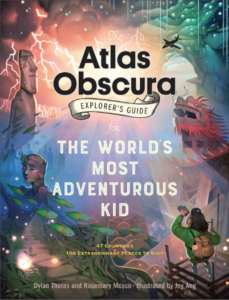 Created by the team behind the New York Times #1 bestselling Atlas Obscura, the Atlas Obscura Explorer's Guide for the World's Most Adventurous Kid is a thrilling expedition to 100 of the most surprising, mysterious, and weird-but-true places on earth.
For curious kids, this is the chance to embark on the journey of a lifetime—and see how faraway countries have more in common than you might expect! Hopscotch from country to country in a chain of connecting attractions: Explore Mexico's glittering cave of crystals, then visit the world's largest cave in Vietnam. Peer over a 355-foot waterfall in Zambia, then learn how Antarctica's Blood Falls got their mysterious color. Or see mysterious mummies in Japan and France, then majestic ice caves in both Argentina and Austria. As you climb mountains, zip-line over forests, and dive into oceans, this book is your passport to a world of hidden wonders, illuminated by gorgeous art.
Buy the Book
Amazon | B&N | Indiebound | Workman