Excerpted from Homegrown by Matt Jennings (Artisan Books). Copyright © 2017. Photographs by Huge Galdones.
Buy the Book
Amazon | B&N | Indiebound | Workman
One has not truly experienced fall in New England until one has eaten a freshly fried apple-cider doughnut. The doughnuts, made with a bit of cider in the batter and fragrant with nutmeg, are sugar-dusted, crunchy, craggy paradigms of the doughnut form. And a sweet-tart cup of cider direct from the press is the perfect companion.
My young boys love heading out to orchards in western Massachusetts or southern Vermont to go apple-picking with us—they act like they own the place. Sawyer, who is eight, and Coleman, who is five, run through the orchard rows, throwing fallen apples at each other, climbing in the branches of sturdy trees, and stuffing their pockets (and mouths) with fruit. The promise of doughnuts and cider is often the only thing that will lure them out of the trees. These fritters, studded with bits of apple and rolled in cinnamon-sugar, are directly inspired by those doughnuts and special autumn days.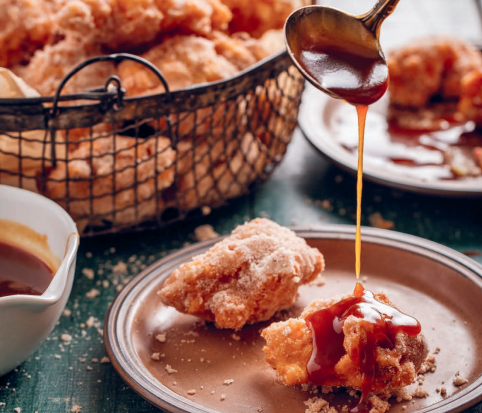 Apple Fritters with Caramel Sauce
Makes about 24 fritters
For the Fritters
1 cup cake flour
½ cup Wondra flour
1 tablespoon packed dark brown sugar
2 teaspoons baking powder
½ teaspoon kosher salt
⅔ cup buttermilk
2 eggs
1 tablespoon olive oil
3 cups finely diced peeled sweettart apples, such as Pink Lady or Honeycrisp
2 quarts canola oil, for frying
For the Cinnamon-Sugar
1½ cups granulated sugar

1 teaspoon ground cinnamon

½ teaspoon ground ginger
¼ teaspoon freshly grated nutmeg
¼ teaspoon kosher salt
For Serving
Special Equipment
Instructions
Make the fritters: In a large bowl, stir together the cake flour, Wondra flour, brown sugar, baking powder, and salt. In a separate bowl, whisk together the buttermilk, eggs, and olive oil until well combined. With a rubber spatula, stir the wet ingredients into the dry, stirring until combined, then stir in the apples.
In a large heavy pot or Dutch oven, heat the canola oil over high heat until it registers 350°F on a deep-fry thermometer. Line a rimmed baking sheet with paper towels and set it nearby.
While the oil heats, make the cinnamon-sugar: In a large bowl, stir together the sugar, cinnamon, ginger, nutmeg, and salt until well combined. Set aside.
When the oil is hot, carefully drop, in batches, golf ball–size spoonfuls of the batter into the hot oil and fry until golden brown, about 5 minutes. Use a spider or slotted spoon to gently turn the fritters in the oil so they brown evenly. Transfer to the paper towel–lined pan to drain. Between batches, let the oil return to temperature and stir the batter well, as the apples will sink.
While the fritters are still warm, toss them in the cinnamon-sugar to coat. Serve warm, accompanied by caramel sauce for dipping or vanilla ice cream.
Caramel Sauce
Makes about 3 cups.
Ingredients
2 cups sugar
1 cup heavy cream, warmed
4 tablespoons (½ stick) unsalted butter
1½ teaspoons fine sea salt
Instructions
In a large heavy saucepan, combine the sugar and ½ cup water over medium heat. Cook, swirling the pan occasionally, until the mixture is a dark amber color. Slowly pour in the warm cream. Be careful: the mixture will bubble furiously. When the bubbles subside, whisk in the butter and salt.
Strain the caramel through a fine-mesh strainer into a heatproof container and let cool for 30 minutes before using. The caramel will keep in an airtight container in the refrigerator for up to 2 weeks. Reheat gently over low heat before using.