Think caramel sauce, whipped cream, and molten chocolate cakes—WITHOUT added sugars! These three low sugar dessert recipes are wonderful together, or served separately.
Excerpted from Half the Sugar, All the Love by Jennifer Tyler Lee and Anisha Patel, MD. MSPH (Workman Publishing). Copyright © 2020. Photographs by Erin Scott.
Salted Maple-Date Caramel Molten Chocolate Cakes
When you're craving a decadent treat, these easy-to-make molten chocolate cakes are the recipe to reach for. Typical versions of these popular lava cakes clock in at more than 10 teaspoons of added sugar per serving. Salted Maple-Date Caramel Sauce substitutes for the chocolate filling here, giving these cakes plenty of natural sweetness and an irresistible gooey center. These little gems are indulgent, but when the occasion calls for something extra special, they deliver.

Salted Maple-Date Caramel Sauce
Naturally sweet dates add caramel flavor with two thirds less sugar than packaged salted caramel sauce.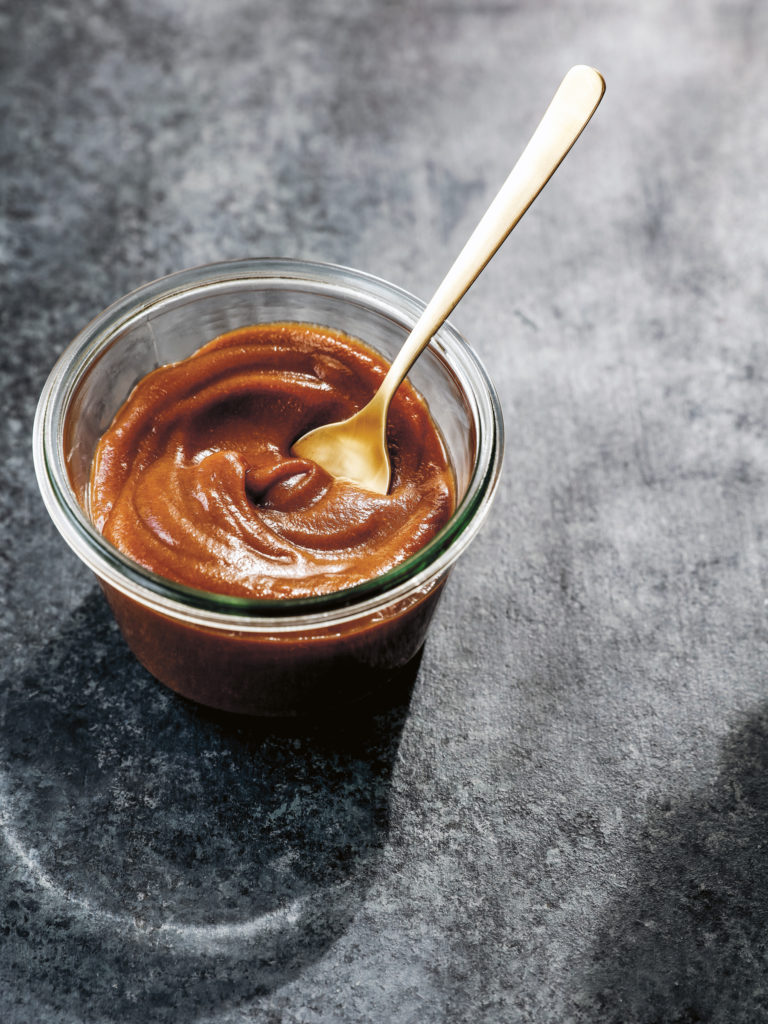 Salted Maple-Date Caramel Molten Chocolate Cakes
INGREDIENTS
Nonstick cooking spray
1/4 cup unsweetened natural cocoa powder, plus extra for dusting
1/2 cup (1 stick) unsalted butter, cut into 8 equal pieces
4 ounces dark chocolate, chopped (about ⅔cup)
1/4 cup sugar
1 teaspoon pure vanilla extract
Dash of salt
3 large eggs
6 tablespoons Salted Maple-Date Caramel Sauce (see below), chilled
3/4 cup Maple-Vanilla Whipped cream (see below), for serving
Makes 6 Individual Cakes
INSTRUCTIONS
Preheat the oven to 425°F. Coat the inside of six small (3-ounce) ramekins with cooking spray, lightly dust with cocoa powder, and place on a rimmed baking sheet.
Combine the butter and chocolate in a large heatproof bowl, set over a saucepan filled with 1-inch simmering water, making sure the bottom of the bowl doesn't touch the water. Stir until melted. Remove from the heat and let cool slightly.
Add the sugar, 1/4 cup cocoa powder, the vanilla, salt, and eggs to the melted chocolate mixture and whisk to combine.
Divide half of the batter evenly among the ramekins. Carefully drop 1 tablespoon of the caramel sauce into the center of each ramekin, then top evenly with the remaining batter, making sure the sauce is fully covered with batter.
Bake until the sides are firm and centers are soft and look almost baked through, about 10 minutes. Let cool slightly. Using a kitchen towel to hold the ramekins, place a serving plate on top of each ramekin and invert the molten cake onto the plate, gently shaking the ramekin so that the cake comes out. Serve with the whipped cream and a dusting of the cocoa powder.
What Kids Can Do: Kids can dollop on the whipped cream and dust the cakes with cocoa powder.
Make Ahead: The cakes can be assembled the day before, covered, and stored in the refrigerator until you're ready to bake.
Nutrition Information (1 cake with 2 tablespoons whipped cream): Calories: 418 | Added sugar: 5 teaspoons or 20g | Carbohydrates: 32g | Sodium: 80mg | Saturated fat: 39% of calories or 18g | Fiber: 3g | Protein: 6g
Salted Maple-Date Caramel Sauce
INGREDIENTS
8 ounces Medjool dates, pitted (about 10 dates)
1 1/2 cups hot water
1 cup whole milk or almond milk
1/2 cup maple syrup
1/2 teaspoon pure vanilla extract
Dash of flaky sea salt
INSTRUCTIONS
Place the dates in a medium bowl and cover with the hot water. Soak until very soft, 10 to 15 minutes, then drain.
Transfer the dates to a small saucepan, add the milk and maple syrup, and bring to a low boil, stirring constantly. Reduce the heat to low and simmer and cook until the dates start to break apart, about 5 minutes, watching closely and stirring occasionally so the milk doesn't burn. Remove from the heat and add the vanilla. Let the mixture cool briefly.
Place in a food processor or blender and puree, scraping the side of the bowl a few times, until very smooth and no chunks of date remain, about 1 minute. Add the salt, then blend again. Serve warm or cool.
Make Ahead: The sauce will keep in a jar or airtight container in the refrigerator for several weeks.
Nutrition Information (2 tablespoons): Calories: 85 | Added sugar: 1 3/4teaspoons or 7g | Carbohydrates: 21g | Sodium: 20mg | Saturated fat: 3% of calories or <1g | Fiber: 1g | Protein: 1g
Maple-Vanilla Whipped Cream
INGREDIENTS
1 cup heavy (whipping) cream
1 1/2 teaspoons maple syrup
1/2 teaspoon pure vanilla extract
INSTRUCTIONS
Place the cream in the chilled bowl of a stand mixer fitted with a whisk attachment, and beat on medium speed until soft peaks form, about 3 minutes.
Add the maple syrup and vanilla and beat on medium-high speed until medium-to-stiff peaks form, about 30 seconds more. Serve immediately.
Nutrition Information (2 tablespoons): Calories: 53 | Added sugar: 0 teaspoons or 0g | Carbohydrates: 1g | Sodium: 4mg | Saturated fat: 58% of calories or 3g | Fiber: 0g | Protein: <1g
More About Half the Sugar, All the Love
"Delicious recipes. Jennifer and Anisha have just the right idea on how to reduce unnecessary sugar from our diets, and more importantly, our kids' diets."—TRACY, DANA, LORI, and CORKY POLLAN, authors of the New York Times bestselling Mostly Plants and the award-winning The Pollan Family Table
Would you feed your child a candy bar for breakfast? Of course not. And yet today our children routinely consume three times the recommended daily allowance of added sugar, which puts them at an unprecedented risk for type 2 diabetes, high blood pressure, high cholesterol, excess weight, and even nonalcoholic fatty liver disease. Half the Sugar, All the Love is here to help, with 100 doctor-approved recipes that cut the sugar (by half—or more!) without sacrificing the flavors our families love. It's an eye-opening education, a program of healthy eating, and a cookbook chock-full of easy, delicious recipes all in one.
Buy the Book
Amazon | B&N | Indiebound | Workman