A New Galette Recipe? Too Gouda To Be True
I have a secret ingredient that I add to pie dough to give it a little extra tenderness and cushion: baking powder. I'm pretty sure I learned this trick from Ina Garten, who adds it to her pastry topping for a lobster pot pie—once I tried it, that was that. There's a double hit of Gouda—smoked in the pie pastry and aged that gets grated over the apples. I love this with pears, too, and yes, you can absolutely do this for breakfast or brunch.
Excerpted from Umami Bomb by Raquel Pelzel (Workman Publishing). Copyright © 2019. Photographs by Kate Sears.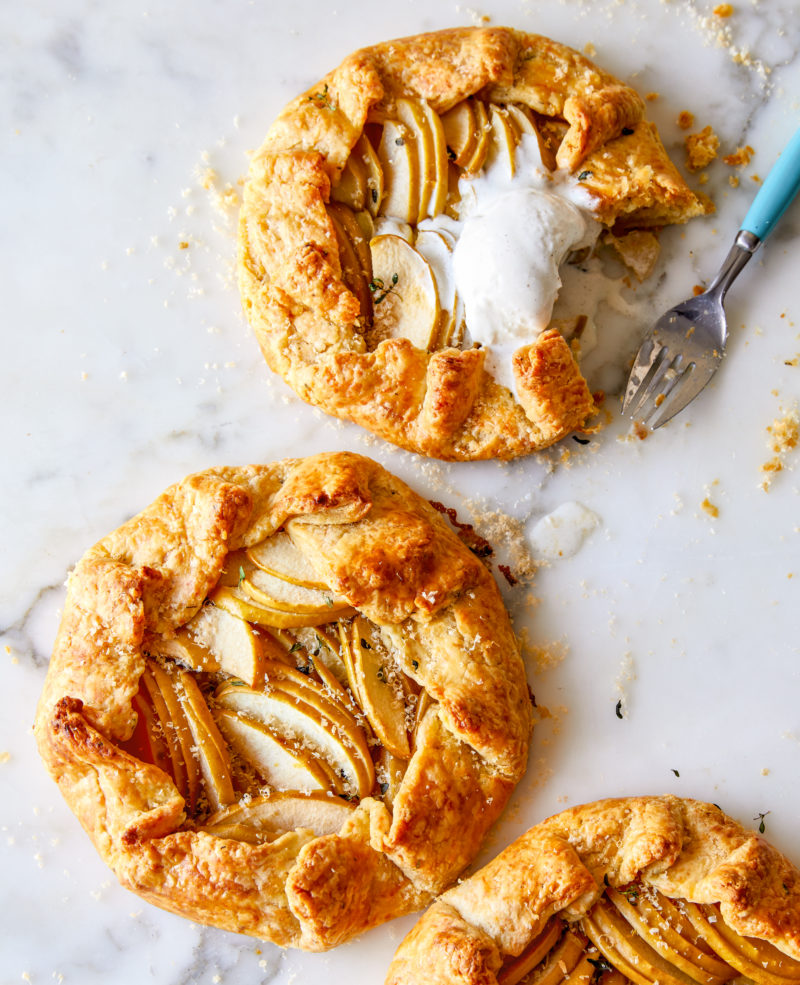 What You Need:
For the dough
4 cups all-purpose flour
2 tablespoons sugar
2 teaspoons baking powder
2 teaspoons freshly ground black pepper
1 tablespoon fresh thyme leaves
1 teaspoon kosher salt
1 1/2 cups (3 sticks) cold unsalted butter, cut into small pieces
4 ounces smoked Gouda cheese, grated on the medium-hole side of a box grater (about 1¹⁄3 cups)
2 large egg yolks
²⁄3 cup ice water, plus extra as needed
For the galettes
4 Granny Smith apples, peeled, halved, cored, and sliced ¼ inch thick
4 tablespoons (1/2 stick) unsalted butter, melted
3 tablespoons maple syrup
Zest and juice of 1/2 lemon
Kosher salt
Aged Gouda cheese, for grating
1 large egg
Vanilla ice cream, for serving (optional)
What to Do:
Make the dough: Place the flour, sugar, baking powder, pepper, thyme, and salt in the bowl of a food processor and process for 10 seconds to combine (if making the dough by hand, whisk the dry ingredients together in a large bowl). Add the butter and smoked Gouda and pulse until there aren't any pieces larger than a small pea, about eight 1-second pulses (or use your fingers to work the butter into the flour mixture until the butter pieces are no larger than a small pea, and then add the cheese). Add the egg yolks, one at a time, pulsing the mixture between additions. Then, while pulsing, start to drizzle in the water. (If making the dough by hand, use a fork to incorporate the egg yolks and water.) Once all the ice water is added, take a small bit of the dough and squeeze it in your palm. If it comes together readily and doesn't look dry or crumble apart easily, it is done; if the dough crumbles apart, add another 2 to 3 tablespoons of ice water.
Transfer the dough to a cutting board and press and pat it into a 3/4-inch-thick disk. Divide the dough into six equal pieces (like a pie) and then press each into a 1/2-inch-thick disk (don't knead the dough—just use your palms to press it into round disks). Wrap each piece in plastic wrap and refrigerate for at least 20 minutes or up to 2 days.
Assemble the galettes: Place the apples in a large bowl. Add the melted butter, maple syrup, lemon zest and juice, and a pinch of salt and toss to combine. Set aside.
Line two rimmed sheet pans with parchment paper or nonstick baking mats. Remove the dough from the refrigerator and let it sit out to soften, 15 minutes. Roll each disk between pieces of plastic wrap or parchment paper into a 9- to 10-inch circle that's about 1/4 inch thick. Lift the top piece of plastic off each round of dough and divide the apples among them, leaving a 3-inch border at the edges. Fold the edges of the dough over the apple slices, loosely pleating the dough and leaving the center exposed. Use a metal spatula to transfer the galettes to the prepared sheet pans, placing three galettes on each sheet pan. Chill the galettes for 1 hour. (The galettes can be refrigerated for up to 4 hours before baking. I have refrigerated them overnight, and while they were still tasty, they were not quite as well structured. If chilling for more than 1 hour, cover the sheet pan with plastic wrap so the dough doesn't dry out.)
Adjust one oven rack to the upper-middle position and another to the lower-middle position. Preheat the oven to 375°F.
Grate some of the aged Gouda over each galette. Use a fork to beat the egg with a pinch of salt and 1 tablespoon of water, then use a pastry brush to lightly coat the crust of each galette with the egg wash. Bake until the crust is golden and the apples are tender, 35 to 40 minutes. Serve warm or cooled.
The galettes are best eaten within 1 day of baking; store them at room temperature and warm them in
a 325°F oven before serving. Makes 6 personal galettes.
More About Umami Bomb:
"Pure vegetable magic!"—CARA MANGINI, chef and author of The Vegetable Butcher
 
Ingeniously built around the use of eight umami-rich ingredients—aged cheese, tomatoes, mushrooms, soy sauce, miso, caramelized onions, smoke, and nutritional yeast—these 75 recipes are bursting with the sublime, savory fifth taste.
Turn mushrooms into "lardons" for a bold take on Southern black-eyed peas and greens. Caramelize onions to use in the best grilled cheese ever. Add a secret spoonful of soy sauce to the frosting of your next chocolate cake—the soy taste disappears but leaves behind an unexpected depth of flavor. Part of the brilliance of Umami Bomb is how the recipes layer these key ingredients to amplify their effect—like adding miso to an already cheesy cacio e pepe sauce for pasta so savory and delicious you'll do a double take.
Buy the Book
Amazon | B&N | Indiebound | Workman