Five Tips for Reading with Toddlers
It's important to instill in children a love of books and reading so that they may discover new ideas, enhance their perspectives, and explore the world. The toddler years are a crucial period in the life of a young reader—it's a time when a child's mind is open, curious and ripe for learning. Pamela Paul and Maria Russo, editors of The New York Times Book Review and authors of How to Raise a Reader, offer five tips for reading with toddlers ranging from the kinds of books you should be reading to your child, to developing rituals, to what to do if you find yourself growing tired of reading aloud certain children's books.
* * * * *
Open Up Their Worlds
Toddlers' minds are flexible, expansive, and generous. They don't care if the main character is a boy or a girl or a hamster. Take advantage of this time to expose them to a balanced cast in their books, and help children of both sexes spend time with themes that might seem exclusively or stereotypically "boy oriented" (say, trucks, machinery, sports) or "girl oriented" (say, friendship, cooking, fairies). Seek out books that show girls being active and assertive and boys being sensitive and nurturing. Books that feature a protagonist whose gender is not clear are great, too (animals! robots! ), for implanting the idea that gender roles and identities don't have to be set in stone, and that beyond "masculine" or "feminine" is simply "human."
Reflect the Real World
 What holds true for gender also holds true for race, culture, class, and geographic borders. It's getting easier to find books with racially and ethnically diverse characters in them, at long last. Make a point of reading these to your child. If your child is a member of a racial or ethnic minority, it's especially important to seek out books that feature children who look similar to yours. All children need to see themselves reflected in stories. But no matter what your child's background happens to be, find books that casually show people with different skin tones and ethnicities building a rocket ship or exploring an underwater cavern or simply going to the grocery store with Grandpa. Bring them stories that present the variety of cultural traditions and family structures and life experiences that coexist in our communities. As you read with them, you're helping prepare them for life in a diverse world—and you're helping to build their capacity for empathy. Books are a great way to "try on" other people's experiences, and toddlers are at a developmental point where they need to start understanding how other people feel—and treating them accordingly.
Literacy experts talk about the need for a child to be exposed to books that are both "mirrors and windows"—some should be mirrors in which a child can see herself reflected, and others should be windows into the experiences of people who are different. By giving your toddler both kinds of books, you're helping with the task of learning how to value and respect himself while also valuing and respecting others.
Develop Rituals Around Reading
As toddlerhood settles in and preschool is upon you, there are still, of course, the emotional benefits of regular reading that began when your child was a baby. Each time you read to him, your toddler is experiencing the connection between books and the familiar, beloved sound of your voice—that physical closeness reading together brings. You're continuing to build a deeply positive association with books that will last a lifetime.
But even if you're totally on board with the idea, there is still the matter of working reading into your busy days. Bedtime reading is a familiar nightly routine for parents of toddlers, and it's probably the easiest way to guarantee some reading every day. There may be no sweeter part of parenthood than the ritual of reading books before your child falls asleep. Make sure there's time for a picture book (or three, or four . . .). Keep the atmosphere around bedtime soothing and not rushed, and choose some of the many books that end, strategically, with a peaceful going-to-bed scene (though friskier books about sleep-avoiding children are fun, too). It's a great way to get your little ball of energy to unwind before bed, and it's a good habit to nurture now so that nightly reading time is completely ingrained in both of you by the elementary school years.
But try to read with your toddler during the day as well. Be open to grabbing a spontaneous five minutes with a book or two here and there, even during weekday mornings. Read while waiting for the bus or car pool. Read while they linger over breakfast. Offering to read with toddlers is one of the best ways—some days, it can seem like the only way—to get them to slow down and focus. For you as well as your kid, it's a treat to be able to sit close and enjoy these moments of connection while it's still light outside.
Daytime reading is easier if you make sure books are a significant physical presence in your home and you remember to bring a few with you when you're out and about. Stick two or three in your stroller or diaper bag for your child to look at in the car, on the bus, in a café, in a doctor's office. Rather than passing your child a cell phone or toy while you're standing in a long line, you can give him a familiar book that he loves and knows by heart, or squat down and read a new story to him.
Whereas with very young babies, the choice of what to read is all yours, now is the time when you can get a handle on your child's preferences. Your child is probably already surprising you with independent tastes and opinions. Just as she doesn't like your kale salad, she may not appreciate the exquisite black-and-white pen-and-ink artistry of Robert McCloskey's Make Way for Ducklings as much as you may have as a child. At the same time, you may not be all that excited about fairies or talking trucks, but your child might be. Support that. Encourage children to express what they like about their books, and find more books like those.
It's Okay to Hate Some Children's Books
You are human: You have limits. Let's say there's a certain book that drives you nuts but that your 3-year-old requests so often, you find yourself toying with the idea of sneaking it into the compost. Don't despair! You can occasionally pry a child loose from certain vexing favorites. When Pamela's eldest went through a Biscuit phase, she and her husband quickly wearied of woof-woofing aloud. After a certain period of indulgence, the Biscuit books became mysteriously harder to locate on the shelves, where other books about pets and animal antics somehow materialized in their place. Don't deny toddlers the books they like, but it's okay sometimes to steer them toward other, similar books. (Once that daughter was older, she loved hearing the tale of the "lost" Biscuits.)
The Benefits of Memory
Some books you will find you can quickly memorize. Or memorize after having read them aloud fifteen times. If a certain ennui has settled into your reading routine, do not despair. You can vary the way you read a book—or you can simply tune out and "read" it by rote while letting your mind wander where it will. Don't feel too guilty: Captivated young listeners often won't notice; they're too caught up in their own enjoyment. Moreover, they may have memorized the book themselves.
More About How to Raise a Reader: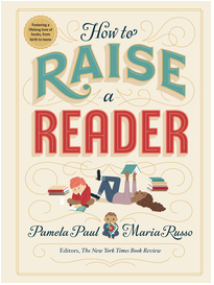 An indispensable guide to welcoming children—from babies to teens—to a lifelong love of reading, written by Pamela Paul and Maria Russo, editors of The New York Times Book Review.
Divided into four sections, from baby through teen, and each illustrated by a different artist, this book offers something useful on every page, whether it's how to develop rituals around reading or build a family library, or ways to engage a reluctant reader. A fifth section, "More Books to Love: By Theme and Reading Level," is chockful of expert recommendations. Throughout, the authors debunk common myths, assuage parental fears, and deliver invaluable lessons in a positive and easy-to-act-on way.
Buy the Book
Amazon | B&N | Indiebound | Workman