A wintry, vegetable soup recipe, excerpted from Cara Mangini's The Vegetable Butcher.
When it's damp and cold outside, I turn to this pureed soup for comfort while I dream of being somewhere warm. This soup is dynamic—a classic combination of cauliflower, butter, and thyme with a surprise pop of fennel. It deserves a drizzle of the best olive oil in the house. Top it with the hand-torn, toasted croutons or dip right in with a hunk of fresh, crusty bread. It's a tasty little escape.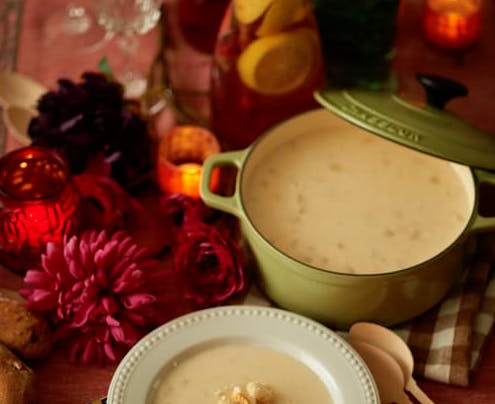 Ingredients
3 tablespoons unsalted butter or extra-virgin olive oil

1 medium yellow onion, cut into ⅛-inch-thick slices (about 2 cups)

1 medium fennel bulb, cut into ⅛-inch-thick slices (3 generous cups)

2 teaspoons fine sea salt, plus extra to taste

1 large head (about 2 pounds) cauliflower, cut into florets (about 4 cups)

5 to 7 sprigs fresh thyme

⅛ teaspoon freshly ground white or black pepper, plus extra to taste

4 cups vegetable stock, homemade or store-bought

3 thick slices good-quality country white or Italian bread, hard crusts removed

1 tablespoon extra-virgin olive oil

¼ teaspoon crushed fennel seeds (see Note)

Your best extra-virgin olive oil, for finishing
Instructions
1
Preheat the oven to 350°F.
2
Melt the butter in a Dutch oven over medium heat. When it begins to foam, add the onion, fennel, and 1 teaspoon of salt. Cook, stirring occasionally, until the vegetables begin to soften and become translucent (do not let them brown), 5 to 8 minutes. Add the cauliflower, thyme, the remaining 1 teaspoon of salt, and the pepper. Cook, stirring occasionally, until the cauliflower begins to soften, 5 minutes.
3
Add the stock and 2 cups of water. Partially cover the pot, and bring the liquid to a boil over high heat. Immediately turn the heat down to maintain a low simmer. Continue to cook, uncovered, stirring occasionally, until the vegetables are completely tender, 20 to 25 minutes.
4
Meanwhile, make the croutons: Tear the bread into bite-size pieces and place them in a large bowl. Drizzle with the olive oil, add a pinch of salt, and toss to coat. Spread them out on a rimmed baking sheet and toast in the oven until golden and crispy, 12 to 20 minutes, depending on the type of bread. Let them cool completely.
5
Take the pot off the heat, remove and discard the thyme, and let the soup cool briefly. Use an immersion blender to blend the soup carefully. Alternatively, working in batches, carefully transfer the vegetables with a slotted spoon to a blender or food processor, add some of the cooking liquid, making sure not to overfill it, and blend the mixture until it is smooth and creamy. (It should not be too thick like a puree, but should not be watery.) Season with more salt and pepper if needed.
6
Serve the soup in individual bowls, garnished with the crushed fennel seeds, the croutons, and a drizzle of your best extra-virgin olive oil.
Notes
To crush fennel seeds, use a mortar and pestle or place them in a zip-top bag on a cutting board and use the bottom of a heavy-bottomed pot to press against them until they are crushed and partially powdery.
About the Book:
The skills of butchery meet the world of fresh produce in this essential, inspiring guide that demystifies the world of vegetables.
In step-by-step photographs, "vegetable butcher" Cara Mangini shows how to break down a butternut squash, cut a cauliflower into steaks, peel a tomato properly, chiffonade kale, turn carrots into coins and parsnips into matchsticks, and find the meaty heart of an artichoke.
Additionally, more than 150 original, simple recipes put vegetables front and center, from a Kohlrabi Carpaccio to Zucchini, Sweet Corn, and Basil Penne, to a Parsnip-Ginger Layer Cake to sweeten a winter meal. It's everything you need to know to get the best out of modern, sexy, and extraordinarily delicious vegetables.
Buy the Book
Amazon | B&N | Indiebound | Workman