Excerpted from Althea Harampolis and Jill Rizzo's Branches & Blooms (Artisan, 2017). 
This spring, try your hand at crafting a simple wall hanging featuring that fleeting seasonal bloom, the cherry blossom.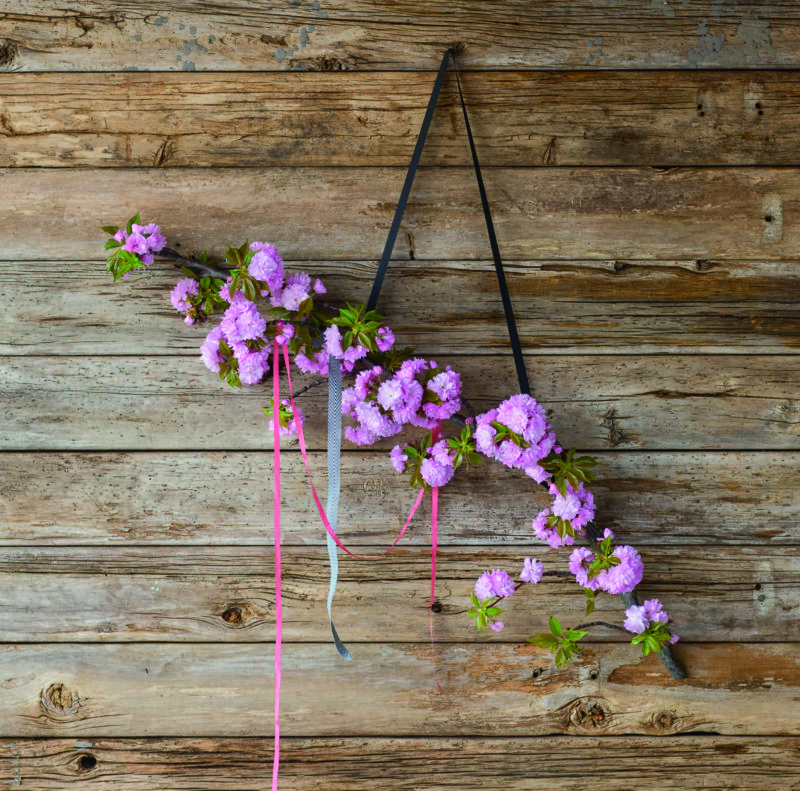 Cherry Blossom Wall Hanging
Ingredients
Materials
1 yard of ribbon
3 assorted ribbons, in ½-, 1-, and 2-yard lengths
Instructions
Trim the cherry branch at the point where the blooms begin, and attach the 1-yard-long ribbon to two points in the middle of the branch.
Hang the ribbon on a nail and adjust so that the branch rests at an angle. Finish by adding the remaining two ribbons in pleasing locations along the length of the branch.
About the Book:
(Originally published in hardcover as The Wreath Recipe Book)
Alethea Harampolis and Jill Rizzo, authors of The Flower Recipe Book and founders of Studio Choo, provide more than 100 step-by-step projects to make with flowering and leafy branches. In the spring, readers can create a cherry blossom bough or a centerpiece of lilacs and olive branches. In the summer, a garland features sage with pomegranates and citrus-colored strawflowers. In autumn, wreaths are made out of magnolias and rosemary. Winter highlights cedar, pine, and juniper, yielding unexpected table settings and new wreath shapes. Also included are hundreds of step-by-step photos, as well as tutorials covering basic techniques, sourcing, and care information.
Buy the Book
Amazon | B&N | Indiebound | Workman