Excerpted from The Earthbound Cook by Myra Goodman.
Romaine lettuce and red cabbage make a delicious, crunchy combination. The colors of this salad are beautiful, and every bite is good for you. Apples, pears, persimmons, and pomegranates are the signature fruits of autumn; for a change of pace you can add dried cranberries or sliced grapes.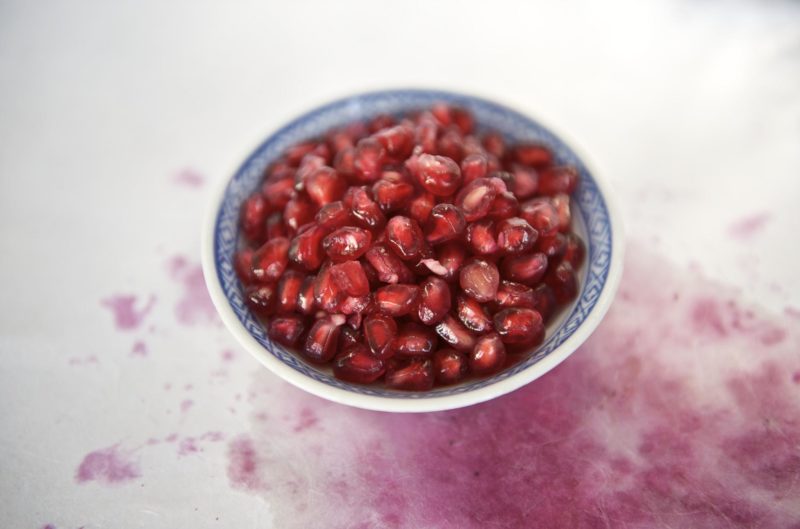 For the Salad
12 ounces red cabbage, cored and coarsely chopped (about 4 cups)
2 romaine hearts, coarsely chopped (about 6 cups), rinsed and dried if not prewashed
2 crisp apples, such as Fuji, Gala, or Braeburn, peeled, cored, and cut into ¼-inch dice (about 2 cups)
2 ripe but firm pears, such as Bosc or Anjou, peeled, cored, and cut into ¼-inch dice (about 1½ cups)
2 Fuyu persimmons, peeled and cut into ¼-inch dice, seeds discarded, if any
Seeds from 1 medium pomegranate
20 fresh mint leaves, cut into thin ribbons
For the Apple Cider Vinaigrette
½ cup apple cider vinegar
2 tablespoons (packed) light brown sugar
¼ cup extra-virgin olive oil
Pinch of salt, or more to taste
Instructions
Make the Apple Cider Vinaigrette: Combine all the dressing ingredients in a glass jar and seal the lid tightly. Shake vigorously to combine. (The vinaigrette can be refrigerated, covered, for up to 2 weeks. Let it return to room temperature and shake vigorously before using.)
Place the cabbage and romaine in a large bowl and toss to combine.
Just before serving, add the apples, pears, and persimmons to the cabbage-romaine mixture and toss to combine. Add half of the Apple Cider Vinaigrette and toss again, adding more dressing as desired.
Transfer the salad to a large platter and garnish with the pomegranate seeds and the mint. Serve immediately.