Are you grilling this Fourth of July? Try a twist on an old favorite: hot dogs! These spicy, delicious "Hot" Dogs from Steven Raichlen's How to Grill will turn up the heat! Step-by-step instructions on how to prepare the meat follow the recipe.
For another twist on a classic, try The Ultimate Hamburger from BBQ USA and get a taste for burgers topped with a delicious, melted cheese sauce!
"Hot" Dogs
Serves 4
INGREDIENTS
Butcher's string
8 thick hot dogs or knockwursts
4 to 6 jalapeño peppers, sliced crosswise (32 slices)
4 to 5 ounces Monterey Jack, Cheddar, Munster, or Gruyere cheese, cut into strips
8 hot dog buns
2 tablespoons melted butter
Mustard, ketchup, relish, and/or diced onions, for serving
INSTRUCTIONS
Slit and stuff each hot dog with jalapeños and cheese as shown in Steps 1 through 3 below. Tie each hot dog in two places with butcher's string to hold in the filling.
Set up the grill for direct grilling and preheat to high.
When ready to cook, place the hot dogs on the hot grate so they are supported by the bars of the grate. Grill until nicely browned on the bottom and both sides, slightly tilting the hot dogs on their sides with tongs to brown them, 8 to 10 minutes. Turn the hot dogs perpendicular to the grate for the last 2 minutes of grilling for attractive grill marks. Transfer to a platter and snip off and discard the strings.
Brush the inside of the buns with the melted butter and grill them on the grill for 1 minute. Serve the "hot" dogs with the toppings of your choice.
Slitting and Stuffing Instructions: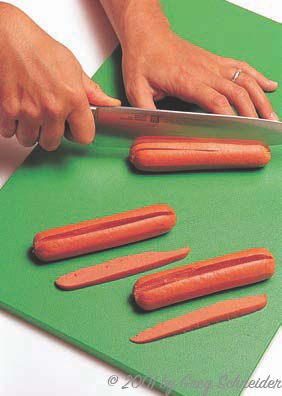 1. Make two lengthwise cuts in each hot dog to remove a slender V-shaped strip from the center. The idea is to cut the hot dog almost in half lengthwise but leave the halves attached at the bottom.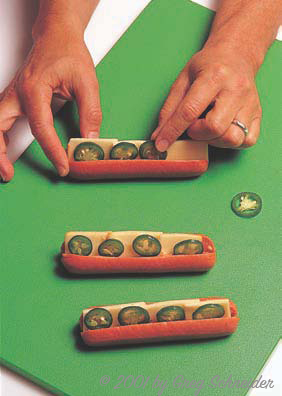 2. Insert the cheese and four jalapeño slices in the slit.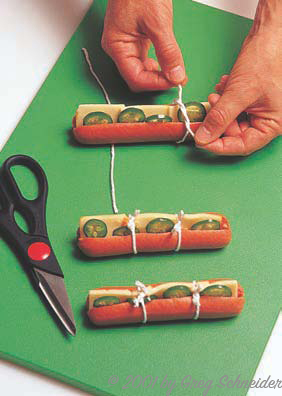 3. Tie each hot dog crosswise in two places with butcher's string.
TIPS
• For ease in slitting and stuffing, choose a thick hot dog.
• You might think fresh jalapeños will be too fiery, but the peppers mellow during grilling. For milder "hot" dogs, seed the peppers. Or use sliced pickled jalapeño peppers, which are milder still.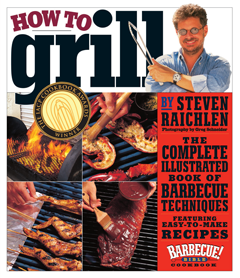 "Without a doubt the most interesting, comprehensive, and well-thought-out book on grilling ever…. Spark it up!"
–Mario Batali, Molto Mario (The Food Network)
Using more than 1,000 full-color, step-by-step photographs, How to Grill covers it all, from a porterhouse, prime rib, fish steak, kebab, or chicken breast. Plus the perfect burger.
This month only—save 87% on this essential grilling book!
GET THE BOOK: Amazon | B&N | ebooks.com | Google Play | iBooks | Kobo