Excerpted from Steven Raichlen's Barbecue Sauces, Rubs, and Marinades.
Here in my hometown, Miami, barbecue calls for a ketchup- free sauce called mojo (pronounced MO-ho, not mo-JOE). This edgy citrus sauce starts with the Holy Trinity of Cuban seasonings: oregano, cumin, and garlic. You lightly fry the garlic to boost its flavor. The traditional souring agent is naranja agria, sour orange, which in Miami is available at any super- market. If unavailable, you can approximate its flavor by combining fresh lime and orange juices.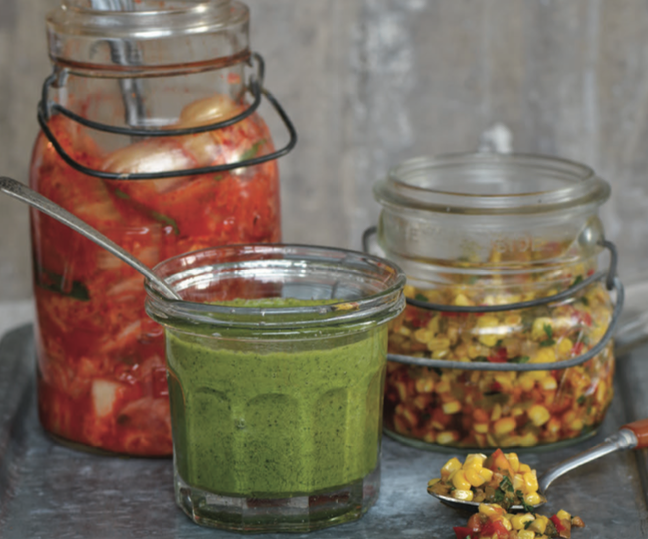 Mojo (Cuban Citrus-Garlic Sauce)
Makes about 2 cups, enough to serve 6 to 8
Ingredients
1⁄2 cup extra-virgin olive oil
8 large cloves garlic, peeled and thinly sliced crosswise
2⁄3 cup fresh sour orange juice (see box, page 194), or
1⁄2 cup fresh lime juice and 3 tablesoons fresh orange juice
1⁄3 cup cold water
1 teaspoon ground cumin
1⁄2 teaspoon dried oregano
1 teaspoon coarse salt (sea or kosher), or more to taste
1⁄2 teaspoon freshly ground black pepper, or more to taste
3 tablespoons chopped fresh cilantro or at-leaf parsley
Instructions
Heat the olive oil in a deep saucepan over medium heat. Add the garlic and cook until fragrant and pale golden brown, 2 to 3 minutes. Do not let the garlic burn. Stir in the sour orange juice, water, cumin, oregano, salt, and pepper. Stand back: The sauce may sputter. Bring the sauce to a rolling boil, then remove it from the heat and cool to room temperature.
Stir in the cilantro. Correct the seasoning, adding salt and pepper to taste. To enjoy this mojo at its best, serve it within a few hours of making.
Variation
Grapefruit-Mint Mojo: Substitute fresh grapefruit juice for the sour orange juice and chopped fresh mint for the cilantro.
Try This
Mojo is the traditional sauce for Cuban pit-roasted pork and palomilla (a thin steak cut from the round and grilled). You can also serve it with poultry and seafood.
About the Book:
Barbecue sauces, rubs, and marinades are every griller's secret weapon—the flavor boosters that give grilled food its character, personality, depth, and soul.
Steven Raichlen, America's "master griller" (Esquire), has completely updated and revised his bestselling encyclopedia of chile-fired rubs, lemony marinades, buttery bastes, pack-a-wallop sauces, plus mops, slathers, sambals, and chutneys. It's a cornucopia of all the latest flavor trends, drawing from irresistible Thai, Mexican, Indian, Cajun, Jamaican, Italian, and French cuisines, as well as those building blocks from America's own barbecue belt.
There are over 200 recipes in all, including a full sampler of dinner recipes using the sauces. And the book now has full-color photographs throughout. It's the essential companion cookbook for every at-home pitmaster looking to up his or her game.
Buy the Book
Indiebound | B&N | Amazon | Workman