Who says gluten-free desserts have to be bland or boring? Kelli and Peter Bronski have perfected delectable artisanal gluten-free recipes – including this recipe for flourless chocolate cupcakes, topped with decadent chocolate ganache, perfect for Valentine's Day.
Flourless Chocolate Cupcakes
Makes 24 cupcakes
This naturally gluten-free cupcake is rich and decadent. The flourless chocolate cake and Poured Chocolate Ganache are a chocolate lover's dream; the fresh berries cut through with a pleasing sweetness.
INGREDIENTS
Melted butter or nonstick cooking spray
½ cup water
¾ cup sugar
¼ teaspoon salt
16 ounces bittersweet chocolate (about 2⅔ cups chips or pieces)
1 cup salted butter (2 sticks)
6 large eggs
1 teaspoon GF pure vanilla extract
Poured Chocolate Ganache (recipe follows)
2 cups fresh berries
TO MAKE THE CUPCAKES
Preheat the oven to 300°F. Brush the cupcake tins with the melted butter.
In a medium saucepan, stir together the water, sugar, and salt.
Add the chocolate and butter and heat over medium-low heat, stirring until the chocolate and butter are completely melted.
In a large bowl, whisk together the eggs and vanilla.
Slowly pour the chocolate mixture into the egg mixture, whisking constantly.
Divide the batter evenly among the prepared cups. Each cup should be filled almost to the top.
Bake for 30 minutes.
Allow the cupcakes to cool in the tins for 10 minutes.
Carefully run the tip of a thin knife around each cupcake to separate the cake from the edges of the tins. Turn the tins over onto a wire rack so the cupcakes drop out. Let them cool completely.
While the cupcakes are cooling, make the Poured Chocolate Ganache.
TO FINISH THE CUPCAKES
Place a sheet pan or cookie sheet beneath your cooling rack to catch any excess ganache.
Pour the ganache over each cupcake and use a knife to spread it toward the edges, allowing it to run down the sides.
Garnish with the fresh berries.
Serve the cupcakes with plates and fork.
POURED CHOCOLATE GANACHE
INGREDIENTS
12 ounces bittersweet chocolate (about 2 cups chips or pieces)
1½ cups heavy cream
Put the chocolate in a bowl.
Heat the heavy cream to a simmer in a saucepan.
Pour the cream over the chocolate and let sit for 1 minute.
Stir the chocolate and cream together until the chocolate melts completely. Use the ganache while it is still warm.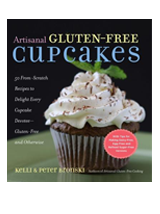 For more delicious gluten-free recipes like this one, check out Artisanal Gluten-Free Cupcakes by Kelli & Peter Bronski!
GET THE BOOK: Amazon | B&N | eBooks.com | Google Play | iBooks | Kobo