Happy Valentine's Day! To celebrate the sweetest of holidays, here's a classic treat from sisters Marilynn and Sheila Brass from their James Beard Award-winning cookbook Heirloom Baking with the Brass Sisters. Serve up with love, and share with your friends, family, or a very special sweetheart.
Oklahoma Strawberry Shortcake
makes 8 short cakes
This recipe replicates the shortcake made by James "Tulsa" Stuart, a student from Oklahoma who worked at MIT in the late 1960s. He made this shortcake for an employee gathering. Nearly forty years later, his strawberry shortcake, made exclusively with lard as its shortening, is still unforgettable.
1 cup (150 g) flour
2 teaspoons baking powder
¼ cup (55 g) sugar
⅛ teaspoon salt
¼ cup (60 g) cold lard, cut in 5-inch cubes
⅓ cup (80 ml) heavy cream
1 egg, beaten
Clear sanding sugar
1½ cups (225 g) strawberries, washed, hulled, drained, and sliced
8 whole strawberries
1 cup (240 ml) heavy cream, whipped with 2 tablespoons confectioners' sugar
1. Set the oven rack in the middle position. Preheat the oven to 450°F (230°C). Cover a 14-inch by 16-inch (36 cm × 41 cm) baking sheet with foil, shiny side up. Coat the foil with vegetable spray or use a silicone liner.
2. Place flour, baking powder, sugar, and salt in the bowl of a food processor fitted with the metal blade. Pulse three times to mix. Add lard and pulse three more times. Add heavy cream and pulse until dough comes together.
3. Place dough on a lightly floured sheet of wax paper or parchment paper. Roll out or pat to a ½-inch (1.25 cm) thickness. Cut 2½-inch (6.25 cm) circles using a biscuit cutter dipped in flour. Press cutter straight down and lift up; do not twist cutter in dough, or shortcakes will not rise. Use a spatula to lift and transfer dough to baking sheet. Brush tops with beaten egg and sprinkle with sanding sugar. Gather up scraps and reroll to cut more shortcakes. Shortcakes made from scraps may not be as tender, but they will still be good. Bake 12 minutes, or until lightly browned. Place on a rack to cool.
4. To serve, cut shortcakes in half. Place each bottom half on a plate and cover generously with whipped cream and sliced strawberries. Replace top of shortcake and garnish with more whipped cream and a whole strawberry on the side. Store leftover shortcakes in a sealed plastic bag at room temperature.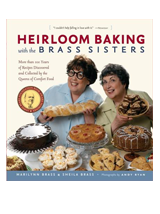 For more recipes like this one, make sure to scoop up Heirloom Baking with the Brass Sisters by Marilynn Brass and Sheila Brass—just $2.99 this month!
GET THE BOOK: Amazon | B&N | eBooks.com | Google Play | iBooks | Kobo