Waffled quesadillas are versatile and unfussy—perfect for a weeknight dinner.
Quesadillas are practically made for the waffle iron. Or . . . are waffle irons practically made for quesadillas? Either way, the two-sided heat and the compression of the waffle iron make for a quick and impressive meal.
Quesadillas make the perfect vessel for leftovers, too. They embrace customization and accommodate whatever you have in your fridge. Those bits of chicken or turkey? They'll fit right in. Some leftover roasted vegetables? They'll go nicely, too. It'll be almost like you planned it this way.
As the cheese melts, some will inevitably escape from the tortillas. Make the most of this. Use a heatproof spatula to scrape off the crispy cheese from the grid, chop it up, and sprinkle it atop the finished quesadillas as a garnish.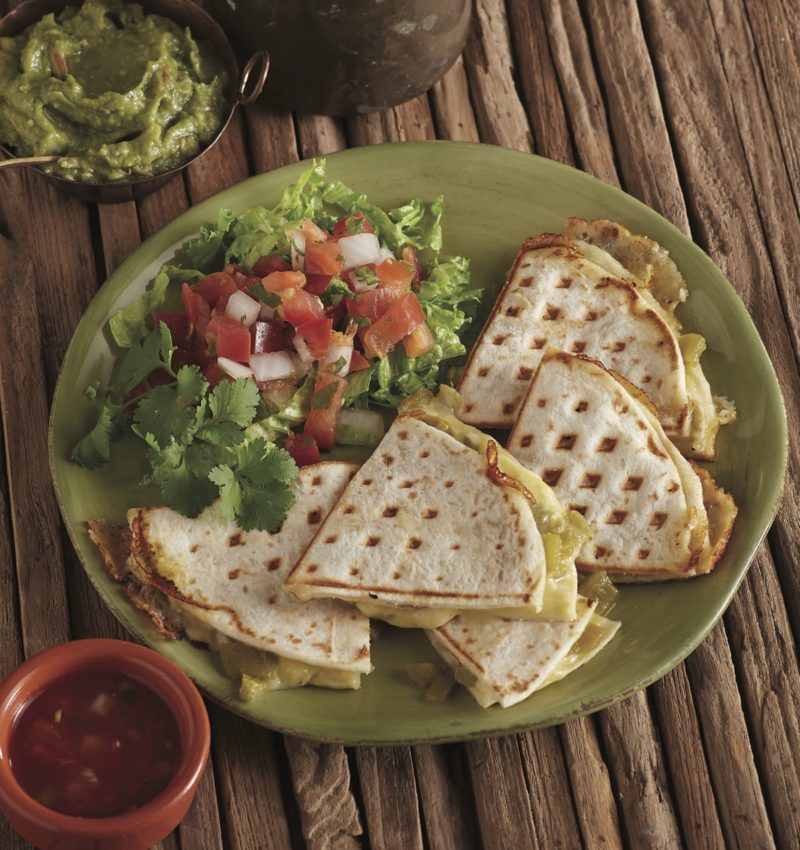 Ingredients
Nonstick cooking spray

4 our tortillas

1 cup shredded Mexican- style cheese, such as queso Chihuahua or Monterey Jack

1⁄4 cup chopped canned green chiles
Instructions
1
Preheat the waffle iron on medium. Coat both sides of the waffle iron grid with nonstick spray.
2
Place a tortilla on the waffle iron and, taking care because the waffle iron is hot, spread half of the cheese and half of the green chiles evenly across the tortilla, leaving a margin of an inch or so around the edge of the tortilla. Top with another tortilla and close the waffle iron.
3
Check the quesadilla after 3 minutes. When the cheese is melted and the tortilla has golden brown waffle marks, it is ready. Remove the quesadilla from the waffle iron.
4
Repeat Steps 2 and 3 with the remaining ingredients, cut into wedges, and serve.
Notes
For a more substantial meal, add one of the following to the tortilla in Step 2: • 1⁄2 cup shredded chicken or pork • 1⁄2 cup sliced steak • 1⁄2 cup refried beans Garnish with one or more of the following: • Chopped scallion • Crumbled bacon • Sour cream • Salsa • Guacamole
Excerpted from Daniel Shumski's bestselling Will it Waffle? (Workman Publishing, 2014).