Cool down with five pints of Jeni's ice creams, delivered to your door! One lucky winner will receive The Distant Familiar Collection: Flavors from the Midwest, five pints from Jeni's Splendid Ice Cream!
The flavors in this collection reflect the tastes of the people who came before us, the traditions they cultivated, the landscapes they created, and a world they set in motion.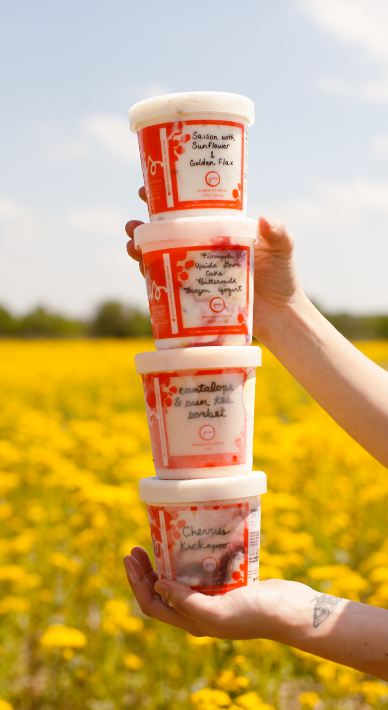 CHERRIES KICKAPOO

Beautifully bittersweet blackstrap molasses and caraway ice cream, with tangy pockets of juicy red cherries. Every bite's a jubilee.
PINEAPPLE UPSIDE DOWN CAKE BUTTERMILK FROZEN YOGURT

Dense, extra-tart pineapple frozen yogurt, with roasted red cherries and golden Pineapple Lady Cake soaked in Salty Caramel Sauce. A Midwestern ode to summer.
SAISON WITH SUNFLOWER SEEDS & GOLDEN FLAX
Grass-grazed milk imbued with earthy Rockmill Brewery ale, and packed with double-toasted sunflower, flax, and pumpkin seeds. A sweet-and-salty summer respite.
CANTALOUPE & SUN TEA SORBET 

Smooth, creamy, aromatic cantaloupe blended with freshly steeped, sweet black tea. Refreshing—with flavor as full and round as a summer day is long.
CHOCOLATE TRUFFLE WITH BACKYARD MINT ICE CREAM SANDWICH

Backyard Mint ice cream made with grass-grazed Ohio milk and organic Ohio peppermint, between rich dark chocolate truffle cookies.

a Rafflecopter giveaway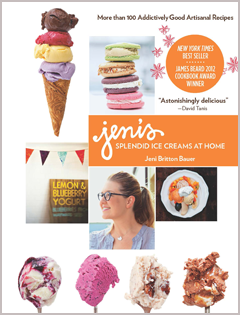 Addictive flavors, and a breakthrough method for making creamy, scoopable ice cream at home make this cookbook a must-have. From Jeni Britton Bauer, the proprietor of Jeni's Splendid Ice Creams, which Time has called "America's Best," this cookbook is on a mission to help foodies create perfect ice creams, yogurts, and sorbets—ones that are every bit as perfect as hers—in their own kitchens.
This month only—save 81% on this James Beard Award-winning book, crowned Best Baking and Dessert Book of 2011!
GET THE BOOK: Amazon | B&N | ebooks.com | Google Play | iBooks | Kobo
And try a recipe (Jeni's Ugandan Vanilla Bean!) here.