Excerpted from Steven Raichlen's Barbecue Sauces, Rubs, and Marinades.
This creamy beige condiment is one of Japan's national barbecue sauces. And like barbecue sauces in the West, it's sweet, salty, and tangy. The sweetness comes from sugar and mirin (sweet rice wine), while saltiness is one of the de n- ing characteristics of the main ingredient, miso. Think thick sweet-salty paste of fermented soybeans and grains, and know that it tastes a lot better than it sounds. The tang comes from sake and grated lemon zest.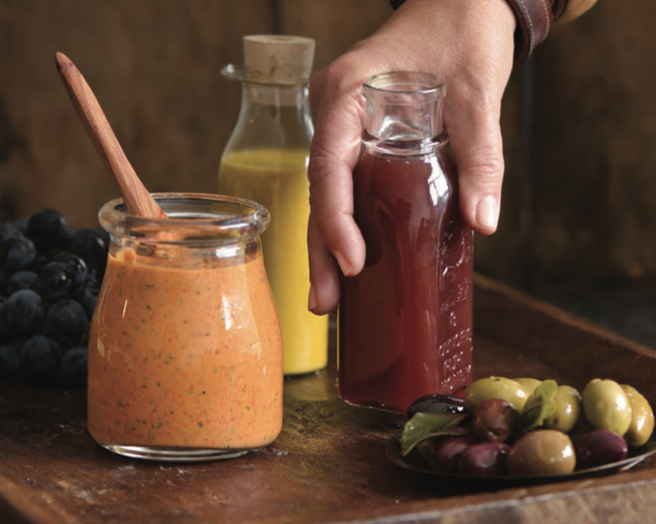 Miso Barbecue Sauce 
Makes about 2 cups, enough to serve 6 to 8
Ingredients
1 cup white miso, at room temperature
1⁄2 cup boiling water, vegetable stock, or chicken stock
3 tablespoons sugar
3 large egg yolks, or
2 tablespoons mayonnaise
3 tablespoons sake
3 tablespoons mirin
1⁄2 teaspoon grated lemon zest
Instructions
Pour water to a depth of 2 inches into the bottom of a double boiler or saucepan and bring it to a simmer over medium-high heat. Place the miso and boiling water in the top of the double boiler or in a smaller saucepan and whisk to mix.
Meanwhile, whisk the sugar, egg yolks (or mayonnaise, if using), sake, mirin, and lemon zest into the miso mixture.
Set the pan with the miso mixture over the simmering water. Cook the miso sauce over the simmering water until thick and creamy, 6 to 10 minutes, whisking steadily. Adjust the heat to keep the water at a simmer.
Remove the pan from the heat and let cool to room temperature. Transfer the miso sauce to serving bowls if serving immediately. Or transfer to a large jar, cover, and refrigerate. The miso sauce will keep for at least 3 days.
Try This
Miso sauce is the traditional topping for Japanese grilled tofu and eggplant. It's fantastic on grilled salmon and other sh. I even serve it with steak.
About the Book:
Barbecue sauces, rubs, and marinades are every griller's secret weapon—the flavor boosters that give grilled food its character, personality, depth, and soul.
Steven Raichlen, America's "master griller" (Esquire), has completely updated and revised his bestselling encyclopedia of chile-fired rubs, lemony marinades, buttery bastes, pack-a-wallop sauces, plus mops, slathers, sambals, and chutneys. It's a cornucopia of all the latest flavor trends, drawing from irresistible Thai, Mexican, Indian, Cajun, Jamaican, Italian, and French cuisines, as well as those building blocks from America's own barbecue belt.
There are over 200 recipes in all, including a full sampler of dinner recipes using the sauces. And the book now has full-color photographs throughout. It's the essential companion cookbook for every at-home pitmaster looking to up his or her game.
Buy the Book
Indiebound | B&N | Amazon | Workman