Excerpted from Sarah Leah Chase's New England Open-House Cookbook. 
Jennifer Madden is married to my cousin Parke and she came to Cape Cod from Rochester, Minnesota, an area deeply steeped in baking traditions. When Jennifer isn't working hours on end as the director of collections and exhibitions at the acclaimed Heritage Museums & Gardens in Sandwich, she is home baking sweet treats, much to the delight of her friends and family.
While Jennifer may be most renowned for the coconut cake she makes every year for her husband's birthday in January, I am especially fond of this far less elaborate but very unique and tasty cranberry date pie, a lovely autumn Cape Cod dessert and welcome addition to Thanksgiving dessert offerings.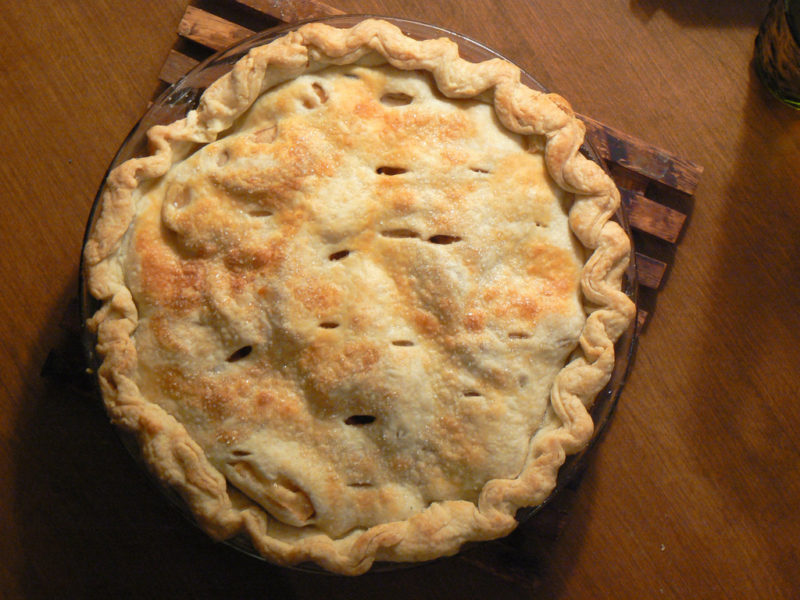 Jennifer's Cranberry Date Pie
Ingredients
3 cups fresh cranberries
1¾ cups sugar
¼ cup unbleached all-purpose flour
½ cup water
1 cup chopped pitted dates
Jennifer's Grandmother's Crust (recipe follows here)
Lightly sweetened whipped cream or Vanilla Ice Cream, optional, for serving
Steps
Place the cranberries in a colander and rinse them under cold running water. Discard any stray stems, leaves, or mushy cranberries. Drain the cranberries well.
Place the cranberries, sugar, and flour in a medium-size saucepan and toss to mix. Stir in the water and let come to a boil over medium-high heat, stirring occasionally. Reduce the heat to medium-low so the cranberries are barely simmering, cover the pan, and cook until almost all of the cranberry skins have popped, 7 to 9 minutes. Remove the pan from the heat and stir in the dates. Let the filling cool to room temperature.
Place a rack in the center of the oven and preheat the oven to 375˚F.
Lightly flour a work surface. Roll out 1 pastry disk to form an 11-to 12-inch circle. Ease the pastry into a 9-inch pie pan and crimp the edge decoratively, trimming away any excess dough. Mound the cooled cranberry and date filling into the unbaked pie crust. Shield the crimped edge of the pie by covering it with aluminum foil. Bake the pie for about 25 minutes. Remove the foil from the edge and continue baking until the crust is golden, 20 to 25 minutes more.
Transfer the pie to a wire rack to cool and serve at room temperature. Embellish the slices of pie with whipped cream or vanilla ice cream, if desired.
Jennifer's Grandmother's Crust
Like many life-long bakers, Jennifer sticks to using her grandmother's tried-and-true pie crust recipe. Jennifer stashes the extra pastry dough in the freezer so it will be on hand for the next time she is asked to bring a cranberry date pie to a family gathering.
Makes 2 pie crusts (each 9 inches in diameter)
Ingredients
4 cups unbleached all-purpose flour, plus flour for dusting the work surface
1¾ cups solid vegetable shortening, such as Crisco
1 tablespoon sugar
2 teaspoons fine sea salt
1 teaspoon freshly squeezed lemon juice
1 large egg
½ cup ice water
Steps
Place the flour, vegetable shortening, sugar, and salt in a food processor and pulse the machine until the mixture resembles coarse crumbs.
Place the lemon juice, egg, and ice water in a mixing bowl and whisk to mix. Pour the lemon juice mixture over the flour mixture and pulse the machine several times until the mixture begins to form a ball. Divide the pastry dough in half and, working on a lightly floured work surface, shape each half into a flat disk. Wrap each pastry disk in plastic wrap and refrigerate the disks for at least 45 minutes and up to 24 hours. Or freeze them for up to 3 months. Let a disk of dough thaw overnight in the refrigerator before using.